printer friendly version
Security a top trend for the future of IIoT
Technews Industry Guide: Industrial Internet of Things & Industry 4.0
IT in Manufacturing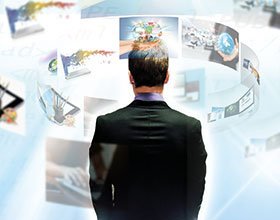 The effects of the Internet of Things (IoT) is something we experience in our everyday lives through the proliferation of smartphones, cars, thermostats, and even smart refrigerators entering our homes. These smart devices provide us with a rich source of sensor data that can be networked, gathered and analysed by software to detect potential issues, allowing us to work more productively and save more energy.
A less frequently talked about phenomenon, the Industrial IoT (IIoT), is the application of these same principles to a wide range of industrial plants and processes. The IIoT has been developing in parallel to the more consumer-focused IoT, and it promises to revolutionise industrial prowess by improving efficiency at manufacturing plants, mining operations, oil refineries and off-shore oil platforms, and more.
Schneider Electric's EcoStruxure
Looking for opportunities to expand its digital offering through the application of the IoT to industrial environments, plants and factories, Schneider Electric's EcoStruxure promises to change South Africa's mining, food, beverage, and water industries.
"Gathering technical data, tracking equipment and monitoring maintenance activity would help to reduce downtime, process energy usage, maintenance costs and time-to-market," says Marc Ramsay, vice president of Schneider Electric South Africa's Industry Business Unit. "This smart IIoT software ultimately serves to make plants more efficient, safe and reliable."
Information security
IIoT technology has continued to develop at a steady rate, and a number of trends are expected to guide these developments for 2018. Adoption of the IIoT has increased significantly as more and more industrial devices get connected to the Internet. As the networks have expanded, volumes of data have increased and more information is now at risk, therefore it comes as no surprise that the focus on creating applications and data storage solutions capable of providing the necessary security has intensified.
"We understand that robust cybersecurity protection is a must, and Schneider Electric's solutions apply rigorous policies and methodologies to ensure the protection of critical infrastructure," adds Ramsay. "We also assess risk, implement cyber-specific solutions and maintain onsite defences over time. Cybersecurity solutions are applied from the operations perspective while making sure all appropriate IT policies and requirements are implemented. I think this is what sets Schneider Electric's EcoStruxure apart."
While early IIoT implementations were generally focused on improving asset utilisation through better monitoring and predictive analytics, such as predictive maintenance, many industries are now taking advantage of increased connectivity in order to implement more autonomous systems.
"Schneider Electric is a leader in the digital transformation of energy management and industrial automation in South Africa, and the rest of the globe," explains Ramsay. "Our EcoStruxure solutions offer a new level of efficiency and performance, and specific products such as Edge Control allow for remote automation, process automation and machine automation."
Maintaining plant equipment can be a daunting and costly task, and creating efficiencies and using predictive maintenance has become a top priority in the future of the IIoT. Here, sensors and real-time monitoring could help organisations understand precisely where and when equipment needs to be adjusted or replaced.
"This connected 'smart' technology is capable of automatically measuring, monitoring and controlling energy consumption and demands," concludes Ramsay. "When automation and energy is coupled with software and analytics, an unprecedented level of operational intelligence can be delivered, leading to better, and more predictive decision-making in real-time."
For more information contact Jason Ullbricht, Schneider Electric SA, +27 (0)11 254 6400, jason.ullbricht@schneider-electric.com, www.schneider-electric.co.za
Credit(s)
Further reading:
Data, light and the smart factory
May 2019 , IT in Manufacturing
The role of lasers in the Fourth Industrial Revolution.
Read more...
---
Planning for digital transformation
May 2019 , IT in Manufacturing
As we've learned, digital transformation can be a challenging, if necessary, journey. At each year's Forum, we learn more about how pioneering companies are overcoming these challenges and the associated 
...
Read more...
---
Cathay Industrial Biotech benefits from Siemens technology
May 2019, Siemens Digital Industries , IT in Manufacturing
Cathay Industrial Biotech (Cathay) is China's leader in the field of bio-manufacturing. Its areas of expertise include producing polyamide from biomass, which takes place in a totally digital plant using 
...
Read more...
---
Monitoring the health of your asset
May 2019, Automation & Control Solutions , IT in Manufacturing
In an ever-changing world where digital transformation coupled with optimised computerisation and interconnectivity is prevalent, the need to remain knowledgeable about asset health in manufacturing is 
...
Read more...
---
Simulated flexible production environment
May 2019, Omron Electronics , IT in Manufacturing
Omron South Africa is showcasing its fully simulated flexible production environments at Africa Automation Fair. Visit Stands C03 and D07 to see the integrated automation solutions designed to help turn 
...
Read more...
---
Broadband power line modem
May 2019, SSE , IT in Manufacturing
The e-terrapowercom is a broadband power line modem with integrated switch designed for communications on medium and low voltage grids. Installation is easy and fast using existing power cables. It extends 
...
Read more...
---
Reduce the risks associated with automation solutions
May 2019, Adroitly Africa , IT in Manufacturing
Adroitly Africa's Version Control and Backup software offering can assist in proactively reducing the risks associated with PLC, scada and HMI automation solutions that control a process.    Pay a visit 
...
Read more...
---
Complete range of industrial cables
May 2019, Helukabel , IT in Manufacturing
Helukabel is showcasing its range of data, network and bus (DNB) products. On display at Stand B01 is a complete range of industrial cables as well as the related connecting equipment consisting of connectors, 
...
Read more...
---
Digital automation technologies
May 2019, Yokogawa South Africa , IT in Manufacturing
Yokogawa is showcasing the Synaptic Business Automation solution, which can transform business processes by optimisation of supply chains and operations and maximisation of asset performance. This is 
...
Read more...
---
Edge-to-cloud cybersecurity
May 2019, RJ Connect , IT in Manufacturing
RJ Connect provides industrial networking and automation solutions for enabling IIoT.    However, industrial automation and control systems need to ensure facilities and services are safe and secure, 
...
Read more...
---