printer friendly version
Connected hydraulics: ready for Industry 4.0
Technews Industry Guide: Industrial Internet of Things & Industry 4.0
Pneumatics & Hydraulics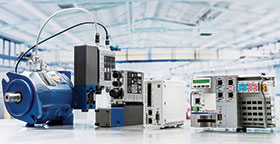 Prejudices last for a long time, even when reality has long since disproved them. One of these prejudices is that hydraulics have no place in Industry 4.0 because they are not intelligent – but they have actually been ready for the future for some time.
For decades, hydraulics have been equipped with electronics, sensors, appropriate accessories and autonomous controls. In terms of automation technology, they have been at the same level as electromechanical drives for some time – partly thanks to the numerous system modules from Bosch Rexroth. Black and white valves have already disappeared from many applications, replaced by autarkic servo-hydraulic axes. The question is no longer whether hydraulic valve technology will benefit from networking capability, but simply when. We are currently experiencing the transition from classic, analog hydraulics to largely digital networked fluid technology. European machine manufacturers are increasingly digitalising their machines and expect the hydraulics to integrate seamlessly into these networked environments. The challenge now is extending networking beyond the machine itself and handling the wealth of data obtained. It has to be bundled and evaluated meaningfully and securely.
Intelligent interplay is the key
Tasks that were previously performed by steel and iron valve controls are now being carried out by decentralised intelligence in an electronic drive control unit. It adjusts the speed of the pump drive as required when power is needed at the consumer, or reduces it to almost zero. In many processes, this is a considerable energy advantage. The variable speed hydraulics consume up to 80% less energy than constant systems. Current discussions about Industry 4.0 show how important it is that all necessary functions and functionalities are defined. Active networking and communication is only possible if the mechanics, electronics, and sensors are standardised across different manufacturers. In the future, not every hydraulic-mechanical pressure valve will have on-board digital electronics and connect to a control or other valves. This will only be the case when it makes sense.
Smart solutions with decentralised intelligence
Decentralised intelligence and open interfaces are the crucial requirements for future automation solutions. As a result, Bosch Rexroth uses multi-Ethernet interfaces that support all standard protocols in its electrics and hydraulics. The next step is to integrate sensors into the existing valve housing. This opens up a range of possibilities. Let's consider condition monitoring for example. Here, sensors can record information about everything from oil quality to temperature, vibrations and completed switching cycles. Deep learning algorithms enable users to identify wear before it leads to a failure – a key step on the road to preventive maintenance.
Intelligent single-axis controllers are already responsible for decentralised hydraulic motion in a closed control loop. To achieve this, a powerful motion control is integrated into the valve's on-board electronics. It carries out the target/actual comparison locally and makes adjustments to an accuracy of a few micrometers. The control quality of the system depends solely on the resolution of the measuring systems. These control cabinet-free motion controls are being used increasingly frequently in a wide range of markets.
With its IAC control valve, Rexroth also offers a control cabinet-free motion control that is completely integrated into the valve electronics. It can be fully networked using open interfaces, as can servo-hydraulic axes with a dedicated decentralised fluid circuit. In these ready to install axes, the pump, valves and cylinders make up a single assembly, which the machine manufacturer only has to connect to the power supply and control communication.
Plug-and-play for hydraulics
In the future, best-in-class controllers will replace valves that were previously necessary for motion. The electric drive positions the hydraulic cylinder based on the speed of the pump drive alone. Thus, the hydraulic gears essentially do the same as an electromechanical linear drive – they convert the rotary motion of electric drives into linear motion, but with all the advantages of hydraulics.
In the next development stage – autarkic linear axes – the advancement is particularly apparent. These are ready to install cylinder assemblies with a dedicated, highly-integrated fluid circuit. To operate these axes, machines therefore require no central hydraulic unit. The autarkic axes are connected in the same way as electric drives – all that is needed is a power cable and a data connection to the machine control. The same software tools are used for commissioning as for electric drives. Commissioning engineers require no in-depth knowledge of hydraulics, because they simply configure the preprogrammed functions for the machine conditions.
For more information contact Willem Gijzelaar, Hytec Holdings, +27 (0)11 979 4630, info@hyhold.co.za, www.hytecgroup.co.za
Credit(s)
Further reading:
Robotics meets artificial intelligence
June 2019, Festo , Pneumatics & Hydraulics
Whether its grabbing, holding or turning, touching, typing or pressing – in everyday life, we use our hands as a matter of course for the most diverse tasks. In that regard, the human hand, with its unique 
...
Read more...
---
Hytec appointed service partner to Zollern
May 2019, Hytec South Africa , News
Hytec South Africa has been appointed the southern African service partner to the Drive Technology Unit of Zollern. The partnership allows Hytec South Africa to sell, execute inspections, and conduct 
...
Read more...
---
Parker Hannifin introduces couplings for quick and easy installation
May 2019, Parker Hannifin Sales Company South , Pneumatics & Hydraulics
Parker Hannifin now offers quick connection couplings for its NSA series, notable for features including their low weight. NSA couplings are available in nickel-plated brass or stainless steel, while 
...
Read more...
---
VUVS-LT Poppet Valve
Technews Industry Guide: Maintenance, Reliability & Asset Optimisation 2019, Festo , Pneumatics & Hydraulics
Frequently used in different locations and exposed places, the VUVS-LT Poppet Valve can take a lot – all without losing its good looks. Simple on the outside, sturdy on the inside, it is the ideal combination 
...
Read more...
---
Optimum hydraulic performance through cost effective filtration solutions
Technews Industry Guide: Maintenance, Reliability & Asset Optimisation 2019, Hydrasales , Pneumatics & Hydraulics
Maintenance personnel have to facilitate optimum hydraulic system performance through their programmes, hence the incorporation of oil cleanliness checks, or oil contamination monitoring should not be 
...
Read more...
---
The advantages of rolled vs. cut threads for fluid system instrumentation fittings
March 2019, Fluid Systems Africa , Pneumatics & Hydraulics
A new level in leak tightness from Fluid Systems Africa.
Read more...
---
Ready for smart manufacturing
March 2019, Metal Work Pneumatic South Africa , Pneumatics & Hydraulics
Metal Work's new EB80 is an electro-pneumatic system consisting of a solenoid valve assembly with fieldbus or multi-pin control, and modules to manage analog or digital input/output signals. It can accommodate 
...
Read more...
---
Ham-Let moves into the future with smart valves
December 2018, Fluid Systems Africa , Pneumatics & Hydraulics
The Ham-Let Group has manufactured high-quality instrumentation valves, fittings and auxiliary products for fluid systems in a variety of markets since 1950, and has now launched its first smart valve 
...
Read more...
---
Intelligent valve sensor for pneumatic applications
December 2018, ifm - South Africa , Pneumatics & Hydraulics
The intelligent valve sensor for pneumatic quarter-turn actuators from ifm electronic features 360° position monitoring to allow precise and continuous scrutiny of the valve condition. Problems such as 
...
Read more...
---
BMG fluid technology services
November 2018, Bearing Man Group t/a BMG , Pneumatics & Hydraulics
BMG's fluid technology services include solutions for hydraulics and pneumatics, lubrication, fuel and industrial filtration systems, hydraulic hose and fittings, as well as instrumentation, pumps and 
...
Read more...
---