printer friendly version
Smart sensors for industrial motion control
July 2018
IS & Ex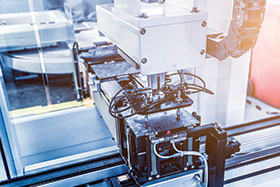 Smart sensors are facilitating the manufacturing sector's shift to Industry 4.0. The latest smart sensors are able to share information with the controller via technologies such as IO-Link. They can also receive commands and parameter information from the controller and adapt to new requirements on a continuous basis. The upshot for manufacturers is an improvement in efficiency, alongside greater flexibility and better maintenance planning.
This applies to all kinds of smart sensors, including those used for pneumatic and hydraulic cylinders. The latest feature intelligent functionality and comprise one of the three parts of smart pneumatics, namely sensors, processors and communications protocols. Smart sensors on cylinders offer fast, accurate, high resolution and contactless sensing of the piston's position. Direct detection of the piston magnet is achieved without the requirement for separate position encoders or additional mechanics.
Cylinders with intelligence
Among the latest sensors are those such as the new P8S CPS sensors from Parker Hannifin, which continuously supply data via analog signals, IO-Link process data or flexible switching point. The continuous transfer of position data serves to upgrade the functionality of pneumatic cylinders, making them more intelligent and more versatile. It is now possible to solve engineering challenges in areas such as quality monitoring and process control, particularly in consumer goods markets like packaging.
Among the principal benefits of continuous position sensing is the ability to monitor quality, deliver process control and support optimisation, especially in tensioning applications like paper or film processing, where quality, repeatability and speed are vital to profitable operations. Here the remote reading of data from position sensors permits process deviations to be seen fast and acted upon, therefore retaining process optimisation and promoting predictive maintenance strategies.
Numerous other applications can also benefit, including materials handling, consumer packaging, small component assembly, machine building, and tasks in the renewable energy industry such as the positional control of solar panels as they track the sun. Offering the appropriate resistance to shock, vibration, moisture, chemicals and water ingress, continuous position sensing can be deployed reliably in demanding operating environments over extended time periods.
Two-way communications
The key to smart functionality is two-way data flow. Using traditional discrete or analog signals, the monitoring of sensor data is simply one-way communication, which may be sufficient to allow the remote monitoring of automated processes, for instance. However, in order to adopt Industry 4.0 strategies, two-way communication is required, meaning connection to a network such as Profinet or IO-Link. With regard to CPS sensors on pneumatic cylinders, implementation would include not only monitoring, but automatic configuration at startup and during replacement as part of maintenance routines.
The shift to predictive, rather than preventative or reactive maintenance, is one of industry's principal current trends and is an area where smart sensors can add significant value.
Specification and selection of smart sensors
The potential application benefits of smart sensors are significant. However, to maximise the gains, engineers need to consider several factors.
Firstly, the sensor needs to be able to fit securely on the cylinder body. External profiles may include linear slides, T-slots and dovetails. Alternatively, a combination screw combining an Allen key head and slotted screw can provide a convenient, simple and fast method of locating and securing the sensor. Alternatively, retaining ribs on the side of the sensor can hold the device in the desired position before the screw is tightened.
Rugged design is a requirement for a smart sensor operating in an environment with wide variations in temperature and vibration, and exposure to aggressive fluids or chemicals. Smart sensors may be offered with specific IP ratings to denote suitability for use where exposure to moisture is an issue. Automated applications where the smart sensor operates 24/7 make operation more demanding, and sensor failure leading directly to downtime can be extremely costly. So smart sensors must be easy to change to keep costly downtime to a minimum. This operation must be completed without removing cylinder end-caps or any other strip-down of the assembly.
During installation and at points in the sensor's operating life, adjustment and configuration of operating parameters will be necessary. Typical approaches are either via the IO Link, or a portable teach pad. The ready availability of a supply voltage for the sensor is also an absolute requirement, and a visual cue of an active state or output in the form of an LED is of value to operators.
For more information contact Lisa de Beer, Parker Hannifin SA, +27 (0)11 961 0700, lisa.debeer@parker.com,  www.parker.com/za
Credit(s)
Further reading:
Process safety transformed by TDL technology
Elemental Analytics IS & Ex
Servomex has introduced a new advantage to safety systems with its unique line lock technology incorporated into the latest tunable diode laser (TDL) analysers.
Read more...
---
Reduce the risk of shock and arc flash
Comtest IS & Ex
Comtest now offers a new Fluke tester to the market, which sources both AC and DC steady-state voltage for Hi-Z and Lo-Z instruments, thus simplifying safety compliance testing.
Read more...
---
Three key principles to build a strong safety culture
Comtest IS & Ex
To build a strong culture of safety, one first needs to create a climate that allows for adaptation and change.
Read more...
---
Preconfigured fail-safe circuit from Festo
Festo South Africa IS & Ex
The preconfigured Festo fail-safe circuit is ready to install in the control cabinet as a safe and low-cost alternative when it comes to fail-safe technology.
Read more...
---
Flameproof cable glands
Pratley IS & Ex
A new flameproof cable gland range from Pratley allows for soft-bedding cables like PVC to be fitted to flameproof equipment without any concern regarding cable damage.
Read more...
---
Gigabit intrinsically safe Ethernet
Extech Safety Systems IS & Ex
Eaton's 9470 product range provides cost-effective intrinsically safe (IS) Gigabit Ethernet equipment that can be installed and maintained easily in hazardous areas.
Read more...
---
Ultra-high-pressure hose from Parker
Parker Hannifin - Sales Company South Africa Pneumatics & Hydraulics
Parker Hannifin has launched PFX30-05, a DN8 ultra-high-pressure hose that offers improved service life in industrial water-jetting/blasting applications.
Read more...
---
Safety over IO-Link
ifm - South Africa IS & Ex
With the new AL200S PROFIsafe IO-Link module from ifm electronic, it is now possible to operate standard safety sensors and actuators via IO-Link.
Read more...
---
IS interface for signal processing
Endress+Hauser South Africa IS & Ex
Endress+Hauser's RN series interface modules power the foundation of measurement instrument loops and safety instrumented systems.
Read more...
---
Putting the new into pneumatics
Parker Hannifin - Sales Company South Africa Pneumatics & Hydraulics
IO-Link enabled products are just one example of how Parker is providing customers with cutting edge technologies for use in globalised manufacturing operations.
Read more...
---