printer friendly version
Effective plant asset management
Technews Industry Guide: Industrial Internet of Things & Industry 4.0
Maintenance, Test & Measurement, Calibration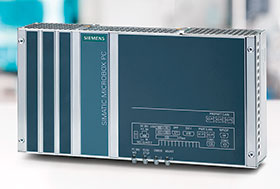 With its Simatic PDM Maintenance Station V2.0, Siemens provides the ideal solution for efficient monitoring of intelligent field device statuses independently of the automation and control system used. Their integration is based on DD (Device Description)/EDD (Electronic Device Description) technology. Diagnostic, parameterisation and status data from the field devices is read out cyclically and depicted in a clearly arranged format. The collected data can also be transferred using an export function for further processing in enterprise asset management or cloud-based condition monitoring systems. Version 2.0 has been further developed to comply with Namur recommendations NE 105, NE 107 and NE 129.
The Simatic Process Device Manager forms the basis for data and status monitoring of smart field devices in the maintenance station. Simatic PDM is a universal, manufacturer-neutral tool used for project engineering, parameterisation, commissioning and monitoring of intelligent field devices and field components. It supplies diagnostic data, status data and parameter data to the Simatic PDM Maintenance Station, where the information is processed and supplemented by functionalities such as overview or work progress lists, overview, segment and detailed images, status logs, parameter data archiving, global and device-specific message lists as well as cyclical functions for reading out or exporting field device information.
Maintenance and servicing system
The maintenance and servicing system is designed for use by small to medium-sized enterprises or production plants used for processes such as hybrid or biogas, wastewater treatment, painting lines in the automotive industry or paper manufacturing. The Simatic PMD Maintenance Station can also be used in specific plant sections. Version 2.0 of the Simatic PDM Maintenance Station can be used wherever intelligent field devices are in operation. The system is optimised for up to 500 field devices, and it is also possible to combine several Simatic PDM Maintenance Stations within one plant.
In production plants with Simatic automation stations, the Simatic PDM Maintenance Station is directly connected to the plant bus, and so communicates over the automation stations with the field devices of the lower-level field bus systems. In addition, a separate network can be created to the field devices if direct access is not possible.
The Simatic PDM Maintenance Station offers the same functionality and user guidance as the Simatic PCS 7 Maintenance Station, which is recommended for larger-scale applications using Simatic PCS 7 as a control system. "The special feature of the Simatic PDM Maintenance Station V 2.0 is that it can be used independently of Simatic PCS 7," says Siemens product manager Holger Rachut. "Even if it is not integrated into a Simatic PCS 7 project, it can use the existing infrastructure of a Simatic S7/PCS 7 project, or create its own communication infrastructure. It makes no difference how the field devices are connected, for instance using Profibus DP/PA, Profinet, HART or Ethernet."
The compact Simatic PDM Maintenance Station is flexible and offers scope for expansion. It can even be used several times over within a single project for different tasks, for instance as a diagnostic station for sub-plants or a data collector for selected field devices. Used as a data collector, the Simatic PDM Maintenance Station enables the cyclical capture and transmission of identity, event and parameter data to the relevant data evaluation systems.
In its recommendation NE 107, Namur has defined four status signals to be used on a standardised basis for all field devices: device failure, maintenance required, out of specification and function check. This enables identical status visualisation for all field devices based on what is known as the device description package DD/EDD, irrespective of type or manufacturer. The Simatic PDM Maintenance Station captures the diagnostic statuses and condition data of field devices implemented by the device manufacturer and described in DD/EDD. The maintenance station automatically reads this information from the field devices on a cyclical basis and where applicable signals any maintenance-related requirement, request or alarm on the basis of the NE 107, ensuring that service personnel are immediately informed and able to act or react promptly.
The Simatic PDM Maintenance Station requires only simple, low-cost engineering. Network structures and field devices can be simply adopted from existing projects. The basic package comprises a pre-installed industrial PC (Microbox IPC 427E), alongside a software recovery package. The Simatic PDM Maintenance Station can be optionally adapted within the quantity structure to the field devices to be monitored, and extended to include the server/client functionality of Simatic PDM.
For more information contact Jennifer Naidoo, Siemens Digital Factory and Process Industries and Drives, +27 (0)11 652 2795, jennifer.naidoo@siemens.com, www.siemens.co.za
Credit(s)
Further reading:
The Heartbeat of plant processes
May 2019, Endress+Hauser , Maintenance, Test & Measurement, Calibration
Self-diagnostics and predictive maintenance.
Read more...
---
Cathay Industrial Biotech benefits from Siemens technology
May 2019, Siemens Digital Industries , IT in Manufacturing
Cathay Industrial Biotech (Cathay) is China's leader in the field of bio-manufacturing. Its areas of expertise include producing polyamide from biomass, which takes place in a totally digital plant using 
...
Read more...
---
Solutions for test, measurement and broadcast
May 2019, Concilium Technologies , Maintenance, Test & Measurement, Calibration
Concilium's focus is ontest and measurement, enterprise network performance and testing, and professional broadcast. The company is a trusted provider of equipment, applications, services and solutions 
...
Read more...
---
TIA Portal engineering goes cloud
May 2019, Siemens Digital Industries , IT in Manufacturing
With the TIA Portal (Totally Integrated Automation Portal) in the cloud, Siemens is expanding the options of using the engineering framework even more flexibly in the various phases of planning, engineering 
...
Read more...
---
Thinking industry further
May 2019, Siemens Digital Industries , IT in Manufacturing
Siemens leads manufacturing to the next level of digital transformation.
Read more...
---
Siemens extends drive system functionality
May 2019, Siemens Digital Industries , Motion Control & Drives
Siemens now offers new features in the firmware and hardware for the Sinamics S120 drive system. Operation is made easier in firmware V5.2 through the integration of the web server, which has a new, responsive 
...
Read more...
---
Multifunction motor-drive analysers
May 2019, RS Components SA , Maintenance, Test & Measurement, Calibration
RS Components has announced the availability of two motor-drive analysers from test and measurement maker Fluke, which help to locate and troubleshoot typical problems on inverter type motor-drive systems. The 
...
Read more...
---
Safety on the pistes
May 2019, Siemens Digital Industries , IS & Ex
Inauen Schätti, a construction company whose areas of specialism include ropeways, is working to improve piste safety for skiers. As part of a pilot test project on the Parpaner Rothorn mountain, the 
...
Read more...
---
Powerful electronic deadweight testers
May 2019, Comtest , Maintenance, Test & Measurement, Calibration
Comtest now offers the latest Fluke E-DWT-H electronic deadweight tester, an electronic calibrator designed to deliver traditional hydraulic deadweight tester performance with digital measurement features 
...
Read more...
---
Implementing an infrared thermography maintenance programme
Technews Industry Guide: Maintenance, Reliability & Asset Optimisation 2019, Comtest , Maintenance, Test & Measurement, Calibration
This article discusses the benefits and outlines the steps that will help to grow thermographic imaging into a key component of any modern maintenance strategy.
Read more...
---