printer friendly version
New concepts for operator workstations in hazardous areas
July 2018
IS & Ex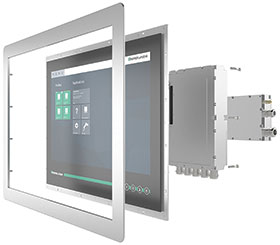 For production control and process control systems, visualisation software is an integral component of the system control, which is typically located outside of the production area. In these situations, there is a need for operator workstations where the production steps and plant images can be displayed and operated remotely.
Introduced by Pepperl+Fuchs 10 years ago, network-based VisuNet Remote Monitors are state-of-the-art today. The latest generation of VisuNet operator workstations is the GXP series for ATEX and IECEx Zone 1/21, Zone 2/22 as well as for NEC Class I/II Div2 and Class I/II Zone 2. One of the many innovations and new features is the option to set up a standard fibre optic network connection, even in Zone 1/21, without the need for an Ex-approved counterpart station on the controller side. Thus the network infrastructure is simplified and costs are reduced.
The VisuNet GXP systems are available with a 49 cm display or 56 cm 16:9 Full HD display, meeting most of the requirements of today's demanding process industry visualisation. The VisuNet GXP is available as a remote monitor and as a PC monitor.
A further innovation of the VisuNet GXP series is its modular design. The display module, processing unit (PC module or thin-client module) and the power supply (AC or DC power module) are individually Ex-approved and connected to each other via plugs and cables. As a result, in the rare event of a defect, the defective module can be identified and easily replaced. The Ex-approved devices can be repaired at the customer location by trained personnel simply swapping a module outside the hazardous area. This significantly reduces the repair time and therefore the downtime of the VisuNet GXP monitors on the production plant.
The mouse pointer can be moved with an optional PCAP technology touchscreen, which has significant advantages over the previous resistive touchscreen films made of plastic. The sensors behind the glass allow a display surface made of durable, chemically resistant glass. The latest generation of these PCAP touchscreens also allows the use of many glove types common in the process industry.
The touchscreen interface is resistant to interference from objects or dripping liquids. Multi-finger operation is supported by the existing version of the visualisation software.
As with the other VisuNet monitor series IND, GMP and XTA, a variety of housing and mounting components are available for the VisuNet GXP, and even customer-specific solutions via one of the Pepperl+Fuchs Solution Engineering Centers. This enables them to meet the wide variety of demands from an on-site location. The robust keyboard can be configured with three integrated variants for cursor control: with an easy to clean touchpad mouse, a simple, intuitive trackball mouse or a robust joystick, depending on the operational conditions.
Zone 1/21-approved PScan barcode readers can be connected as peripherals via a cable or wirelessly. These are functionally integrated into the monitor, so that the barcode data can be read and transferred directly to the controller application, using the network protocol.
Since the number of ground stations in the process industry is constantly increasing, it has become necessary to manage these remote monitors and PC monitors centrally from a standard PC. The requirements are configuring and managing the monitors, as well as offering the operator in the plant support without needing to go into the plant in person.
For this purpose, Pepperl+Fuchs has developed the VisuNetCC Control Center management software. VisuNetCC simplifies the commissioning of all monitors. Once a configuration has taken place locally on the service PC using VisuNetCC and its comprehensive additional functions, this can be saved and transferred to other monitors. During operation, the status of all VisuNet monitors on the network can be seen and clearly represented. If necessary, updates can be installed centrally. Through a screen-mirroring function for monitors at the plant, help can be provided to the site from afar, should the operator have any questions regarding the on-screen process image. This is conducted using a service PC with the VisuNetCC software. The operator is also able to take control of the on-site remote monitor if required. User administration allows such functions to be enabled or disabled.
The new GXP series monitors, together with the VisuNetCC management software, open a new chapter for operator workstations in international explosion-hazardous zones: easy installation and commissioning, comprehensive functionality of the parameterisable firmware (RM shell 5), new connection and operating concepts, as well as simple service, support and repair. Together with the modular system of mounting and accessory components, suitable operator workstations can be configured for various applications in the process industry.
Credit(s)
Further reading:
Tube connector for Ex areas
May 2020, Parker Hannifin - Sales Company South Africa , IS & Ex
Parker Hannifin has extended its Phastite permanent instrumentation connection range, which is now available in a number of corrosion-resistant alloys (CRAs), including Alloy 825, 625 and Super Duplex, 
...
Read more...
---
SMC's static removal solutions
November 2020, SMC Corporation South Africa , IS & Ex
Around the world, SMC Corporation has a long history in assisting customers in several industries with pneumatic solutions and components. Perhaps less well known in South Africa is the SMC ioniser range, 
...
Read more...
---
Pepperl+Fuchs continues Its Digital Event Series and invites you to its second Online Summit
October 2020, Pepperl+Fuchs , News
Pepperl+Fuchs invites you to its second Online Summit: register now, free of charge, to gain access to this fully digital event, which will be held from 17-19 November.
Read more...
---
Integrated sensor solution for many applications
November 2020, Pepperl+Fuchs , Sensors & Transducers
The line triangulation method is a frequently underestimated sensing mode for monitoring presence, completeness, position, and similar tasks.
Read more...
---
Retrofit your vehicles with collision protection
November 2020, ifm - South Africa , IS & Ex
The camera-based anti-collision system from ifm automatically detects persons and obstacles in the rear area of the vehicle, warns the driver, and stops the vehicle if necessary.
Read more...
---
3D multi-layer scanner
November 2020, Pepperl+Fuchs , Sensors & Transducers
Pepperl+Fuchs has developed the R2300 multi-layer scanner, a 3D LiDAR sensor for travel path and rear-area monitoring.
Read more...
---
Safe use of Ethernet in Ex areas
November 2020, Turck Banner , IS & Ex
Turck is paving the way for the evaluation of plant data using its excom high-availability I/O system.
Read more...
---
Safety controllers with diagnostics
October 2020, Turck Banner , IS & Ex
The combination of an intuitive user interface and diagnostics makes it easy to design and troubleshoot complex safety systems in just a few clicks.
Read more...
---
Quad-monitor thin client applications from Pepperl+Fuchs
October 2020, Pepperl+Fuchs , Industrial Computer Hardware
Using established thin client technology from Pepperl+Fuchs, production statuses are transmitted to multiple monitors in real time so that all plant data can be monitored and operators can respond quickly.
Read more...
---
Real-time location system
September 2020, Extech Safety Systems , IS & Ex
With worker safety becoming an ever-increasing focus for many businesses operating within process industries, iTAG X30 delivers a solution that allows high levels of location accuracy across their entire site.
Read more...
---