printer friendly version
New concepts for operator workstations in hazardous areas
July 2018
IS & Ex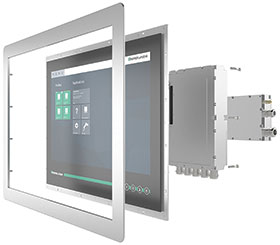 For production control and process control systems, visualisation software is an integral component of the system control, which is typically located outside of the production area. In these situations, there is a need for operator workstations where the production steps and plant images can be displayed and operated remotely.
Introduced by Pepperl+Fuchs 10 years ago, network-based VisuNet Remote Monitors are state-of-the-art today. The latest generation of VisuNet operator workstations is the GXP series for ATEX and IECEx Zone 1/21, Zone 2/22 as well as for NEC Class I/II Div2 and Class I/II Zone 2. One of the many innovations and new features is the option to set up a standard fibre optic network connection, even in Zone 1/21, without the need for an Ex-approved counterpart station on the controller side. Thus the network infrastructure is simplified and costs are reduced.
The VisuNet GXP systems are available with a 49 cm display or 56 cm 16:9 Full HD display, meeting most of the requirements of today's demanding process industry visualisation. The VisuNet GXP is available as a remote monitor and as a PC monitor.
A further innovation of the VisuNet GXP series is its modular design. The display module, processing unit (PC module or thin-client module) and the power supply (AC or DC power module) are individually Ex-approved and connected to each other via plugs and cables. As a result, in the rare event of a defect, the defective module can be identified and easily replaced. The Ex-approved devices can be repaired at the customer location by trained personnel simply swapping a module outside the hazardous area. This significantly reduces the repair time and therefore the downtime of the VisuNet GXP monitors on the production plant.
The mouse pointer can be moved with an optional PCAP technology touchscreen, which has significant advantages over the previous resistive touchscreen films made of plastic. The sensors behind the glass allow a display surface made of durable, chemically resistant glass. The latest generation of these PCAP touchscreens also allows the use of many glove types common in the process industry.
The touchscreen interface is resistant to interference from objects or dripping liquids. Multi-finger operation is supported by the existing version of the visualisation software.
As with the other VisuNet monitor series IND, GMP and XTA, a variety of housing and mounting components are available for the VisuNet GXP, and even customer-specific solutions via one of the Pepperl+Fuchs Solution Engineering Centers. This enables them to meet the wide variety of demands from an on-site location. The robust keyboard can be configured with three integrated variants for cursor control: with an easy to clean touchpad mouse, a simple, intuitive trackball mouse or a robust joystick, depending on the operational conditions.
Zone 1/21-approved PScan barcode readers can be connected as peripherals via a cable or wirelessly. These are functionally integrated into the monitor, so that the barcode data can be read and transferred directly to the controller application, using the network protocol.
Since the number of ground stations in the process industry is constantly increasing, it has become necessary to manage these remote monitors and PC monitors centrally from a standard PC. The requirements are configuring and managing the monitors, as well as offering the operator in the plant support without needing to go into the plant in person.
For this purpose, Pepperl+Fuchs has developed the VisuNetCC Control Center management software. VisuNetCC simplifies the commissioning of all monitors. Once a configuration has taken place locally on the service PC using VisuNetCC and its comprehensive additional functions, this can be saved and transferred to other monitors. During operation, the status of all VisuNet monitors on the network can be seen and clearly represented. If necessary, updates can be installed centrally. Through a screen-mirroring function for monitors at the plant, help can be provided to the site from afar, should the operator have any questions regarding the on-screen process image. This is conducted using a service PC with the VisuNetCC software. The operator is also able to take control of the on-site remote monitor if required. User administration allows such functions to be enabled or disabled.
The new GXP series monitors, together with the VisuNetCC management software, open a new chapter for operator workstations in international explosion-hazardous zones: easy installation and commissioning, comprehensive functionality of the parameterisable firmware (RM shell 5), new connection and operating concepts, as well as simple service, support and repair. Together with the modular system of mounting and accessory components, suitable operator workstations can be configured for various applications in the process industry.
Credit(s)
Further reading:
Process safety transformed by TDL technology
Elemental Analytics IS & Ex
Servomex has introduced a new advantage to safety systems with its unique line lock technology incorporated into the latest tunable diode laser (TDL) analysers.
Read more...
---
Reduce the risk of shock and arc flash
Comtest IS & Ex
Comtest now offers a new Fluke tester to the market, which sources both AC and DC steady-state voltage for Hi-Z and Lo-Z instruments, thus simplifying safety compliance testing.
Read more...
---
Three key principles to build a strong safety culture
Comtest IS & Ex
To build a strong culture of safety, one first needs to create a climate that allows for adaptation and change.
Read more...
---
Preconfigured fail-safe circuit from Festo
Festo South Africa IS & Ex
The preconfigured Festo fail-safe circuit is ready to install in the control cabinet as a safe and low-cost alternative when it comes to fail-safe technology.
Read more...
---
Flameproof cable glands
Pratley IS & Ex
A new flameproof cable gland range from Pratley allows for soft-bedding cables like PVC to be fitted to flameproof equipment without any concern regarding cable damage.
Read more...
---
Gigabit intrinsically safe Ethernet
Extech Safety Systems IS & Ex
Eaton's 9470 product range provides cost-effective intrinsically safe (IS) Gigabit Ethernet equipment that can be installed and maintained easily in hazardous areas.
Read more...
---
Safety over IO-Link
ifm - South Africa IS & Ex
With the new AL200S PROFIsafe IO-Link module from ifm electronic, it is now possible to operate standard safety sensors and actuators via IO-Link.
Read more...
---
IS interface for signal processing
Endress+Hauser South Africa IS & Ex
Endress+Hauser's RN series interface modules power the foundation of measurement instrument loops and safety instrumented systems.
Read more...
---
Pepperl+Fuchs acquires Aava Mobile Oy
Pepperl+Fuchs News
On 2 September, Pepperl+Fuchs strengthened its Mobile Computing and Communication business unit through the acquisition of Aava Mobile Oy.
Read more...
---
Migration from factory automation to process engineering
Pepperl+Fuchs System Integration & Control Systems Design
Pepperl+Fuchs has developed a range of high-tech sensors that have proven themselves in discrete applications. With added explosion protection, they are also suitable for process engineering in zones 1/21 and 2/22.
Read more...
---