printer friendly version
Faster quality reviews for life ­sciences companies
July 2018
IT in Manufacturing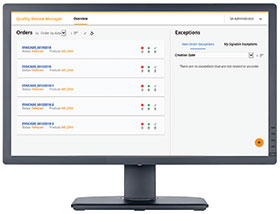 Emerson has released Quality Review Manager, an application designed to reduce the time it takes to release therapies to patients by decreasing the time and effort required for product quality reviews. Delivered as part of the Syncade manufacturing execution system (MES), this new tool helps life sciences companies more easily adopt review-by-exception operating approaches, allowing quality and manufacturing personnel to safely release batches faster, reducing inventory and time to market.
Quality Review Manager significantly reduces the length of reviews by simplifying the process of accurately documenting all actions taken when responding to exceptions. Today, most review teams must wait until after an entire batch is complete before reviewing process exceptions. With Quality Review Manager, the quality department can review process exceptions as they occur and while the batch is still in process, providing a more accurate and timely response. Exception reviews can be completed within hours of the exception occurring, rather than weeks after the batch has been completed, eliminating potential delays in releasing product to patients.
Providing a single environment for reviewing exceptions, Quality Review Manager speeds up the process of managing exception documentation by autogenerating data that provides context for each exception. Exception dashboards help prioritise reviews while focusing on the most critical exceptions affecting the process. After all exceptions are closed, Quality Review Manager supports an automated release methodology by immediately releasing finished batches once all exceptions are resolved, thereby reducing the lag between production, product release and patient delivery.
The web-enabled tool, accessible through traditional workstations and modern mobile devices (e.g. tablet or smartphone), facilitates collaboration among stakeholders and quality personnel by making documentation and other relevant information available anywhere. "Quality is paramount in the life sciences industry, so exception reviews must be supported by fully connected systems that deliver data integrity," said John Nita, vice president of sales and product management for Emerson's life sciences business. "Quality Review Manager provides a single source of the truth, helping to streamline exception reporting and resolution, ultimately improving operating performance and helping medicines reach patients faster."
For more information contact Rob Smith, Emerson Automation Solutions, +27 (0)11 451 3700, rob.smith@emerson.com, www.emerson.com
Credit(s)
Further reading:
SA company launches AI-based risk screening mobile app
October 2020 , IT in Manufacturing
The Instant Vitals app converts a mobile phone into a key vital signs medical device that could save lives when screening for Covid-19 symptoms.
Read more...
---
Danfoss debuts Alsense
November 2020, Danfoss , IT in Manufacturing
Danfoss has updated and enhanced its service offering to create a more sustainable, scalable and secure cloud-based portal for managing food retail operations.
Read more...
---
Digitalising mineral processing operations
November 2020 , IT in Manufacturing
Mining's accelerated move toward digital solutions is being supported by FLSmidth's decades of research and development. The company has over 80 projects underway to improve its mining-related offerings.
Read more...
---
Schneider Electric provides digital technologies to the mining industry
November 2020, Schneider Electric South Africa , IT in Manufacturing
"The organisation has invested significantly to develop a specialised competence in mining applications," explains Marc Ramsay, vice president industry business unit at Schneider Electric South Africa. 
...
Read more...
---
Smart manufacturing and the new normal
November 2020, Absolute Perspectives , IT in Manufacturing
In manufacturing, it is likely that billions of dollars have been lost in 2020, while a high percentage of manufacturing jobs have been negatively impacted.
Read more...
---
Emerson to acquire Progea Group
November 2020, Emerson Automation Solutions , News
Acquisition complements Emerson's portfolio and helps customers in discrete and hybrid end markets to accelerate digital transformation.
Read more...
---
Will OT take over MES?
October 2020 , IT in Manufacturing
Industry 4.0 forces the convergence where IT needs to knock on the door of a manufacturing plant and sell OT, not IT or MES.
Read more...
---
Get full value from data science
October 2020, Omron Electronics , IT in Manufacturing
As huge amounts of data become available from the factory floor, information must be extracted and presented to the right audience, at the right time, and in the right way.
Read more...
---
Predictive analytics for artificial lifts
October 2020, Emerson Automation Solutions , IT in Manufacturing
Machine learning and artificial intelligence applications in artificial lift systems have seen a growth in importance recently and are no longer a nice to have, but essential tools for well optimisation.
Read more...
---
How can manufacturers survive under the new normal to 2021 and beyond?
October 2020, RJ Connect , IT in Manufacturing
Thanks to COVID-19, the manufacturing industry is entering the era of unmanned operations. How best can companies adapt to the new normal and maintain efficient operations?
Read more...
---