printer friendly version
Faster quality reviews for life ­sciences companies
July 2018
IT in Manufacturing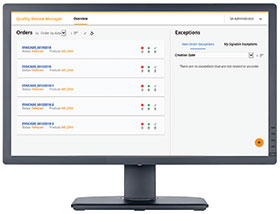 Emerson has released Quality Review Manager, an application designed to reduce the time it takes to release therapies to patients by decreasing the time and effort required for product quality reviews. Delivered as part of the Syncade manufacturing execution system (MES), this new tool helps life sciences companies more easily adopt review-by-exception operating approaches, allowing quality and manufacturing personnel to safely release batches faster, reducing inventory and time to market.
Quality Review Manager significantly reduces the length of reviews by simplifying the process of accurately documenting all actions taken when responding to exceptions. Today, most review teams must wait until after an entire batch is complete before reviewing process exceptions. With Quality Review Manager, the quality department can review process exceptions as they occur and while the batch is still in process, providing a more accurate and timely response. Exception reviews can be completed within hours of the exception occurring, rather than weeks after the batch has been completed, eliminating potential delays in releasing product to patients.
Providing a single environment for reviewing exceptions, Quality Review Manager speeds up the process of managing exception documentation by autogenerating data that provides context for each exception. Exception dashboards help prioritise reviews while focusing on the most critical exceptions affecting the process. After all exceptions are closed, Quality Review Manager supports an automated release methodology by immediately releasing finished batches once all exceptions are resolved, thereby reducing the lag between production, product release and patient delivery.
The web-enabled tool, accessible through traditional workstations and modern mobile devices (e.g. tablet or smartphone), facilitates collaboration among stakeholders and quality personnel by making documentation and other relevant information available anywhere. "Quality is paramount in the life sciences industry, so exception reviews must be supported by fully connected systems that deliver data integrity," said John Nita, vice president of sales and product management for Emerson's life sciences business. "Quality Review Manager provides a single source of the truth, helping to streamline exception reporting and resolution, ultimately improving operating performance and helping medicines reach patients faster."
For more information contact Rob Smith, Emerson Automation Solutions, +27 (0)11 451 3700, rob.smith@emerson.com, www.emerson.com
Credit(s)
Further reading:
What does digitalisation mean for food product safety?
Endress+Hauser South Africa IT in Manufacturing
Product safety remains a vital topic for achieving food security across the globe. To date, many manufacturers still question whether digitalisation can help reduce the effort involved in process optimisation, production monitoring and system installation.
Read more...
---
Emerson announces commitment to venture capital initiative
Emerson Automation Solutions News
Emerson Ventures to focus on disruptive discrete automation solutions, environmental sustainability technologies and industrial software.
Read more...
---
Digital twins enhance asset productivity in oil and gas applications
IT in Manufacturing
The ability to continue through various production cycles with zero unplanned downtime means that practical efficiencies using digitisation are essential.
Read more...
---
IaaS – paying for the experience but not the assets
Schneider Electric South Africa IT in Manufacturing
Infrastructure-as-a-Service has emerged as a feasible option that maintains crucial infrastructure such as IT, power consumption and business continuity while organisations focus on their core business.
Read more...
---
Siemens extends Xcelerator portfolio
Siemens South Africa IT in Manufacturing
Siemens Digital Industries has announced the release of NX Automation Designer software and NX Industrial Electrical Design software, a new suite of solutions that provide a central design application for industrial, electrical and automation design.
Read more...
---
Intelligent automation for Industry 4.0
IT in Manufacturing
Jumo smartWARE Evaluation is a software solution that allows browser-based process data analysis via customised dashboards.
Read more...
---
Simplifying the management of hybrid IT environments
Schneider Electric South Africa IT in Manufacturing
With the ongoing move towards hybrid cloud environments there comes an extra layer of complexity; nothing is ever as simple as it seems.
Read more...
---
Server engine for increasing machine learning requirements
Beckhoff Automation IT in Manufacturing
TwinCAT Machine Learning offers further inference engine.
Read more...
---
OPC Classic data connectivity notice
Moore Process Controls IT in Manufacturing
During June, Microsoft released a security update that changed how the Windows operating system enforces DCOM security. As a result, OPC communications relying on DCOM may stop working when the Windows changes start to be enforced in 2022.
Read more...
---
The importance of good project management
Iritron IT in Manufacturing
A structured way of organising work can help identify and resolve problems in an efficient manner before the implications have a chance to escalate.
Read more...
---