printer friendly version
Schneider Electric innovations shine in Germany
July 2018
IT in Manufacturing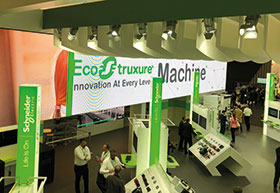 In an ever-changing digital world, for everything from new business models and new consumer technologies to new infrastructure, energy and power systems, the digital transformation is inescapable. The fourth industrial revolution, or smart manufacturing, has accelerated the move to digital technologies that offer a competitive advantage to every company and every geographical zone that adopts them.
Augmented reality, the IIoT, machine learning and predictive maintenance are making companies more efficient and boosting their competitive advantage. Schneider Electric, the global leader in the digital transformation of energy management and automation, recently took to Hannover Messe 2018 to showcase its latest innovations for industrial companies.
Digital technologies enable more efficient use of resources
As energy and automation develop into a more digitally connected environment, these new technologies are capable of ensuring that power-sensitive automation equipment remains operational, boosting power reliability and cost savings by improving the speed and accuracy of the processes they control.
Bridging the divide between complexity and human capabilities by using control devices and technology for automated operation and control, digitisation allows for better support and faster decision making by providing operational insight, encouraging efficient use of resources to maximise assets and production output, simplifying tasks, and integrating the implementation of plant strategies.
"At Schneider Electric, we believe that integrating power and automation systems through the IIoT has the potential to bring together the best features of both systems, enhancing processes while introducing safer, more reliable, efficient, sustainable, and connected power," said Marc Ramsay, vice president for the industry business unit at Schneider Electric South Africa.
EcoStruxure for Industry
As the leader in powering and digitising industry, Schneider Electric is uniquely positioned to drive the digital transformation of today's growing industrial automation markets and assist industrial customers in their conversions. Significant changes are fundamentally accelerating this movement in the industrial space.
"With EcoStruxure for Industry, Schneider Electric offers a truly unified engineering approach that can be deployed across multiple industrial segments," added Ramsay. "Leveraging our unique partnership with AVEVA, we can offer an unmatched set of solutions covering all aspects of digital asset management from process simulation to design, construction and manufacturing operations management and optimisation."
EcoStruxure for Industry offers open, interoperable, IIoT-enabled system architecture and platform, where users benefit from enhanced value around safety, reliability, efficiency, sustainability, and connectivity.
Leveraging all advancements in IIoT technology, including mobility, sensing, cloud, analytics, and cybersecurity through connected products, EcoStruxure has been deployed in over 480 000 sites around the world.
"With the support of 20 000 system integrators and developers, EcoStruxure currently has 1,6 million assets under management, and that figure is expected to grow by 25% year-on-year for the foreseeable future," explained Ramsay. "This figure ties in with Accenture's recent report, citing that at present, 64% of executives believe that a failure to leverage digital technology will cause their companies to struggle for survival."
Strengthening its commitment to digitising industry, Schneider Electric also unveiled EcoStruxure Machine Advisor during a presentation at Hannover Messe, 2018. This platform now makes it possible to track, monitor and fix machines in the field while reducing support costs by 30 to 50%.
"Where managers struggle to track the history of the many machines that fall under their scope of responsibility, or when parts need replacing, production is interrupted, and the downtimes are much too long, maintenance technicians often spend far too much time attempting to locate different sets of documentation before they can begin productive work on fixing the machine," concluded Ramsay. "Schneider Electric's recent breakthrough with this technology is now directly addressing these challenges by providing new ways of gathering, centralising and displaying machine-generated data."
For more information contact Jason Ullbricht, Schneider Electric SA, +27 (0)11 254 6400, jason.ullbricht@schneider-electric.com, www.schneider-electric.co.za
Credit(s)
Further reading:
SA company launches AI-based risk screening mobile app
October 2020 , IT in Manufacturing
The Instant Vitals app converts a mobile phone into a key vital signs medical device that could save lives when screening for Covid-19 symptoms.
Read more...
---
Danfoss debuts Alsense
November 2020, Danfoss , IT in Manufacturing
Danfoss has updated and enhanced its service offering to create a more sustainable, scalable and secure cloud-based portal for managing food retail operations.
Read more...
---
Digitalising mineral processing operations
November 2020 , IT in Manufacturing
Mining's accelerated move toward digital solutions is being supported by FLSmidth's decades of research and development. The company has over 80 projects underway to improve its mining-related offerings.
Read more...
---
Schneider Electric provides digital technologies to the mining industry
November 2020, Schneider Electric South Africa , IT in Manufacturing
"The organisation has invested significantly to develop a specialised competence in mining applications," explains Marc Ramsay, vice president industry business unit at Schneider Electric South Africa. 
...
Read more...
---
Digital transformation is key to energy efficiency across sub-Saharan Africa
November 2020, Schneider Electric South Africa , News
The findings of the Global Digital Transformation Benefits Report, which was initially released in 2019, were validated by Schneider Electric's customers in the Middle East and Africa throughout 2020.
Read more...
---
Smart manufacturing and the new normal
November 2020, Absolute Perspectives , IT in Manufacturing
In manufacturing, it is likely that billions of dollars have been lost in 2020, while a high percentage of manufacturing jobs have been negatively impacted.
Read more...
---
Will OT take over MES?
October 2020 , IT in Manufacturing
Industry 4.0 forces the convergence where IT needs to knock on the door of a manufacturing plant and sell OT, not IT or MES.
Read more...
---
Get full value from data science
October 2020, Omron Electronics , IT in Manufacturing
As huge amounts of data become available from the factory floor, information must be extracted and presented to the right audience, at the right time, and in the right way.
Read more...
---
Predictive analytics for artificial lifts
October 2020, Emerson Automation Solutions , IT in Manufacturing
Machine learning and artificial intelligence applications in artificial lift systems have seen a growth in importance recently and are no longer a nice to have, but essential tools for well optimisation.
Read more...
---
How can manufacturers survive under the new normal to 2021 and beyond?
October 2020, RJ Connect , IT in Manufacturing
Thanks to COVID-19, the manufacturing industry is entering the era of unmanned operations. How best can companies adapt to the new normal and maintain efficient operations?
Read more...
---