printer friendly version
Schneider Electric innovations shine in Germany
July 2018
IT in Manufacturing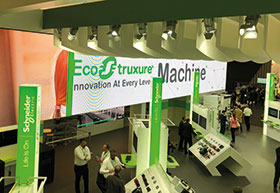 In an ever-changing digital world, for everything from new business models and new consumer technologies to new infrastructure, energy and power systems, the digital transformation is inescapable. The fourth industrial revolution, or smart manufacturing, has accelerated the move to digital technologies that offer a competitive advantage to every company and every geographical zone that adopts them.
Augmented reality, the IIoT, machine learning and predictive maintenance are making companies more efficient and boosting their competitive advantage. Schneider Electric, the global leader in the digital transformation of energy management and automation, recently took to Hannover Messe 2018 to showcase its latest innovations for industrial companies.
Digital technologies enable more efficient use of resources
As energy and automation develop into a more digitally connected environment, these new technologies are capable of ensuring that power-sensitive automation equipment remains operational, boosting power reliability and cost savings by improving the speed and accuracy of the processes they control.
Bridging the divide between complexity and human capabilities by using control devices and technology for automated operation and control, digitisation allows for better support and faster decision making by providing operational insight, encouraging efficient use of resources to maximise assets and production output, simplifying tasks, and integrating the implementation of plant strategies.
"At Schneider Electric, we believe that integrating power and automation systems through the IIoT has the potential to bring together the best features of both systems, enhancing processes while introducing safer, more reliable, efficient, sustainable, and connected power," said Marc Ramsay, vice president for the industry business unit at Schneider Electric South Africa.
EcoStruxure for Industry
As the leader in powering and digitising industry, Schneider Electric is uniquely positioned to drive the digital transformation of today's growing industrial automation markets and assist industrial customers in their conversions. Significant changes are fundamentally accelerating this movement in the industrial space.
"With EcoStruxure for Industry, Schneider Electric offers a truly unified engineering approach that can be deployed across multiple industrial segments," added Ramsay. "Leveraging our unique partnership with AVEVA, we can offer an unmatched set of solutions covering all aspects of digital asset management from process simulation to design, construction and manufacturing operations management and optimisation."
EcoStruxure for Industry offers open, interoperable, IIoT-enabled system architecture and platform, where users benefit from enhanced value around safety, reliability, efficiency, sustainability, and connectivity.
Leveraging all advancements in IIoT technology, including mobility, sensing, cloud, analytics, and cybersecurity through connected products, EcoStruxure has been deployed in over 480 000 sites around the world.
"With the support of 20 000 system integrators and developers, EcoStruxure currently has 1,6 million assets under management, and that figure is expected to grow by 25% year-on-year for the foreseeable future," explained Ramsay. "This figure ties in with Accenture's recent report, citing that at present, 64% of executives believe that a failure to leverage digital technology will cause their companies to struggle for survival."
Strengthening its commitment to digitising industry, Schneider Electric also unveiled EcoStruxure Machine Advisor during a presentation at Hannover Messe, 2018. This platform now makes it possible to track, monitor and fix machines in the field while reducing support costs by 30 to 50%.
"Where managers struggle to track the history of the many machines that fall under their scope of responsibility, or when parts need replacing, production is interrupted, and the downtimes are much too long, maintenance technicians often spend far too much time attempting to locate different sets of documentation before they can begin productive work on fixing the machine," concluded Ramsay. "Schneider Electric's recent breakthrough with this technology is now directly addressing these challenges by providing new ways of gathering, centralising and displaying machine-generated data."
For more information contact Jason Ullbricht, Schneider Electric SA, +27 (0)11 254 6400, jason.ullbricht@schneider-electric.com, www.schneider-electric.co.za
Credit(s)
Further reading:
TeSys Giga with digital innovation
Schneider Electric South Africa Electrical Power & Protection
Schneider Electric has announced the release of the new generation of TeSys Giga series motor starters.
Read more...
---
What does digitalisation mean for food product safety?
Endress+Hauser South Africa IT in Manufacturing
Product safety remains a vital topic for achieving food security across the globe. To date, many manufacturers still question whether digitalisation can help reduce the effort involved in process optimisation, production monitoring and system installation.
Read more...
---
Digital twins enhance asset productivity in oil and gas applications
IT in Manufacturing
The ability to continue through various production cycles with zero unplanned downtime means that practical efficiencies using digitisation are essential.
Read more...
---
IaaS – paying for the experience but not the assets
Schneider Electric South Africa IT in Manufacturing
Infrastructure-as-a-Service has emerged as a feasible option that maintains crucial infrastructure such as IT, power consumption and business continuity while organisations focus on their core business.
Read more...
---
Siemens extends Xcelerator portfolio
Siemens South Africa IT in Manufacturing
Siemens Digital Industries has announced the release of NX Automation Designer software and NX Industrial Electrical Design software, a new suite of solutions that provide a central design application for industrial, electrical and automation design.
Read more...
---
Intelligent automation for Industry 4.0
IT in Manufacturing
Jumo smartWARE Evaluation is a software solution that allows browser-based process data analysis via customised dashboards.
Read more...
---
Schneider boosts next generation TeSys Giga offering with digital innovation
Schneider Electric South Africa Electrical Power & Protection
Schneider Electric has announced the release of the new generation of TeSys Giga series motor starters.
Read more...
---
Simplifying the management of hybrid IT environments
Schneider Electric South Africa IT in Manufacturing
With the ongoing move towards hybrid cloud environments there comes an extra layer of complexity; nothing is ever as simple as it seems.
Read more...
---
Server engine for increasing machine learning requirements
Beckhoff Automation IT in Manufacturing
TwinCAT Machine Learning offers further inference engine.
Read more...
---
OPC Classic data connectivity notice
Moore Process Controls IT in Manufacturing
During June, Microsoft released a security update that changed how the Windows operating system enforces DCOM security. As a result, OPC communications relying on DCOM may stop working when the Windows changes start to be enforced in 2022.
Read more...
---