Emerson expands its pressure gauge portfolio
July 2018
Pressure Measurement & Control

printer friendly version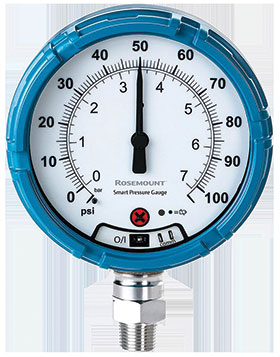 Emerson has introduced the Rosemount Smart Pressure Gauge to help users gain better visibility of field changes. It utilises industry-proven Rosemount pressure sensor technology to deliver reliable pressure readings. With the flexibility to accommodate changing process conditions, the Smart Pressure Gauge gives up to 150X overpressure protection and provides a safer field environment. By utilising two layers of process isolation, it can help prevent process failures from becoming dangerous by preventing employee contact with process fluid by keeping it safely inside the pipe.
Rosemount pressure sensor technology replaces 100-year-old bourdon tube gauge technology, eliminating weak points common to mechanical gauges. Mechanical gauges are plagued with quality and reliability issues associated with overpressure, vibration, corrosion, extreme temperatures and accidental damage, and can contribute to numerous reliability and safety issues in plant environments. Additionally, mechanical gauges are unable to communicate device status.
With up to a 10-year life, which reduces maintenance costs and time, and increased visibility from a large 11 cm face with status indicator light, the gauge provides easy field visibility and expands Emerson's gauge portfolio. "Industry response to the Rosemount Wireless Pressure Gauge has been positive, and now with the addition of the Smart Pressure Gauge, our customers have even more options for upgrading their problematic gauges," said Sven Hendrickson, product manager for pressure gauges.
For more information contact Rob Smith, Emerson Automation Solutions, +27 (0)11 451 3700, rob.smith@emerson.com, www.emerson.com
Credit(s)
Further reading:
Emerson selected as Industrial IoT company of the year
February 2019, Emerson Automation Solutions , News
Emerson has been named the 'Industrial IoT Company of the Year' by IoT Breakthrough for the second year in a row. The honour recognises Emerson's innovation and leadership in driving IIoT technologies 
...
Read more...
---
Emerson drives faster response times
February 2019, Emerson Automation Solutions , Maintenance, Test & Measurement, Calibration
Emerson has released AMS Inspection Rounds, a new application for the AMS Trex Device Communicator that will make it easier for operations teams to capture, report and respond to abnormal plant conditions 
...
Read more...
---
Compact differential pressure transmitter
January 2019, Vepac Electronics , Pressure Measurement & Control
The Halstrup Walcher P 34 series differential pressure transmitter is designed for pressure monitoring applications in cleanrooms, laboratories, pharmaceutical plants and operating theatres as well as 
...
Read more...
---
Emerson to buy General Electric's Intelligent Platforms business
December 2018, Emerson Automation Solutions , News
Emerson has announced that it has agreed to acquire Intelligent Platforms, a division of General Electric. Intelligent Platforms' programmable logic controller (PLC) technology will enable Emerson to 
...
Read more...
---
Hygienic diaphragm pressure gauges
December 2018, WIKA Instruments , Pressure Measurement & Control
WIKA has expanded the application range of its hygienic diaphragm pressure gauges with the model PG43SA-S, which is now also available in a version with ATEX approval. The pressure gauge can thus be used 
...
Read more...
---
Emerson's compact new hygienic transmitters
December 2018, Emerson Automation Solutions , Temperature Measurement
Emerson has unveiled a new line of compact transmitters. Designed specifically for hygienic applications in the food and beverage industry, they will enable manufacturers to minimise downtime and lower 
...
Read more...
---
Analysing pressure peaks
November 2018, Instrotech , Pressure Measurement & Control
Keller's Leo 5 high-resolution digital manometer features precise sensor technology, fast signal processing, peak recording and data storage with a time stamp. Designed for deployment in hostile environments, 
...
Read more...
---
Emerson opens flow calibration centre for Middle East and Africa
October 2018, Emerson Automation Solutions , News
Emerson has recently opened the Middle East and Africa Flow Service Centre at its Dubai campus. The facility will operate as a service centre for customers in the Middle East and Africa, offering internationally 
...
Read more...
---
Pressure measurement with dual display
October 2018 , Pressure Measurement & Control
The PSQ series dual digital display pressure sensors from Autonics allow users to monitor both PV and SV readings. The 12-segment LCD display is capable of displaying various alphanumeric characters for 
...
Read more...
---
Flush-mount pressure transmitter
October 2018, ASSTech Process Electronics + Instrumentation , Pressure Measurement & Control
Specifically developed for the supervision of clean rooms, the Kimo CPE 300 transmitter is dedicated to the measurement of low pressure or depression of air or neutral gasses from 0/10 Pa to -1000/ 1000 
...
Read more...
---