printer friendly version
Flow-through conductivity sensor reduces maintenance
July 2018
Sensors & Transducers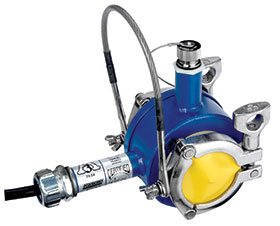 Foxboro's 871FT conductivity sensors are a comprehensive family of flow-through, non-invasive electrodeless assemblies that measure the conductivity of almost any conductive liquid. The 871FT sensors are available in several line sizes from 12 to 100 mm and there is a wide choice of wetted parts materials and end connections, including both industrial and sanitary types. Featuring a built-in calibration port, the sensors can be calibrated inline to improve applications with aggressive chemicals and those in industries such as pharmaceuticals where the process line cannot be broken.
A typical application
Hydrofluoric acid (HF) is a key component in products ranging from petrochemical and pharmaceutical intermediates to industrial lubricants. HF is highly corrosive to equipment and extremely hazardous to humans. It is a weak acid, but diluting its concentration increases its corrosive properties and the presence of water in anhydrous HF will seriously corrode the process equipment. In chemical processing, equipment replacement costs can run into the hundreds of thousands of rands for labour and materials, especially when replacement includes premium-performance metal alloys such as Monel and Inconel. Furthermore, downtime and loss of production during equipment repair can erode profits for chemical manufacturers.
The Foxboro solution
By enabling Foxboro technology on this HF application, the 871FT conductivity sensors assist in the water extraction process by using changes in conductivity as an index to changes in concentration. By engaging this unique industrial flow-through technology, in which the process fluid actually passes through the toroidal sensing, the head acts as a section of the process pipeline. Conductivity detection is rapid, reliable and accurate.
Conductivity measurement is in the 500 S/cm range as required for this application, but the 871FT is also suitable for applications with measurements ranging from 10 S/cm – 2000 mS/cm.
Another advantage of the flow-through sensors is that they enable calibration inline, which significantly reduces scheduled maintenance time and related exposure of personnel or the environment or aggressive and dangerous chemicals. Traditional conductivity calibration involves pulling the probe, capping or sealing off the line, doing the actual calibration, reinstallation and then clean-up, which can be tedious, dangerous to personnel, and costly. As part of the design, the Foxboro 871FT features a calibration port that eliminates the need to break into the line, thus eliminating associated costs and safety concerns.
Additional benefits
• Reduced material and maintenance costs.
• Improved production yields and reduced equipment corrosion.
• Reduced exposure of personnel to a potentially deadly chemical.
With more than 40 years' experience in conductivity measurement, Foxboro offers a complete range of instrumentation. The proven reliability and robustness of the Foxboro conductivity flow-through sensor helps improve process performance, increases production yields and reduces equipment corrosion.
For more information contact Johan van Jaarsveldt, EOH, +27 (0)87 803 9783, johan.vanjaarsveldt@eoh-pas.co.za, www.eoh-pas.co.za
Credit(s)
Further reading:
Prevent backward driving accidents
September 2020, SICK Automation Southern Africa , Sensors & Transducers
To prevent collisions and improve worker safety, Cologne-based sugar producer Pfeifer & Langen selected SICK Automation's Visionary-B CV 3D driver assistance system for use at its reloading point.
Read more...
---
Conductivity sensor for CIP monitoring
September 2020, ifm - South Africa , Sensors & Transducers
The LDL200 from ifm electronic is designed to be used in cleaning processes (CIP) in the food industry.
Read more...
---
Conductivity sensor for interface detection
September 2020, ifm - South Africa , Sensors & Transducers
The conductivity sensor LDL100 for interface detection from ifm electronic ensures that product validation is possible at all times.
Read more...
---
Image processing software with Profinet interface
August 2020, ASSTech Process Electronics + Instrumentation , Sensors & Transducers
ASSTech now offers Wenglor's image processing software – uniVision – with new features. The latest release, Version 2.2, enables smart cameras and control units to be integrated into controls quickly 
...
Read more...
---
Flexible sensors for individual beer
August 2020, ifm - South Africa , Sensors & Transducers
A variety of individual beers characterise the regional brewery Skanderborg Bryghus in the Danish town of Skanderborg. Unlike large commercial breweries, this brewery is largely promoted and operated 
...
Read more...
---
Monitoring of chemical distribution
August 2020, Instrotech , Sensors & Transducers
The IoT offers smart solutions that help make life easier and more convenient, improve and streamline processes, and receive information in good time that were previously unavailable or difficult to acquire. 
...
Read more...
---
Programmable LED strip with19 colours
August 2020, Turck Banner , Sensors & Transducers
his work light can be programmed to provide bright white light for safety or efficiency during normal operation and then change colour to indicate other machine statuses, such as red for a stop condition.
Read more...
---
Sensors support crisp bread production in Sweden
August 2020, ifm - South Africa , Sensors & Transducers
Production is automated according to the latest state-of-the-art technology with sensors from ifm electronic monitoring the processes from the supply of ingredients to the dispatch area.
Read more...
---
Ecolab certified photoelectric sensors
August 2020, Turck Banner , Sensors & Transducers
Banner's new T18-2 photoelectric sensors have an FDA-grade shatterproof plastic housing and are IP69K rated and Ecolab certified to protect against water ingress and chemical washdown. IP69K and epoxy 
...
Read more...
---
Fork sensor in hygienic design
July 2020, ASSTech Process Electronics + Instrumentation , Sensors & Transducers
Production sequences in the pharmaceutical and food industries are subject to extremely demanding hygiene standards. With corrosion-free stainless steel, FDA conformity and Ecolab certification, Wenglor's 
...
Read more...
---