printer friendly version
Flow-through conductivity sensor reduces maintenance
July 2018
Sensors & Transducers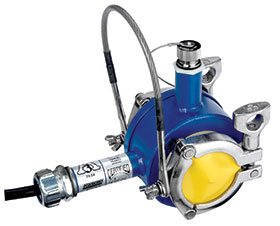 Foxboro's 871FT conductivity sensors are a comprehensive family of flow-through, non-invasive electrodeless assemblies that measure the conductivity of almost any conductive liquid. The 871FT sensors are available in several line sizes from 12 to 100 mm and there is a wide choice of wetted parts materials and end connections, including both industrial and sanitary types. Featuring a built-in calibration port, the sensors can be calibrated inline to improve applications with aggressive chemicals and those in industries such as pharmaceuticals where the process line cannot be broken.
A typical application
Hydrofluoric acid (HF) is a key component in products ranging from petrochemical and pharmaceutical intermediates to industrial lubricants. HF is highly corrosive to equipment and extremely hazardous to humans. It is a weak acid, but diluting its concentration increases its corrosive properties and the presence of water in anhydrous HF will seriously corrode the process equipment. In chemical processing, equipment replacement costs can run into the hundreds of thousands of rands for labour and materials, especially when replacement includes premium-performance metal alloys such as Monel and Inconel. Furthermore, downtime and loss of production during equipment repair can erode profits for chemical manufacturers.
The Foxboro solution
By enabling Foxboro technology on this HF application, the 871FT conductivity sensors assist in the water extraction process by using changes in conductivity as an index to changes in concentration. By engaging this unique industrial flow-through technology, in which the process fluid actually passes through the toroidal sensing, the head acts as a section of the process pipeline. Conductivity detection is rapid, reliable and accurate.
Conductivity measurement is in the 500 S/cm range as required for this application, but the 871FT is also suitable for applications with measurements ranging from 10 S/cm – 2000 mS/cm.
Another advantage of the flow-through sensors is that they enable calibration inline, which significantly reduces scheduled maintenance time and related exposure of personnel or the environment or aggressive and dangerous chemicals. Traditional conductivity calibration involves pulling the probe, capping or sealing off the line, doing the actual calibration, reinstallation and then clean-up, which can be tedious, dangerous to personnel, and costly. As part of the design, the Foxboro 871FT features a calibration port that eliminates the need to break into the line, thus eliminating associated costs and safety concerns.
Additional benefits
• Reduced material and maintenance costs.
• Improved production yields and reduced equipment corrosion.
• Reduced exposure of personnel to a potentially deadly chemical.
With more than 40 years' experience in conductivity measurement, Foxboro offers a complete range of instrumentation. The proven reliability and robustness of the Foxboro conductivity flow-through sensor helps improve process performance, increases production yields and reduces equipment corrosion.
For more information contact Johan van Jaarsveldt, EOH, +27 (0)87 803 9783, johan.vanjaarsveldt@eoh-pas.co.za, www.eoh-pas.co.za
Credit(s)
Further reading:
Engineers help British wine growers achieve success
Instrotech Sensors & Transducers
English growers realise that like all developing industries, as production grows so the need for efficiency increases.
Read more...
---
Steierl-Pharma uses smart cameras to modernise its labelling processes
Omron Electronics Sensors & Transducers
Steierl-Pharma of Herrsching, Germany, relies on the support of Omron automation experts for state-of-the-art labelling technology. By using a new labelling system with smart camera technology, the company 
...
Read more...
---
Brewery benefits from IO-Link devices
ifm - South Africa Sensors & Transducers
Marston's recently undertook a review of the fine ale room tank level indication system, to address certain issues.
Read more...
---
Inductive sensors with IO-Link
Turck Banner Sensors & Transducers
Turck's Banner's new non-flush sensors set new standards with maximum accuracy and smart additional information for condition monitoring.
Read more...
---
New compact capacitive sensor
Instrotech Sensors & Transducers
Instrotech has introduced a new series of capacitive sensors with more compact dimensions than older sensors on the market.
Read more...
---
Hot and cold rolling mills
Morton Controls Sensors & Transducers
One of the major consumables in steel production is the oil in water emulsion used to spray on the mill rollers to cool, lubricate and improve the finish of the final product, as well as assist with corrosion prevention and control friction.
Read more...
---
Controlling moisture content is crucial in food processing
SECO Process Instrumentation Sensors & Transducers
When it comes to food processing, excess moisture can ruin products and create unnecessary waste, economic losses and decreased productivity.
Read more...
---
High-performance photoelectric sensors
ASSTech Process Electronics + Instrumentation Sensors & Transducers
Wenglor's Type 2K photoelectric sensors within the PNG/smart product range have robust stainless steel 316L housings with IP69K protection.
Read more...
---
Omron launches new laser sensor
Omron Electronics Sensors & Transducers
New sensing technology detects difficult targets and reduces the need for complex installation design.
Read more...
---
Encoders with SAE J1939 interface
Turck Banner Sensors & Transducers
Turck Banner has extended its encoder portfolio with new encoders featuring the SAE J1939 interface, which is used particularly in mobile equipment.
Read more...
---