printer friendly version
Open Process Automation moves to the proof of concept stage
June 2018
Editor's Choice
Open Process Automation was once again a hot topic at the 2018 ARC Industry Forum in Orlando, Florida, earlier this year. Among the highlights was the session focusing on the current status of several open process automation initiatives currently in progress. The session featured the first public presentation on the ExxonMobil proof of concept demonstration project.
In the same Forum session, Abdullah Al-Khalifah presented Saudi Aramco's experimental Data-centric Open Process Automation, and BASF's Michael Krauss (supported by ExxonMobil's Don Bartusiak) presented the NAMUR Open Architecture (NOA) vision. Krauss and Bartusiak both made a point of discussing the synergies and a cooperative path forward. In his presentation, Al-Khalifah also mentioned that Saudi Aramco is committed to support and work with the Open Process Automation Forum (a forum of The Open Group) to capture experience and knowledge to support the OPAF standardisation efforts to achieve the defined objectives.
Significantly, this was the first time that parties from these three parallel initiatives presented publicly together in a joint session.
Open Process Automation: moving beyond the art of possibilities
David DeBari, prototype lead engineer for the OPAF program at Exx-onMobil, worked closely with a team at LockheedMartin and others to develop a prototype proof of concept system based on the OPAF architecture envisioned by ExxonMobil and the industry standards identified by the Open Process Automation Forum. In his first of a kind ARC Industry Forum presentation on the system, DeBari proudly reported: "We've been able to transform from the art of possibilities into a running, proof of concept system."
As DeBari explained, the objective for the proof of concept project was to demonstrate the feasibility of the architecture to deliver the targeted multivendor interoperability through standards (without resorting to gateways or translators), interchangeability to enable components to be individually and freely replaced between vendors (without having to modify the underlying logic), configuration and application portability, and application development flexibility.
DeBari then presented a series of slides that showed how all these objectives were met in a concept system controlling a simulated natural draft fired heater. The team chose this process due to its widespread use in process industries, the many PID control loops involved, plus the need for constraint controls.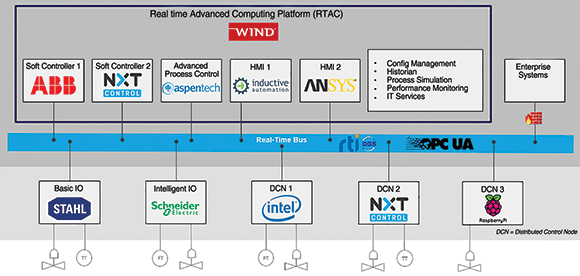 Running proof of concept system. (Source: ExxonMobil).
Proof of concept passes stress tests
As part of the stress testing, the team broke the control application into multiple parts and distributed these over a dozen different DCNs. According to DeBari, the control still worked flawlessly.
Due to concerns previously expressed about potential latency issues in the real-time bus, the team tested the control loops at 100 microseconds. While this appears to be well below the ultimate bus capacity, it is still far faster than required for most continuous process control applications.
Moving forward?
So, what is the next step? According to DeBari, now that the proof of concept has demonstrated the desired characteristics on a simulated process, the next step is to move to an on-process pilot project later this year. ExxonMobil has already identified an internal site for this pilot and encourages other operating companies to not only join and actively participate in the Open Process Automation Forum activities, but to initiate additional OPAF development efforts, pilots, and field trials, ideally across a variety of different industries. The goal is to initiate field trials of pioneer applications in 2020 and achieve full technical readiness in 2021.
What makes these complementary open automation initiatives so exciting and important, is that they have been initiated and driven by end user organisations and are receiving increasing support from the suppliers, which is critical for ultimate success. Based on what ARC learned at this Forum session, we are also reasonably optimistic that these initiatives will converge, which is also critical for ultimate market success.
Following the success of the OPAF proof of concept project, ARC encourages end user organisations across the process industries to learn more about the initiative and, if deemed appropriate for their applications, both join the Open Process Automation Forum as a member and, if possible, participate in the upcoming on-process field trials. This would provide both an opportunity to get a head start toward achieving a long-term resolution to the chronic system obsolescence issues faced by many process manufacturers and influence the direction of this technology as it develops.
And while the open process automation concept challenges the current business models of many process automation and technology suppliers, it also offers numerous new opportunities.
For more information contact Paul Miller, ARC Advisory Group, +1 781 471 1141, pmiller@arcweb.com, www.arcweb.com
Further reading:
Loop Signatures 8: Final control elements – Part 4: the infamous stick-slip cycle
August 2021, Michael Brown Control Engineering , Editor's Choice
An inherent phenomenon occurring in most control valves that few people are aware of is 'stick-slip'.
Read more...
---
OT the executor, IT the overseer, IIoT the enabler
August 2021 , Editor's Choice
It is a fascinating and daunting time to be working as professionals in the OT and IT worlds.
Read more...
---
Of gorillas and swarms – the manufacturing CIO's new dilemma
July 2021, Absolute Perspectives , Editor's Choice
Back in the heyday of integrated business systems, the manufacturing CIO was faced with a relatively simple choice: which big ERP vendor to select and what database technology to run the system on?
Read more...
---
Case History 178: An over-filtered hydrogen flow loop
July 2021, Michael Brown Control Engineering , Editor's Choice
A good example that shows how lack of knowledge of the practicalities of control can result in terrible control characteristics.
Read more...
---
Loop Signatures 1: Introduction to the Loop Problem Signatures series
May 2020, Michael Brown Control Engineering , Editor's Choice
Over the years I have had many requests to write a book giving more detailed explanations of some of the problems I have encountered in my work on practical loop optimisation. I am by nature and inclination 
...
Read more...
---
Loop Signatures 7: Final control elements – Part 3 hysteresis and deadband
June 2021, Michael Brown Control Engineering , Editor's Choice
Some of the biggest problems associated with the final control element are hysteresis and backlash.
Read more...
---
MES, OT and the IIoT – what's required for digitalisation?
May 2021 , Editor's Choice
Hand over the data decisions to the OT guys? Calm down IT professionals, there is a time and a place for everything.
Read more...
---
Case History 177 - Valves, valves, valves!
May 2021, Michael Brown Control Engineering , Editor's Choice
75-85% of all industrial control loop problems are caused by valve issues.
Read more...
---
New devices from Endress+Hauser connect pressure measurement to the future
May 2021, Endress+Hauser South Africa , Editor's Choice
By implementing a Bluetooth interface, devices that were previously difficult to access, or in danger zones, can now be operated easily and safely.
Read more...
---
Loop Signatures 6: Final control elements – Part 2: characteristics.
April 2021, Michael Brown Control Engineering , Editor's Choice
Feedback theory generally assumes that the process has a linear transfer function, which means that equal changes on the input will result in equal changes on the output.
Read more...
---