printer friendly version
An automation customer speaks
June 2018
Editor's Choice
The engineering institutions, systems integrators, suppliers and seminar groups within the automation industry in South Africa are all concerned, and rightfully so, with the lack of active participation by automation and technology customers. Within the automation professional networks, these are commonly referred to as automation 'end users.' In reflection, the Society of Automation, Instrumentation, Measurement and Control (SAIMC) seeks to cultivate participation of these end users in an industry-wide automation discourse. The Industrial Instrumentation Group (IIG) member companies continually find ways to enlighten end users on the untapped value that lies in the space of automation and new technologies. The African Automation Fair (AAF) and the Manufacturing Indaba, which act as automation knowledge sharing hubs, keep asking the question: 'Where are all the end users?' In all these instances, end user reaction remains sluggish.
As an end user myself, and carrying the voice of many others within my professional networks – physical and virtual, I was tasked to react. To this end then, an automation customer finally SPEAKS! The voice in this editorial is dedicated to the professional network within the manufacturing sector.
Questions abound
One professional from the petrochemical sector postulated with frustration: "We have sensors and monitoring systems across the entire business value chain, the data generated seems useful but we are not too sure how to package and link it to our business value chain. What value drivers should we focus on, and who is best placed to advise us? Should our focus be supply/demand match i.e. data driven demand prediction, or service/sales optimisation i.e. virtually guided self-service? How do we digitally implement these solutions?"
A probing voice in the beauty and cosmetic sector pondered: "It is clear that our next digital step should be time-to-market focused. We need a digital solution for rapid experimentation and simulation, concurrent engineering, and finding cheaper digital ways to enable customer creation. Is this part of Industrie 4.0? How does 3D printing fit in? Do you have contacts for us?"
A worried voice from the mining sector with a desperate need for optimisation theorised: "What is the best way to implement, human-robot collaboration? Are there any labour laws that could guide us? We are also seeking remote monitoring solutions, as well as visual monitoring with automated control capability, due to risks and safety concerns. It appears that no one supplier can offer us a complete solution. We need system integrators who can take ownership and design with third-party products. While it seems like a demanding request, it simplifies maintenance."
A voice from a utility company running cross-border operations between Mozambique and South Africa noted: "Effective asset utilisation is paramount to us. We are currently exploring ways to implement digitised predictive maintenance and augmented reality for maintenance, repair and operations. All conferences I have been to speak of what Industrie 4.0 is, but not necessarily on how to deconstruct its concepts, and apply and implement them to solve our particular business problems."
End users must shout louder
The act of wonder – questioning, searching and seeking clarity – seems to be endless and fortifies the need for end users to join in the automation discourse. What is evident is that they are concerned not with the technology itself, but with the practical implementation of Industrie 4.0 concepts, and connecting these with the appropriate value creation engines.
What is also evident is that some end users, who have heard of this digital revolution called Industrie 4.0, are confused by what it is. Those who are abreast of the concepts are looking for ways to connect them to their value chains in an integrated way, but they are struggling in silence with this. End users in South Africa must stop being the 'shrinking violets' of Industrie 4.0.
Deconstructing some of the concerns leads me to believe that an approach that could move local industry forward would be to provide clarity on the application of Industrie 4.0 concepts through real-world case studies, which show how measurable value can be realised. The current perception is that the focus on data gathering related to production and sales leads to isolated solutions that only address part of the problem – mainly production/factory related. In reality, this is not the case. Industrie 4.0, when applied correctly, breaks down the traditional isolated silos of operation by providing transparency of information across the entire organisation.
The question end users need answered is: "What do we do with all the data generated by these new-fangled automation networks in order to generate a positive influence on our key performance indicators?" End users must focus on their processes and demand solutions that enhance their value drivers. Automation suppliers and system integrators must address their needs through a collaborative approach to business optimisation that takes the limitations of existing legacy systems into account. Deploying technology just because we can is not the digital revolution. Industrie 4.0 stands for applying the latest digital methods to make manufacturing more efficient and profitable than was possible using the technologies we had before. This is what end users must be concerned about, and the time has come for them to shout louder – it is imperative that their voices be heard if local manufacturing is to remain competitive.
The discourse should not be about the technology itself, but rather the application of the technology to unlock new value streams. But, before the real Industrie 4.0 discourse can begin, the end user community needs to speak up, and be heard.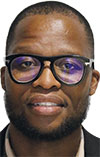 Oratile Sematle
Oratile is the Electrical and Instrumentation manager at Sasol Group Technology. He holds a bachelor of science degree in electrical and electronic engineering as well as an MBA from the University of Cape Town. As the former president of the Society of Automation, Instrumentation, Measurement and Control (SAIMC), he helps to drive the vision shared by council to address issues specific to the automation industry, and is partly accountable for the development of the automation engineering profession in South Africa. Oratile is a conference speaker and has spoken at engineering events such as Industry 4.0 and African Automation Fair. His ambition is to form cross-industry coalitions to tackle the social and educational problems experienced by disadvantaged communities.
Further reading:
Loop Signatures 8: Final control elements – Part 4: the infamous stick-slip cycle
August 2021, Michael Brown Control Engineering , Editor's Choice
An inherent phenomenon occurring in most control valves that few people are aware of is 'stick-slip'.
Read more...
---
OT the executor, IT the overseer, IIoT the enabler
August 2021 , Editor's Choice
It is a fascinating and daunting time to be working as professionals in the OT and IT worlds.
Read more...
---
Of gorillas and swarms – the manufacturing CIO's new dilemma
July 2021, Absolute Perspectives , Editor's Choice
Back in the heyday of integrated business systems, the manufacturing CIO was faced with a relatively simple choice: which big ERP vendor to select and what database technology to run the system on?
Read more...
---
Case History 178: An over-filtered hydrogen flow loop
July 2021, Michael Brown Control Engineering , Editor's Choice
A good example that shows how lack of knowledge of the practicalities of control can result in terrible control characteristics.
Read more...
---
Loop Signatures 1: Introduction to the Loop Problem Signatures series
May 2020, Michael Brown Control Engineering , Editor's Choice
Over the years I have had many requests to write a book giving more detailed explanations of some of the problems I have encountered in my work on practical loop optimisation. I am by nature and inclination 
...
Read more...
---
Loop Signatures 7: Final control elements – Part 3 hysteresis and deadband
June 2021, Michael Brown Control Engineering , Editor's Choice
Some of the biggest problems associated with the final control element are hysteresis and backlash.
Read more...
---
MES, OT and the IIoT – what's required for digitalisation?
May 2021 , Editor's Choice
Hand over the data decisions to the OT guys? Calm down IT professionals, there is a time and a place for everything.
Read more...
---
Case History 177 - Valves, valves, valves!
May 2021, Michael Brown Control Engineering , Editor's Choice
75-85% of all industrial control loop problems are caused by valve issues.
Read more...
---
New devices from Endress+Hauser connect pressure measurement to the future
May 2021, Endress+Hauser South Africa , Editor's Choice
By implementing a Bluetooth interface, devices that were previously difficult to access, or in danger zones, can now be operated easily and safely.
Read more...
---
Loop Signatures 6: Final control elements – Part 2: characteristics.
April 2021, Michael Brown Control Engineering , Editor's Choice
Feedback theory generally assumes that the process has a linear transfer function, which means that equal changes on the input will result in equal changes on the output.
Read more...
---