printer friendly version
What does the 'rise of the machines' mean for Africa?
June 2018
IT in Manufacturing
What does digital connectivity mean for Africa's industrial and economic development? Rockwell Automation Sub-Saharan Africa managing director, Barry Elliott considers the possible impact of the Internet of Things in Africa.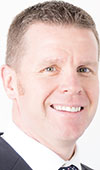 Barry Elliott.
Will automation, artificial intelligence and robotics – the 'rise of the machines' – really reduce the value of people and their roles as meaningful contributors to society? Or will it unlock new avenues for creating value and new opportunities, which may manifest in a greater industrial and economic future for societies in Africa?
The Economist Innovation Summit Africa 2018, a conference I recently attended in Nairobi, Kenya – Africa's 'silicone savannah' – explored these issues directly, investigating the opportunities and challenges of digital transformation in Africa through the viewpoints of business leaders, policymakers, entrepreneurs, technologists and thinkers from a wide range of professions and industries across the world.
But for me, it's not a conversation that should be understood as the rise of machines, but rather as the rise of connectivity, and what this means for Africans, especially in terms of how new value can be created, and aspects like skills shortages and poor infrastructure.
Africa faces a deficit of tens of billions of dollars in infrastructural spend that prevents many isolated communities from receiving even the most basic services. Yet with rapid developments in aerial drone technology, for example – as a fellow panellist pointed out – drones can be deployed to supply critical consumables such as medical supplies or animal vaccines to remote, otherwise inaccessible settlements.
This is already happening in Rwanda, where a company called Zipline has operated the world's only national scale drone delivery system since October 2016. As the costs of this technology continue to become even more affordable, so will the capacity of governments to deliver rural healthcare and rapidly stock other consumables.
At the very centre of all these smart technologies is connectivity. The digital connectivity of pretty much everything in our world is inevitable. This isn't a phenomenon that's foreign to people in Africa. On the contrary, adoption of mobile telephony, for instance, was among the fastest anywhere in the world, it's not just something Africans are familiar with; it's something they have innovatively mobilised in their day to day activities.
Whereas smartphone payments, for example, are becoming more and more popular in the US, mobile money is old news in Kenya. M-Pesa, the country's most popular mobile payment service with over 18 million active users, was designed to serve the micro-payment requirements of Africa's so-called 'base of the pyramid', giving anyone with a mobile phone the power to send and receive money at the touch of a button. Now used in ten countries, M-Pesa processed around six billion transactions in 2016.
This is just one example of Africans using connectivity innovatively to service the pyramid base better. It is suggested that M-Pesa's mobile money services have lifted 2% of Kenyan households out of poverty.
If connectivity is now an intrinsic part of life across Africa, this is especially pronounced amongst the continent's youth – digital natives that use connected technologies intuitively.
Digitisation and the digital twin
The concept of a 'digital twin' is one that most people experience every day on their smartphone. It is therefore not a huge stretch to understand that a 'thing', such as some sort of industrial device, too, could have a digital twin through which it can be controlled, monitored and analysed.
With this massive latent potential of digitally savvy people in Africa, is Africa not more likely to become a digitisation giant than a manufacturing one? Africa's digital natives are ready for the digital era; the question is how do we skill and educate people to make them employable, and how can we enable them to develop the skillsets that will facilitate their meaningful participation in this new digital economy?
One way is by using smart technologies in innovative ways that increase the potential for learning. For example, application- and industry-specific experiential learning platforms make use of virtual and augmented reality to simulate actual plant and production processes accurately. Hypothetical production issues, such as bottlenecks or unplanned equipment downtime, which demand analytical and problem-solving skills to correct an issue, can be recreated with lifelike accuracy in a virtual environment. Such experiential learning environments are potential game-changers for training and upskilling youth in Africa.
Information-driven services
What is critical is that we understand what the fundamental purpose of connectivity is. Connectivity ensures our ability to collect data; analyse it through data science, artificial intelligence, machine learning and reinforcement learning; and finally, transform it into actionable intelligence that can create new value for humans. While the most labour-intensive and dangerous tasks will continue to be replaced by automated machines that improve the efficiency and productivity of industrial output, so will digital technologies create new opportunities amongst Africa's digital natives for whom connectivity is such a fundamental part of life.
Our opportunity as Africans – individuals, organisations and governments – lies in our innovativeness in how we can use new technologies in disruptive ways, a need to innovate driven often by basic necessity. This is how countries in Africa should be thinking about their industrial futures.
For more information contact Michelle Junius, Rockwell Automation, +27 (0)11 654 9700, mjunius@ra.rockwell.com, www.rockwellautomation.co.za
Credit(s)
Further reading:
ABB technology can help make SA steel industry competitive
August 2021, ABB South Africa , IT in Manufacturing
South Africa's steel industry needs to invest in technology like automation and data analytics if it is to improve its productivity to the point where it is globally competitive.
Read more...
---
How safe are our factories? Part 1: Cybersecurity for operational technology.
August 2021, Wolfpack Information Risk , IT in Manufacturing
If companies are regularly being subjected to cyber hacks overseas, isn't it only a matter of time before someone with enough motivation, skill and resources targets us?
Read more...
---
Mitigate industrial network vulnerabilities
July 2021, RJ Connect , IT in Manufacturing
It must not be forgotten that ignoring common system vulnerabilities in today's world could put your entire network at risk.
Read more...
---
Digital transformation in mining
July 2021 , IT in Manufacturing
Rapid advances in technology have disrupted industries and businesses around the world, which are now being forced to accept this new reality rather quickly because the new technologies have tremendous potential to deliver value for those who adopt them.
Read more...
---
Digital twins require accurate and reliable data to be effective
July 2021 , IT in Manufacturing
At the 25th ARC Industry Forum, hosted virtually, many industry experts gave their perspectives on accelerating digital transformation in the post-Covid world.
Read more...
---
Frequency analysis without programming requirements
July 2021, Beckhoff Automation , IT in Manufacturing
Beckhoff expands TwinCAT Analytics with easy-to-configure condition monitoring functions.
Read more...
---
Siemens adds AI to Simcenter
July 2021, Siemens Digital Industries , IT in Manufacturing
Siemens Digital Industries Software has announced the latest release of Simcenter Studio software, a web application dedicated to discovering better system architectures, faster. Simcenter Studio offers 
...
Read more...
---
ABB technology can help make SA steel industry competitive
June 2021, ABB South Africa , IT in Manufacturing
South Africa's steel industry needs to invest in technology like automation and data analytics if it is to improve its productivity to the point where it is globally competitive.
Read more...
---
Rockwell Automation and Comau partner to simplify robot integration
June 2021, Rockwell Automation , News
Rockwell Automation and Comau have announced that they are joining forces to give businesses worldwide vital tools to maximise manufacturing efficiencies through unified robot control solutions.
Read more...
---
Siemens expands CFD simulations
June 2021, Siemens Digital Industries , IT in Manufacturing
Siemens' Simcenter portfolio expands capabilities for frontloading computational fluid dynamics (CFD) simulation and increased productivity.
Read more...
---