printer friendly version
A unique compressed air dryer
June 2018
Pneumatics & Hydraulics
The design of any air dryer is critical to its life span, with many, especially the smaller types for air compressors with capacities from 0,38 to 1,5 m³/min built to a price.
There are a number of components that make up a 'normal' dryer. They are a Freon compressor, a heat exchanger to cool the compressed air to 3°C and the finned condenser coil with its electric fan. It is the condenser coil and the fan that more often than not causes a dryer's premature failure. The fan, on small capacity dryers, runs in a bush not a bearing.
Atmospheric dust and dirt can cause the bush to fail, which burns out the fan motor. When the fan stops the Freon system gets excessively hot, which burns out the Freon compressor winding as well. The result is an expensive repair requiring a new Freon compressor and fan motor, along with a gas refill and labour costs.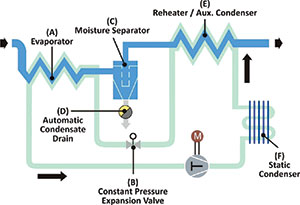 If the fan bush does not fail, the close fin design of the condenser is the next potential cause of failure. As dirt blocks the cooling air flow through the condenser the gas temperature rises, the fan switch overworks and the bush works harder along with the fan motor. Either elevated gas temperature causes a Freon compressor winding failure, or again, the bush fails, result, an expensive repair bill.
The TX Series of air dryers is unique in that it is designed to work under all site conditions. It has a static condenser, much the same as a wide spaced domestic fridge/freezer panel. It is an evaporative cooler with no fan, which means no fan motor or bush, and no close fin spacing so dirt cannot accumulate on the condenser coil. There are only three moving parts on the dryer, a timed electric condensate drain, the Freon compressor and a rotary dew point indicator.
The Freon circuit is very different to a 'normal' dryer. The gas leaving the compressor is passed into the static coil for cooling, using cooler atmospheric air, than the air to the Freon re-heater exchanger. This cools the hot Freon and simultaneously re-heats the c/air ready to enter the air line. The gas then passes to the main air to Freon exchanger to cool the compressed air to dew point. From there it returns to the compressor. It is probably the most reliable simple design ever used in the compressed air industry.
For more information contact Allen Cockfield, Artic Driers International, +27 (0)11 420 0274, allen@articdriers.co.za, www.articdriers.co.za
Credit(s)
Further reading:
Festo at the heart of absolute automation
July 2021, Festo South Africa , Pneumatics & Hydraulics
Festo is renowned as one of the leading pneumatic automation suppliers. Over the years, the company has also set the pace in both Process and Electric Automation. This is backed by its proven record of 
...
Read more...
---
Parker's High Performance Flange system
July 2021, Parker Hannifin - Sales Company South Africa , Pneumatics & Hydraulics
Parker Hannifin has announced that its mechanical flange system for machines and plants with working pressures of up to 420 bar has gained DNV GL approval for marine applications.
Read more...
---
Compressed air purity analyser
July 2021, Artic Driers International , Pneumatics & Hydraulics
Compressed air treatment using filters and dryers is an effective barrier to airline contamination. Until recently, auditing the compressed air quality in a system was difficult, but clients and professional 
...
Read more...
---
Use compressed air efficiently
Technews Industry Guide: Sustainable Manufacturing 2021, Artic Driers , Pneumatics & Hydraulics
To attain sustainability, one of the areas that needs great attention is compressed air efficiency within the plant.
Read more...
---
BMG's Hydraforce valves and solutions
April 2021, Bearing Man Group t/a BMG , Pneumatics & Hydraulics
BMG, distributors of the Hydraforce range of proportional valves in southern Africa, works closely with Hydraforce engineers and customers in diverse industries to design and manufacture customised hydraulic 
...
Read more...
---
Highly flexible pick and place with digitised pneumatics from Festo
February 2021, Festo South Africa , Pneumatics & Hydraulics
Motion Apps are revolutionising pneumatics by increasing flexibility, energy efficiency and accelerating production processes.
Read more...
---
An easier way to connect
February 2021, Hydrasales , Pneumatics & Hydraulics
Quick-release hydraulic couplings on agricultural equipment have enabled Faster Couplings to provide innovative solutions to meet this sector's needs.
Read more...
---
Protect machines with soft-start valves
February 2021, SMC Corporation South Africa , Pneumatics & Hydraulics
A slow increase in air pressure into a machine at startup helps facilitate a soft start of all downstream components.
Read more...
---
Gimatic expands product range with launch of vacuum product offering
January 2021 , Pneumatics & Hydraulics
New offering gives customers greater flexibility in designing optimal automation systems that aim to increase efficiency & productivity.
Read more...
---
Fibertex offers advanced solutions in filtration for a cleaner environment
November 2020 , Pneumatics & Hydraulics
Fibertex Nonwovens, a leading manufacturer of a comprehensive range of nonwovens and performance-based materials used in diverse industries, has developed advanced filtration solutions that contribute to a cleaner environment.
Read more...
---