printer friendly version
A unique compressed air dryer
June 2018
Pneumatics & Hydraulics
The design of any air dryer is critical to its life span, with many, especially the smaller types for air compressors with capacities from 0,38 to 1,5 m³/min built to a price.
There are a number of components that make up a 'normal' dryer. They are a Freon compressor, a heat exchanger to cool the compressed air to 3°C and the finned condenser coil with its electric fan. It is the condenser coil and the fan that more often than not causes a dryer's premature failure. The fan, on small capacity dryers, runs in a bush not a bearing.
Atmospheric dust and dirt can cause the bush to fail, which burns out the fan motor. When the fan stops the Freon system gets excessively hot, which burns out the Freon compressor winding as well. The result is an expensive repair requiring a new Freon compressor and fan motor, along with a gas refill and labour costs.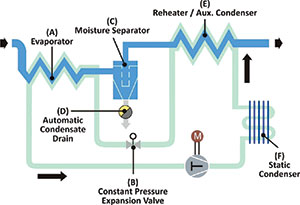 If the fan bush does not fail, the close fin design of the condenser is the next potential cause of failure. As dirt blocks the cooling air flow through the condenser the gas temperature rises, the fan switch overworks and the bush works harder along with the fan motor. Either elevated gas temperature causes a Freon compressor winding failure, or again, the bush fails, result, an expensive repair bill.
The TX Series of air dryers is unique in that it is designed to work under all site conditions. It has a static condenser, much the same as a wide spaced domestic fridge/freezer panel. It is an evaporative cooler with no fan, which means no fan motor or bush, and no close fin spacing so dirt cannot accumulate on the condenser coil. There are only three moving parts on the dryer, a timed electric condensate drain, the Freon compressor and a rotary dew point indicator.
The Freon circuit is very different to a 'normal' dryer. The gas leaving the compressor is passed into the static coil for cooling, using cooler atmospheric air, than the air to the Freon re-heater exchanger. This cools the hot Freon and simultaneously re-heats the c/air ready to enter the air line. The gas then passes to the main air to Freon exchanger to cool the compressed air to dew point. From there it returns to the compressor. It is probably the most reliable simple design ever used in the compressed air industry.
For more information contact Allen Cockfield, Artic Driers International, +27 (0)11 420 0274, allen@articdriers.co.za, www.articdriers.co.za
Credit(s)
Further reading:
Robotics meets artificial intelligence
June 2019, Festo , Pneumatics & Hydraulics
Whether its grabbing, holding or turning, touching, typing or pressing – in everyday life, we use our hands as a matter of course for the most diverse tasks. In that regard, the human hand, with its unique 
...
Read more...
---
Parker Hannifin introduces couplings for quick and easy installation
May 2019, Parker Hannifin Sales Company South , Pneumatics & Hydraulics
Parker Hannifin now offers quick connection couplings for its NSA series, notable for features including their low weight. NSA couplings are available in nickel-plated brass or stainless steel, while 
...
Read more...
---
VUVS-LT Poppet Valve
Technews Industry Guide: Maintenance, Reliability & Asset Optimisation 2019, Festo , Pneumatics & Hydraulics
Frequently used in different locations and exposed places, the VUVS-LT Poppet Valve can take a lot – all without losing its good looks. Simple on the outside, sturdy on the inside, it is the ideal combination 
...
Read more...
---
Optimum hydraulic performance through cost effective filtration solutions
Technews Industry Guide: Maintenance, Reliability & Asset Optimisation 2019, Hydrasales , Pneumatics & Hydraulics
Maintenance personnel have to facilitate optimum hydraulic system performance through their programmes, hence the incorporation of oil cleanliness checks, or oil contamination monitoring should not be 
...
Read more...
---
The advantages of rolled vs. cut threads for fluid system instrumentation fittings
March 2019, Fluid Systems Africa , Pneumatics & Hydraulics
A new level in leak tightness from Fluid Systems Africa.
Read more...
---
Ready for smart manufacturing
March 2019, Metal Work Pneumatic South Africa , Pneumatics & Hydraulics
Metal Work's new EB80 is an electro-pneumatic system consisting of a solenoid valve assembly with fieldbus or multi-pin control, and modules to manage analog or digital input/output signals. It can accommodate 
...
Read more...
---
Ham-Let moves into the future with smart valves
December 2018, Fluid Systems Africa , Pneumatics & Hydraulics
The Ham-Let Group has manufactured high-quality instrumentation valves, fittings and auxiliary products for fluid systems in a variety of markets since 1950, and has now launched its first smart valve 
...
Read more...
---
Intelligent valve sensor for pneumatic applications
December 2018, ifm - South Africa , Pneumatics & Hydraulics
The intelligent valve sensor for pneumatic quarter-turn actuators from ifm electronic features 360° position monitoring to allow precise and continuous scrutiny of the valve condition. Problems such as 
...
Read more...
---
BMG fluid technology services
November 2018, Bearing Man Group t/a BMG , Pneumatics & Hydraulics
BMG's fluid technology services include solutions for hydraulics and pneumatics, lubrication, fuel and industrial filtration systems, hydraulic hose and fittings, as well as instrumentation, pumps and 
...
Read more...
---
Vacuum generator operates without compressed air
October 2018, Tectra Automation , Pneumatics & Hydraulics
The electrical vacuum generator ECBP from J. Schmalz is ideal for handling airtight and slightly porous workpieces. It features an integrated speed control, which regulates the power of the pump to suit 
...
Read more...
---