printer friendly version
Converter handling simplified
June 2018
Industrial Wireless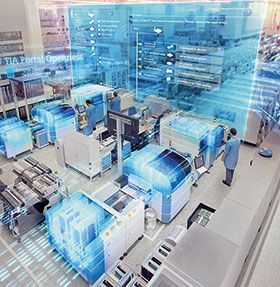 Siemens has extended its Sinamics G120 converter series portfolio to include an option for wireless commissioning, diagnostics and servicing. The new Sinamics G120 Smart Access Module enables the wireless connection of mobile devices such as tablets, smartphones or laptops over WiFi to the Sinamics G120, Sinamics G120C and Sinamics G120P converter series, making for considerably simpler converter handling. The module is set up in a few simple steps using a conventional web browser and any standard operating system. The web server functionality eliminates the need to download any additional software. With its intuitively structured user interface and menu guidance, the module offers outstanding user convenience.
The G120 Smart Access Module is available for Sinamics G120C, Sinamics G120 with Control Units CU230P-2 and CU240-E2, as well as for Sinamics G120P with CU230P-2. Since the use of the module is not linked to a specific web browser, customers are free to choose any preferred browser and use any optional terminal such as a smartphone, tablet or laptop for converter commissioning, parameterisation and maintenance. The motor can also be tested in the JOG mode. Error messages or warning signals are quickly detected over the wireless link, which can also be used to save or reset settings. A function enabling the settings from one converter to be duplicated, sent to other mobile devices and used to set additional converters provides an enormous labour saving when handling several converters. It is also possible to swap Sinamics G120 Smart Access Modules between different converters of the specified series, allowing them to be commissioned using a single mobile terminal. In this case, the module acts as a transportable storage facility with web-based operator unit and wireless client link.
For more information contact Jennifer Naidoo, Siemens Digital Factory and Process Industries and Drives, +27 (0)11 652 2795, jennifer.naidoo@siemens.com, www.siemens.co.za
Credit(s)
Further reading:
Siemens infrastructure technology day
April 2019, Siemens Digital Industries , News
Siemens recently held an infrastructure technology day at its Midrand premises. The highlight was the launch of the new Sinamics G120X frequency converter range, which has been specially optimised for 
...
Read more...
---
Faster results with a digital twin
April 2019, Siemens Digital Industries , IT in Manufacturing
High tech company Grenzebach's portfolio includes the simulation of material flow in complex plants in the glass industry. To achieve this, Grenzebach uses Siemens' simulation solutions. Together, the 
...
Read more...
---
A clean solution
April 2019, Siemens Digital Industries , Analytical Instrumentation & Environmental Monitoring
Biological wastewater treatment using regenerated activated carbon saves disposal costs.
Read more...
---
Pump monitoring in hazardous areas
Technews Industry Guide: Maintenance, Reliability & Asset Optimisation 2019, Siemens Digital Industries , IS & Ex
Safety has top priority wherever flammable media are used in industry. This applies in particular to the chemical industry, where flammable liquids are produced, processed and transported by pumps in 
...
Read more...
---
Siemens launches Digital Mining Incubator with Wits University
March 2019, Siemens Digital Industries , News
Mining remains a critical player in the macro-economic landscape of South Africa. But government, business, labour and civil society need to ask how they can align a 'here-and-now' emphasis on job creation, 
...
Read more...
---
Converters for building technology
March 2019, Siemens Digital Industries , Electrical Power & Protection
Siemens presented a new converter series at last year's SPS IPC Drives. The converters of the new Sinamics G120X series are especially suited for use in pump and fan applications in industries such as 
...
Read more...
---
Wireless and telemetry by Omniflex
March 2019, Omniflex Remote Monitoring Specialists , Industrial Wireless
Wireless telemetry in plants is a necessity for the data acquisition requirements of modern process efficiency and compliance monitoring. However, cabling costs often push the economic viability of such 
...
Read more...
---
Surface collision avoidance system
March 2019, Becker Mining South Africa , Industrial Wireless
Becker Mining South Africa's advanced safety device, the intelligent collision avoidance system (ICAS), provides situational awareness to ensure optimum safety on construction sites, open-pit mines and 
...
Read more...
---
Digital Enterprise offering with ­future technologies for Industry 4.0
February 2019, Siemens Digital Industries , IT in Manufacturing
By expanding its Digital Enterprise portfolio and integrating future technologies, Siemens is driving forward the digital transformation of the discrete and process industries.
Read more...
---
Siemens and MineSense to develop real-time ore grade measurement solution
February 2019, Siemens Digital Industries , News
With ore grades declining, plus added pressures such as rising energy costs and water restrictions, it is increasingly difficult for mining companies to fulfil customer demand by delivering material on 
...
Read more...
---