printer friendly version
The next big thing for control
May 2018
PLCs, DCSs & Controllers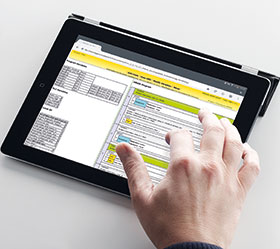 Turck has developed the next big thing for control: the Field Logic Controller (FLC). Turck's FLC solutions are made possible by ARGEE (A Really Great Engineering Environment), a revolutionary web-based programming environment that allows users to set conditions and actions directly at the field level. By utilising HTML5, Turck provides a complete engineering environment for users to write, run, simulate, debug, and monitor code, all without requiring the use of a PLC.
Using FLCs, Turck's multiprotocol block I/O products can act as simple I/O devices or as standalone logic controllers. While ARGEE programming is not designed to replace a PLC outright, it can be used to change the way we think about control, allowing FLC devices to:
• Be used without a PLC in standalone applications.
• Perform arithmetic functions, use timers, counters, and even toggle bits.
• Share data with a PLC via assigned I/O variables.
The technology
Using a simple 'Condition" and Action' principle that is integrated into a flow chart user interface, ARGEE allows users with little or no programming experience an easy way to configure and program their Turck FLC devices.
ARGEE challenges what an I/O device can do, by creating a hybrid between simple block I/O and higher level PLCs. The result is Turck's FLC.
For more information contact Brandon Topham, RET Automation, +27 (0)11 453 2468, brandon.topham@retautomation.com, www.retautomation.com
Credit(s)
Further reading:
Siemens extends the Simine ­portfolio
June 2019, Siemens Digital Industries , PLCs, DCSs & Controllers
Siemens has extended the Simine portfolio for high-pressure grinding mills (HPGR) to include a new controller. Plug-and-play functionality makes the load share controller available for immediate use. 
...
Read more...
---
Pressure transmitters for mobile equipment
June 2019, Turck Banner , Pressure Measurement & Control
In order to provide solutions for use in mobile equipment, Turck has expanded its portfolio of pressure sensors with the introduction of the PT1100/2100 transmitters. This includes mining, forestry, agricultural 
...
Read more...
---
Schneider Electric announces a new era of control
June 2019, Schneider Electric South Africa , PLCs, DCSs & Controllers
Schneider Electric's new high-end Modicon M580 Ethernet programmable automation controller (ePAC) features redundant processors, native Ethernet, and cybersecurity embedded into its core. It combines 
...
Read more...
---
Selecting the right PLC
June 2019, AC/DC Dynamics , PLCs, DCSs & Controllers
Automation projects, big or small, start with a specification. Here are five factors to consider when choosing a PLC vendor.      
Broad range of devices
The selected brand must have a complete product 
...
Read more...
---
Magnetic sensors for C-groove cylinders from SMC
June 2019, Turck Banner , Sensors & Transducers
Turck's portfolio of magnetic field sensors is being expanded: The BIM-UNC product series was specially optimised for perfect mounting in the C-groove pneumatic cylinder of SMC. The sensors can be inserted 
...
Read more...
---
New generation HMI/PLC series of controllers
Africa Automation Fair 2019 Preview, Turck Banner , IT in Manufacturing
The new generation of the TX700 series of HMI/PLC controllers can control and visualise even more complex processes and applications than before. With several interfaces and an integrated OPC UA server, 
...
Read more...
---
Wireless vibration and ­temperature monitoring
Africa Automation Fair 2019 Preview, Turck Banner , Temperature Measurement
Banner Engineering's wireless vibration solutions kit and temperature sensor provides superior machine monitoring. Designed to effectively monitor machines for increases in vibration and temperature, 
...
Read more...
---
Industrial automation equipment
Africa Automation Fair 2019 Preview , PLCs, DCSs & Controllers
Anytech is an industrial automation equipment supplier that has been providing high tech solutions to a wide variety of customers in various industries throughout southern Africa since 1999. High tech 
...
Read more...
---
Multi-function PLC, HMI and I/O in a single 7" unit
Africa Automation Fair 2019 Preview, Vision Automation , PLCs, DCSs & Controllers
This multi-function UniStream PLC with an integrated, high-quality HMI touchscreen is available in a range of built-in I/O configurations. Showcased at Stand C04, the highly compact hardware profile with 
...
Read more...
---
PLCs and HMIs
Africa Automation Fair 2019 Preview, Ana-Digi Systems , PLCs, DCSs & Controllers
Among the new state-of-the-art products on show at Stand E07 are Ana-Digi's PLC range, which offers down to 8,5nS processing speeds and caters for systems up to 132 000 I/O, with full redundancy in processing 
...
Read more...
---