printer friendly version
Adroit Scada validated as an IoT platform
May 2018
SCADA/HMI
Last year, Adroit Technologies expanded its offerings through its partnership with Sqwidnet, the licensed Sigfox Internet of Things (IoT) network operator in South Africa. From the mid-March, Adroit has been certified as a Sigfox partner for devices and for its scada platform, which presents an opportunity for IoT applications and service providers to use the cloud-based scada system and industrial-automation platforms.
The company has demonstrated that it is a leading technology company with two important dimensions: a great understanding of the IoT world and technology, and a willingness to go the extra mile for customers. The new system allows data from sensors and devices to be delivered to the Adroit-hosted platform environment through the Sigfox IoT network, which is provided in South Africa by SqwidNet. Partners and end-users of Adroit will be able to connect and use it seamlessly as a data-acquisition and application layer software solution.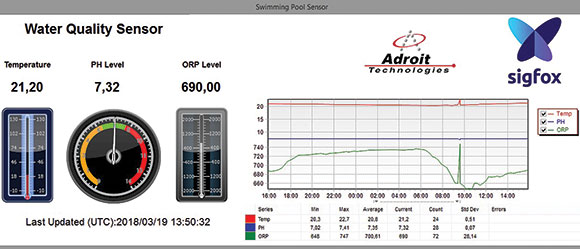 Adroit Technologies has several IoT software objects already built and has committed to building others for partners wishing to list their products. This will assist customers to build cross-functional solutions and address the industrial, smart-city, smart building and asset tracking industries. It enables partners and end users anywhere in the world to use Adroit's technology seamlessly as a data-acquisition and application-layer software solution for IoT projects.
MD Dave Wibberley explains the company strategy: "A modern scada system is an ideal product to test and even build a digital or IoT solution. Adroit now certified as a platform, along with the sensors we have, will now enable partners and customers to come to us and purchase sensors and software that will work together and allow them, in a familiar industrial software environment, to build solutions."
SqwidNet offers a network model that provides Adroit products with a long range, low cost, low power and secure networking solution. With SqwidNet as a network provider, typical connectivity costs R200 a year for a sensor that transmits data every 15 minutes. Wibberley explains that owing to these key network benefits, the company can now offer sensors with connectivity for less than R1000 per point of connectivity.
The IoT network allows for small packets of data to be transmitted in near real-time to the Adroit Scada for storage and analysis. The system provides industrial data acquisition, reporting and analytics, together with user-friendly development software for easy development of customised IoT solutions. Adroit encourages companies to take advantage of its cloud-based reporting, alarm management, asset management and performance management solutions.
Credit(s)
Further reading:
New benchmark scada software platform
March 2019, Adroit Technologies , SCADA/HMI
MAPS 4, the latest scada solution for control and visualisation from Adroit Technologies, extends connectivity options, adds user tools and increases the scope of its built-in functionality. The result 
...
Read more...
---
Operator guided solutions
December 2018, Adroit Technologies , IT in Manufacturing
At parts assembly production sites, where parts are picked from stock, it is almost inevitable that picking mistakes will occur. As parts become more complex and their component types increase, the problem 
...
Read more...
---
Inductive Automation's I­gnition technology offers potential to ­disrupt the market
July 2018, Mzukulu Technologies , SCADA/HMI
'Ignition by Inductive Automation' is an industrial software platform with a variety of modules that can be combined to create custom HMI, scada and MES solutions.
Read more...
---
New platforms for HTML5 visualisation
Technews Industry Guide: Industrial Internet of Things & Industry 4.0, Phoenix Contact , SCADA/HMI
Easy and flexible implementation of current and future demands.
Read more...
---
Latest generation compact inverters from Mitsubishi Electric
June 2018, Adroit Technologies , Electrical Power & Protection
Mitsubishi Electric has now introduced its latest generation of compact inverters, the FREQROL-CS80 series.
Read more...
---
Yokogawa's open scada solution
June 2018, Yokogawa South Africa , SCADA/HMI
Scada systems are typically used for supervisory monitoring and control of remote and geographically distributed assets through a more open platform for interfacing with several makes and types of equipment 
...
Read more...
---
Schneider gets smart with new HMI solution
June 2018, Schneider Electric South Africa , SCADA/HMI
In a world where quick access to data has become the key to efficiency, Schneider Electric South Africa's latest innovation in the Magelis range of HMI solutions, Magelis GTU, allows users to create the 
...
Read more...
---
Scada Review 2018
June 2018, Technews Publishing (SA Instrumentation & Control) , SCADA/HMI
The subject projects of this year's Scada Review are a worthy reflection of the effort put in by the respondent end-users, SIs and vendors. It is encouraging to see that even in these times of economic 
...
Read more...
---
Scada review 2018: Adroit Technologies
June 2018, Adroit Technologies , SCADA/HMI
End-user details
Name:
Raymond Bosch   
Designation:
Electrical foreman cold stores   
Company:
Two a Day Group   
Phone:
+27 (0)21 859 7666   
E-mail:
raymondb@tad.co.za
SI details
Name:
Willie Cameron
...
Read more...
---
Scada Review 2018: Wonderware
June 2018, IS³ - Industry Software, Solutions & Support , SCADA/HMI
End-user details
Name:
Jaco van Heerden   
Designation:
Project C&I Engineer   
Company:
African Rainbow Minerals Limited   
Phone:
+27 (0)11 518 4199   
email:
jaco.vanheerden@arm.co.za
SI details
Name:
...
Read more...
---