printer friendly version
Emerson simplifies asset health monitoring and maintenance
Technews Industry Guide: Maintenance, Reliability & Asset Optimisation 2018
IT in Manufacturing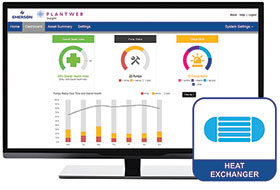 With the demand to implement the IIoT, the challenge is knowing where to start. Plants generate more data than ever before without meaningful analytics to guide expert decisions and actions. Plantweb enables customers a scalable, easy path into IIoT benefits that will transform data into truly actionable information – information that plant personnel can use to improve the safety, reliability and efficiency of assets, people and processes.
Deployable via traditional workstation, tablet or smartphone, Emerson's Plantweb Insight apps provide specific asset alerts that enable companies to see a quick return on investment in months by avoiding slowdowns and shutdowns. Instead of having to rely on an asset expert, these affordable apps can be quickly deployed and easily accessed anytime, anywhere by maintenance staff to improve asset operations. A user can begin with one or more assets, such as pumps or heat exchangers, and then expand as they achieve measurable benefits.
The built-in domain expertise of the analytics helps resolve asset issues that were formerly solved by periodic, time-consuming manual rounds or unexpected failures. Pre-built analytics require minimal configuration, and its flexible software is operating system-independent, easily installing and integrating with existing infrastructures.
Using Plantweb Insight, users can improve asset reliability and energy usage by identifying abnormal situations and inefficiencies, recognising optimum maintenance times, and tracking asset health to identify and prevent failures before they occur. They also can avoid potential safety incidents and ensure regulatory compliance, reducing fines and environmental impact though the real-time identification of leaks and other hazards. Plantweb Insight is currently available with applications for steam trap monitoring, pump monitoring and pressure gauge monitoring. The newest app in the suite:
• Heat Exchanger Insight – this Plantweb app provides an overview of heat exchanger status and diagnostics from all the instruments on the network. Based on an algorithm, it provides directions to maintenance on where to focus action for issues, and provides a detail of the issue to guide them in efficient resolution, thereby avoiding slowdowns and shutdowns.
Future Plantweb Insight applications launching in the next year include:
• Air-Cooled Heat Exchanger.
• Pressure Relief Device Insight.
• Network Management Insight.
• Corrosion Insight.
For more information contact Rob Smith, Emerson Automation Solutions, +27 (0)11 451 3700, rob.smith@emerson.com, www.emerson.com
Credit(s)
Further reading:
Data, light and the smart factory
May 2019 , IT in Manufacturing
The role of lasers in the Fourth Industrial Revolution.
Read more...
---
Planning for digital transformation
May 2019 , IT in Manufacturing
As we've learned, digital transformation can be a challenging, if necessary, journey. At each year's Forum, we learn more about how pioneering companies are overcoming these challenges and the associated 
...
Read more...
---
Emerson appoints new president for Middle East and Africa
May 2019, Emerson Automation Solutions , News
Emerson has appointed Vidya Ramnath as the new president for its Automation Solutions business in Middle East and Africa.    A 24-year veteran of Emerson, she was most recently vice president for Emerson's 
...
Read more...
---
Cathay Industrial Biotech benefits from Siemens technology
May 2019, Siemens Digital Industries , IT in Manufacturing
Cathay Industrial Biotech (Cathay) is China's leader in the field of bio-manufacturing. Its areas of expertise include producing polyamide from biomass, which takes place in a totally digital plant using 
...
Read more...
---
Monitoring the health of your asset
May 2019, Automation & Control Solutions , IT in Manufacturing
In an ever-changing world where digital transformation coupled with optimised computerisation and interconnectivity is prevalent, the need to remain knowledgeable about asset health in manufacturing is 
...
Read more...
---
Simulated flexible production environment
May 2019, Omron Electronics , IT in Manufacturing
Omron South Africa is showcasing its fully simulated flexible production environments at Africa Automation Fair. Visit Stands C03 and D07 to see the integrated automation solutions designed to help turn 
...
Read more...
---
Broadband power line modem
May 2019, SSE , IT in Manufacturing
The e-terrapowercom is a broadband power line modem with integrated switch designed for communications on medium and low voltage grids. Installation is easy and fast using existing power cables. It extends 
...
Read more...
---
Reduce the risks associated with automation solutions
May 2019, Adroitly Africa , IT in Manufacturing
Adroitly Africa's Version Control and Backup software offering can assist in proactively reducing the risks associated with PLC, scada and HMI automation solutions that control a process.    Pay a visit 
...
Read more...
---
Complete range of industrial cables
May 2019, Helukabel , IT in Manufacturing
Helukabel is showcasing its range of data, network and bus (DNB) products. On display at Stand B01 is a complete range of industrial cables as well as the related connecting equipment consisting of connectors, 
...
Read more...
---
Digital automation technologies
May 2019, Yokogawa South Africa , IT in Manufacturing
Yokogawa is showcasing the Synaptic Business Automation solution, which can transform business processes by optimisation of supply chains and operations and maximisation of asset performance. This is 
...
Read more...
---