printer friendly version
High-speed cameras for risk management
Technews Industry Guide: Maintenance, Reliability & Asset Optimisation 2018
Sensors & Transducers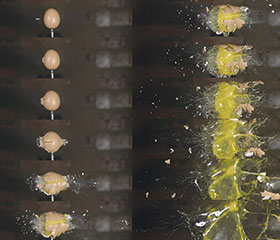 Risk management within a production factory context is a complicated topic where the range of potential problem areas is wide and varied, and many of the threats facing a factory are out of direct control, being dependent on third-party suppliers or contractors. Yet with the rapid increases in technology, coupled with some careful planning and strategy, risk to mechanical and electrical equipment can be reduced. In past years most factories depended on 'that old guy' for maintenance. He could very often simply step out of the office door, listen carefully and know something in his machines was starting to go wrong. His years of knowledge and experience gave him an almost intuitive feeling and understanding. There are not that many old guys left, so how does a factory manager replace this intuition so that repairs can begin before catastrophic breakdowns occur?
The goal is to detect problems before they become serious problems, and definitely before breakdowns. A very useful dataset is the 'baseline status'. This shows what the components in the machines are doing, moving and sounding like with respect to temperature, vibration, speed, etc. when the machine is running at 100% health. How many factories have a baseline dataset like this – something which can be invaluable for the early identification of possible problems? Of course this will not provide information on every possible problem, but when mechanical and electrical components come under stress, these can be quickly compared to a baseline and a quick decision made.
While there are many different types of sensors, this example primarily uses optical systems. However, other sensors can add to this data and provide even more information and insight – for example vibration sensors. People are visual, and look at a problem area as the first response. However, today machines and production lines often move so quickly that it is impossible to see what is happening.
Slowing the line down often makes the problem go away, but is not always an option. The cost of a good camera with features such as machine vision, high speed, thermal high speed and gas identification has not decreased, but what you get in terms of performance compared to ten years ago for the same cost makes today's cameras look quite cheap.
Machine vision is typically used to look at products on a production line, but can also be used to detect problems; but machine vision cameras tend to be fixed point, with a great deal of programming and conditioning in the background to achieve a particular function. More versatile are non-fixed point cameras that are not tied into the PLC. Today, high speed cameras can be small – with an entire setup including a light fitting into a tool bag. Within ten minutes, camera and lights can be set up and areas of a well running machine can be filmed. Just one to two seconds of recording on a quick moving part is required. Similarly, using a thermal camera the temperatures of moving parts and pressure points can be registered. Sometimes, a high-speed thermal imager may be required, typically if the process is very fast and hot – for example in flaming or very fast heat sealing. Vibration sensors can be added for even more detail. This gives a recorded baseline dataset for this area. When it is suspected that there is a problem developing in an area, a technician can go out with the cameras, and within ten minutes be viewing current footage, comparing to the baseline dataset and seeing if anything has changed. For example, has a foot been moved, which is placing pressure on a roller so the bearing is heating up, causing vibration as well as a skip every 15th turn, which in turn causes the bottle of jam to turn over? Furthermore, the extra strain on the conveyor belt can make the motor work harder, which overheats the drive, leading to a component failure in the drive.
The key principle here is that today there is a wide range of optical and other sensors, which are increasingly cost-effective, and which can help engineers rapidly find, isolate and remedy problems in factories and production lines. It therefore becomes less sensible to have large 'break down budgets'. Most production managers will have in place an acceptable percentage of rejects, as well as an acceptable percentage reduction in overall output of the line (no rejects, but slower running line) and even the less palatable, but still occurring 'acceptable' total line downtime.
A well planned and carefully executed strategy can help any factory build up the necessary data and capacity to enable it to quickly reduce maintenance issues, shorten down time, and increase production and profit using now commonly available tools,
For more information contact David Horne, Horne Technologies, +27 (0)76 563 2084, david@hornet.cc, www.hornet.cc
Credit(s)
Further reading:
Get your sensor data faster
May 2019, VEGA Controls SA , Sensors & Transducers
VEGA's Tools App enables sensor parameters and configuration settings to be read and adjusted via Bluetooth on any smartphone or tablet. They are easy to operate and all data is permanently available 
...
Read more...
---
Indoor air quality management
May 2019, Atlas Industrial Systems , Sensors & Transducers
Atlas Industrial Systems (AIS) is the sole supplier of the Honeywell, a first in mobile-supported, indoor air quality management. Regulated by ICASA, this system is user-friendly and has proven valuable 
...
Read more...
---
Ultrasonic sensors for level measurement and object ­detection
May 2019, ifm - South Africa , Sensors & Transducers
ifm – South Africa's new M30 ultrasonic sensors for continuous level measurement and object detection are distinguished by their long range of up to eight metres. This makes them particularly suited for 
...
Read more...
---
Machine vision solutions
May 2019, Westplex , Sensors & Transducers
Westplex specialises in machine vision products and systems for visual inspection, and is a country-wide, one-stop source for a wide range of industrial machine vision products. Westplex represents world 
...
Read more...
---
Load sensing by light
May 2019, SKF South Africa , Sensors & Transducers
SKF's new optical sensing technology takes monitoring to the next level, providing engineers with new insights into machine performance. SKF Fibre Optic Sensing uses optical fibres to measure forces, 
...
Read more...
---
Contact-free optical communication
May 2019, Countapulse Controls , Sensors & Transducers
Optical data transceivers are the appropriate choice for any application where data needs to be transmitted without cables and without interference. The Leuze DDLS 500 data transceiver makes contact-free 
...
Read more...
---
Shock-proof linear position sensors
April 2019, Turck Banner , Sensors & Transducers
Turck's enhanced Li linear position sensors measure position values at a frequency of 5 kHz at measuring lengths of up to 2 metres. Turck has updated its contactless Li Q25 positioning systems and has 
...
Read more...
---
Inductive sensors with Teflon coating
April 2019, ASSTech Process Electronics + Instrumentation , Sensors & Transducers
With switching distances of up to 50 mm and magnetic field resistance of 200 mT, Wenglor's inductive sensors with correction factor 1 come in a total of eight new welding-field resistant models, with 
...
Read more...
---
2D barcode reader increases traceability
April 2019, SICK Automation Southern Africa , Sensors & Transducers
SICK Automation South Africa, one of the country's leading sensor solution suppliers for industrial applications, recently installed 120 image-based 2D barcode readers across multiple scanning stations 
...
Read more...
---
Setting standards for monitoring and safety in the radiation detection industry
Technews Industry Guide: Maintenance, Reliability & Asset Optimisation 2019, OEN Enterprises , Sensors & Transducers
Exposure to harmful levels of radiation can easily be prevented with a new generation of ultra-small, wearable dosimeters. Less expensive, simpler to use, and portable, Thermo Scientific's EPDs (electronic 
...
Read more...
---