printer friendly version
Nick Denbow's European report: Wave energy research
April 2018
News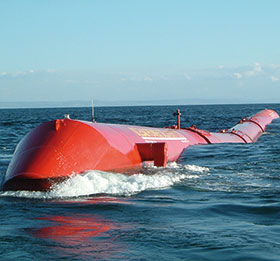 Both the UK and South Africa have the potential for harvesting green energy from the surrounding sea, from ocean or tidal flows, or from wave energy. Some 15 years ago, when the UK Government was keen to encourage and invest in green energy technologies, the European Marine Energy Technology Centre (EMEC) was established in the Orkney Islands, off the north coast of Scotland. The EMEC is the only centre of its kind in the world: it exists to provide developers of both wave and tidal energy converters – technologies that generate electricity by harnessing the power of waves and tidal streams – with purpose-built, accredited open-sea testing facilities. Initial funding of GBP34m came from the UK and Scottish Governments, the Carbon Trust, the European Union and several Scottish local agencies and councils. By 2011 the EMEC had become self-sufficient, by selling its consultancy and site evaluation and testing services to would-be suppliers.
As an aside, becoming self-sufficient was probably very opportune in 2011, as other UK Government financed initiatives and incentives for green technologies, like the Carbon Capture and Storage demonstration project, and financial incentives for wind farms, were switched off very fast as harsh financial strictures were imposed on Government spending. Currently, the CCS demo project in Canada, supported by its national and local Government, Shell Research, and local industry, is performing better than the project expectations.
South African research
According to Professor Wikus van Niekerk, from the Stellenbosch University Centre for Renewable and Sustainable Energy Studies (CRSES), while South Africa has some limited potential for harnessing tidal current energy, particularly at the Knysna Heads and the Langebaan Lagoon, the country's most promising renewable ocean energy potential lies in ocean currents and waves.
From the technology aspect, wave energy appears to offer the most potential in South Africa. CRSES research shows the Western Cape has the highest wave power generation potential, and a few wave energy projects have been tried. Indeed Stellenbosch University developed the Stellenbosch Wave Energy Converter (SWEC) in the 1980s. As recently as 2015 it appeared the cost of wave energy generation was significantly higher than the solar PV or wind turbine techniques, but cost and technology changes rapidly!
New wave energy devices
Now on test in the Orkneys with EMEC is a 50% scale model of the new Swedish design of the Wave Energy Converter, the C3 from CorPower Ocean. This unit resembles a large 'skittle', or long necked bottle. Under test at EMEC since January 2018, the C3 WEC will be connected to a floating Microgrid unit, which is designed to allow the C3 device to behave as if it were grid connected by providing a stable voltage and frequency reference, simulating the impedance of a typical grid connection, absorbing power from the device under test and providing power to auxiliary systems.
This style of the WEC would be aimed at providing off-grid operations to power islands, offshore installations or remote coastal locations, all around the world. Another unit previously tested by the EMEC is the Wello Penguin, designed in Finland. Wello has received its first order for a commercial wave energy park, to be installed next to Nusa Penida Island in Bali, Indonesia: it will be the largest wave energy park globally, with planned delivery at the end of 2018. Power output is 20 MW, using multiple Penguin generators.
The Wello Penguin floats on water and captures kinetic energy from the waves, which is then turned into electrical power. It is an asymmetrical ship, and a 600 kW unit would be 220 tonnes typically, 30 m long and 16 m wide, anchored to the ocean floor. It utilises the same components that are already in use in wind turbines, and is easily constructed in a shipyard, meaning the Penguin is cost competitive compared to offshore wind energy. The roll of the Penguin spins the rotator inside the device, directing the energy from the waves. This rotation drives the generator – it does not have any moving parts in contact with sea water, so the service needs are minimal. In relation to comparative costs, the CEO of Wello, Heikki Paakkinen, said "The cost of energy generated with Wello Penguin is already very competitive compared to offshore wind energy, and in serial production we aim for a further 50% cost reduction."

In 2015, Blackbird International, in collaboration with WERPO, announced plans to develop a 500 MW wave energy power plant in South Africa. The original wave energy system designed by WERPO, from Israel, uses an anchored float normally installed on wave breakers or sea walls, which rises and falls with wave action.
Nick Denbow spent 30 years as a UK-based process instrumentation marketing manager, and then changed sides – becoming a freelance editor and starting Processingtalk.com. Avoiding retirement, he published the INSIDER automation newsletter for five years, and then acted as their European correspondent. He is now a freelance Automation and Control reporter and newsletter publisher, with a blog on www.nickdenbow.com
Further reading:
From the editor's desk: Edge, cloud or both?
June 2019, Technews Publishing (SA Instrumentation & Control) , News
In the illusory world of digital transformation, the question of where the applications will best be hosted often triggers a lively discussion. In particular, the cloud vs. edge debate has left many wondering 
...
Read more...
---
Wireless IoT devices in oil and gas reached 1,3 million in 2018
June 2019 , News
According to a new research report from Berg Insight, the number of devices featuring cellular or satellite connectivity deployed in oil and gas applications amounted to 1,3 million at the end of 2018. 
...
Read more...
---
Siemens and Iraqi government sign roadmap agreement
June 2019, Siemens Digital Industries , News
In a move that takes the roadmap for rebuilding Iraq's power sector a step further, Siemens and the Ministry of Electricity of the Republic of Iraq have signed an implementation agreement. This builds 
...
Read more...
---
Emerson acquires KNet software
June 2019, Emerson Automation Solutions , News
Emerson has announced the acquisition of KnowledgeNet (KNet) software from Tunisia-based Integration Objects. KNet's unique analytics application software accelerates digital transformation initiatives 
...
Read more...
---
BI set to add ContiTech belts to its range
June 2019 , News
Bearings International (BI) is set to add to its basket of premium brands following a visit by the ContiTech Power Transmission Group to discuss a local distribution agreement for its belt ranges. These 
...
Read more...
---
Endress+Hauser expands patent portfolio
June 2019, Endress+Hauser , News
The number of patents submitted by the Endress+Hauser Group continues to rise. As reported during the annual Innovators' Meeting held this year in France, the Group submitted 287 initial patents in 2018, 
...
Read more...
---
Hyflo Southern Africa incorporated into BMG's Fluid Technology division
June 2019, Bearing Man Group t/a BMG , News
The Engineering Solutions Group (ESG) of Invicta Holdings has incorporated Hyflo Southern Africa into BMG's Fluid Technology Division. This development is a positive move for both companies and for the 
...
Read more...
---
Festo to go digital at Automation Expo
June 2019, Festo , News
The world is currently undergoing radical digital transformation, which is viewed as an implementation of digital technologies in all sectors, including the automation industry. As a company that continuously 
...
Read more...
---
MESA aligns with Africa Automation Fair to promote next level industry automation
June 2019, Reed Exhibitions , News
MESA Africa has aligned with Africa Automation Fair for the first time this year, to help drive the next level of industry automation in South Africa. Vice chairman, Gerhard Greeff, explains that MESA's 
...
Read more...
---
Future Production Technologies Conference
June 2019 , News
"The Fourth Industrial Revolution will herald the transformation of entire systems of production, management and governance," says Bob Williamson, chair of the Future Production Technologies Conference 
...
Read more...
---