printer friendly version
Control of hydraulic functions in mobile applications
March 2018
Pneumatics & Hydraulics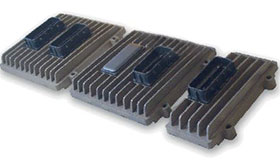 The electronic controls business unit of Parker Hannifin has released new functional safety controllers for mobile machinery applications. As well as offering high levels of robustness and straightforward system integration, the new RISE (SP) certified IQAN-MC4xFS controllers have been developed to provide a more cost-effective way of meeting the safety standards required for heavy mobile machinery. Typical applications include reach stackers, aerial platforms, refuse truck loaders, mobile cranes, steer-by-wire forestry equipment and construction machinery.
Designed for controlling hydraulic valves and certified to IEC 61508 SIL2, the controller is an ideal choice for mobile machinery applications where safety functions up to SIL2/PLd are required. The Machinery Directive states that control systems must be designed to prevent hazardous situations, and with the EN ISO 13849-1:2015 update, there is now a precise limit for safety functions where safety ratings (SIL/PL) by the controller manufacturers is required. IQAN-MC4xFS is suited for use in applications where non-certified controllers were previously accepted.
The new device builds on the success of Parker's earlier MC4x versions, with full pin compatibility, and incorporates a significant amount of monitoring functionality to meet application requirements. Extended diagnostics measures have also been introduced, such as the run-time diagnostics of dangerous faults, along with extensive start-up tests. Further features include the execution of safety-related applications in the lockstep core, ECC-protected RAM, and the implementation of a safety-certified real-time operating system.
Parker offers three versions of the new controller: the MC41FS, which is designed for one or two safety functions in support of cost-efficient, task-oriented control; the MC42FS, which offers a higher number of safe outputs for mid-size applications and I/O distribution; and the MC43FS, a large centralised controller for applications involving multiple safety functions.
Delivering precise, real-time control of hydraulic systems, Parker's IQAN-MC4xFS controllers are based on the same robust hardware as IQAN-MC4x performance-optimised standard versions featuring state-of-the-art automotive grade safety components. Scalable feature sets, connectivity and the same pin configuration facilitate easy up or downsizing of applications.
The new controllers have been designed to simplify and ease implementation in customer applications allowing faster development of new machine functionality. This is supported and enabled by full compatibility with the established IQANdesign platform which provides an intuitive tool for programming, simulation, testing, production, service and maintenance.
For more information contact Lisa de Beer, Parker Hannifin SA, +27 (0)11 961 0700, lisa.debeer@parker.com, www.parker.com/za
Credit(s)
Further reading:
Parker Hannifin showcases its latest mobile solutions
May 2019, Parker Hannifin Sales Company South , News
Parker Hannifin presented its new, integrated electrified system solutions for sustainable mobile systems at bauma 2019. Visitors to Parker's stand were able to see and experience a range of efficient 
...
Read more...
---
Parker Hannifin introduces couplings for quick and easy installation
May 2019, Parker Hannifin Sales Company South , Pneumatics & Hydraulics
Parker Hannifin now offers quick connection couplings for its NSA series, notable for features including their low weight. NSA couplings are available in nickel-plated brass or stainless steel, while 
...
Read more...
---
Listening to the Voice of the Machine
April 2019, Parker Hannifin Sales Company South , IT in Manufacturing
The value of discrete IoT.
Read more...
---
Hoses and fittings for water blasting
April 2019, Parker Hannifin Sales Company South , Pressure Measurement & Control
Water blasting is the use of water with high pressure and high speed to clean and treat various surfaces. It can also be used to cut through different solid materials like steel and concrete. The advantage 
...
Read more...
---
VUVS-LT Poppet Valve
Technews Industry Guide: Maintenance, Reliability & Asset Optimisation 2019, Festo , Pneumatics & Hydraulics
Frequently used in different locations and exposed places, the VUVS-LT Poppet Valve can take a lot – all without losing its good looks. Simple on the outside, sturdy on the inside, it is the ideal combination 
...
Read more...
---
Optimum hydraulic performance through cost effective filtration solutions
Technews Industry Guide: Maintenance, Reliability & Asset Optimisation 2019, Hydrasales , Pneumatics & Hydraulics
Maintenance personnel have to facilitate optimum hydraulic system performance through their programmes, hence the incorporation of oil cleanliness checks, or oil contamination monitoring should not be 
...
Read more...
---
The advantages of rolled vs. cut threads for fluid system instrumentation fittings
March 2019, Fluid Systems Africa , Pneumatics & Hydraulics
A new level in leak tightness from Fluid Systems Africa.
Read more...
---
Ready for smart manufacturing
March 2019, Metal Work Pneumatic South Africa , Pneumatics & Hydraulics
Metal Work's new EB80 is an electro-pneumatic system consisting of a solenoid valve assembly with fieldbus or multi-pin control, and modules to manage analog or digital input/output signals. It can accommodate 
...
Read more...
---
Quality in aftermarket fuel filters
March 2019, Parker Hannifin Sales Company South , Motion Control & Drives
When it comes to replacing the fuel filter element on a light commercial vehicle, such as the Ford Transit, Parker Racor ensures the job is simple, fast and foolproof, thanks to a patented compound bayonet 
...
Read more...
---
Safety exhaust valve for emergency stop
March 2019, Parker Hannifin Sales Company South , IS & Ex
Parker Hannifin has introduced a new safety exhaust valve that rapidly exhausts compressed air in the event of a fault condition or when a machine has an emergency stop. The P33 is designed for two-channel 
...
Read more...
---