printer friendly version
Everything from a single source
February 2018
Pneumatics & Hydraulics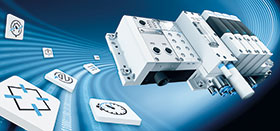 Festo understands the challenges of the food industry: hygienic and efficient automation is a must for machine and system builders and producers. Having to search for different component suppliers who can meet these requirements and matching the individual parts from different manufacturers is no longer necessary. Single sourcing saves time and money. As a full-range supplier, the company offers everything from a single source.
"Festo has been a reliable automation partner in the global production of high-quality food for over fifty years," explains Alexander Wagner, vice president food and packaging, Festo. "Our mix of pneumatic and electrical technology helps to create efficient production operations."
Festo applies its wealth of experience in factory automation to process automation as well. "We cover all the individual levels of the automation pyramid, from the operating to the field level," adds Wagner. "We can therefore offer not only individual components, but also ready to install systems for all kinds of tasks and applications in the food industry."
A world first: digital pneumatics
The Festo Motion Terminal (VTEM) is the first pneumatic automation platform to be controlled by apps. Now, the functions of a pilot valve can be changed via software without changing the hardware. Thanks to the fast activation of new functions via apps, machine developers can create a basic machine type and then select the relevant apps to equip it with different functions and features in accordance with customer requirements. The apps replace over 50 individual components.
Reliable and efficient
The pneumatic pinch valve VZQA provides hygienic, reliable and high-quality dispensing of food: the N/O variant with a silicone diaphragm comes with a declaration of conformity in accordance with EU Directive no. 1935/2004. This pinch valve variant is thus approved for applications involving direct contact with food products.
Decentralised control increases productivity
Festo's automation solutions allow users and designers to create decentralised installation concepts without a control cabinet in harsh and intensively-cleaned environments in the food and beverage industry. Situated close to the application for lower energy losses and high cycle rates, these can be either a solution without a control cabinet, with the Clean Design valve terminal MPA-C, offering the ideal degree of protection IP69K, or with the valve terminal VTUG in a control cabinet with a multi-pin plug, for all standard fieldbus systems or IO-Link.
Flexible applications
There is an ever-increasing demand for modular components which can be converted quickly and easily depending on the requirements. For example, the sturdy and powerful angle seat valve VZXA for the fast and reliable control of media flows. Its carefully designed product architecture and patented interface enable valve bodies and actuators to be freely combined. This provides even greater flexibility for any application.
The quarter turn actuator DFPD from Festo is another example of robust process automation. Based on the rack and pinion principle, this actuator offers combinations which are modular, sturdy and versatile. This makes the actuator suitable for many of the requirements associated with food and beverage production.
For more information contact Kershia Beharie, Festo, 086 003 3786, kershia.beharie@festo.com, www.festo.co.za
Credit(s)
Further reading:
High performance hydraulic hose
Pneumatics & Hydraulics
Gates has launched a new line of professional grade hydraulic hoses offering high performance in hydraulic applications across a wide range of end-markets.
Read more...
---
Breathing life into your machines through leading Pneumatic Automation solutions
Festo South Africa Pneumatics & Hydraulics
The pneumatics stage of Festo's three-part 'Absolute Automation 2.0' campaign takes customers on a journey to higher productivity.
Read more...
---
For more energy-efficient pneumatics, 4 is greater than 7
SMC Corporation South Africa Pneumatics & Hydraulics
To help expedite a project that involves designing a machine for 4 bar operating pressure, SMC's expert team can deliver the optimal outcome for both OEMs and end users.
Read more...
---
Increase profits by monitoring your compressed air
Artic Driers Pneumatics & Hydraulics
To find leaks is one thing, but quantifying the volume of air leakage and the associated costs is quite another.
Read more...
---
How smart pneumatics enhance machine safety
Emerson Automation Solutions Pneumatics & Hydraulics
The Industrial Internet of Things and the digital transformation it has empowered have already proven their many benefits. One that deserves a closer look is how smart pneumatic devices can improve machine 
...
Read more...
---
Honingcraft in the digital realm
Honingcraft Pneumatics & Hydraulics
Honingcraft distributes the finest steel products and components used for manufacturing hydraulic cylinders, including honed tube, chrome bar and cylinder kits. The company owns and operates highly-specialised 
...
Read more...
---
Safety blocks for hydraulic accumulators
Pneumatics & Hydraulics
Parker Hannifin's new safety block (SB) series for hydraulic accumulators simplifies the selection, installation and maintenance process of these important system components. Safety blocks enable hydraulic 
...
Read more...
---
WorldSkills Africa collaborates with Festo to host the 2022 competitions
Festo South Africa News
WorldSkills is a global competition organisation that raises the profile of skilled individuals worldwide. This organisation also demonstrates how skills are essential in achieving economic growth. Their 
...
Read more...
---
Festo campaign highlights process automation solutions
Festo South Africa Valves, Actuators & Pump Control
Festo aims to aid its process automation customers to thrive even during unpredictable periods, by continually analysing the value-creation chain and communicating with its customers to understand their needs.
Read more...
---
Festo solenoid valves for everyday tasks
Festo South Africa Electrical Power & Protection
In the automation industry, machine users are continually confronted with new challenges. The only way to achieve lasting success is by selecting the perfect components. Festo offers over 2200 Core Product 
...
Read more...
---