printer friendly version
Pressure gauges with diaphragm seals
February 2018
Pressure Measurement & Control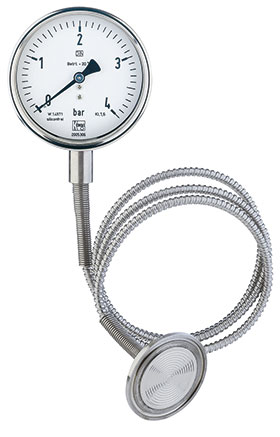 Diaphragm seals are partitions for pressure gauges that prevent material that is being measured from penetrating the measuring system. In industry, pressure sensors or pressure gauges cannot always be directly connected to the process connection. For measuring pressure in the food industry, the use of diaphragm seals are mostly indispensable. With the right choice of diaphragm seal systems, it is possible to solve measuring problems that can often not be overcome with a pressure gauge alone.
Kobold's DRM range of diaphragm seals are designed specifically for such purposes. They are tailor-made to meet industrial requirements, and are available with all industry-standard connection types and fit perfectly with Kobold pressure gauges. In each case, an appropriate solution can be chosen from a wide range of designs, shapes and materials.
Kobold diaphragm seals allow measurements to be taken even with aggressive, highly viscous, solidifying or crystallising process media. They also protect the measuring devices against high temperature and pressure fluctuations, pressure peaks or vibrations.
Depending on the design, they can be used for measurements at process temperatures of up to 350°C and 1600 bar. The use of diaphragm seals is also recommended where there are special hygiene requirements and where specific media-appropriate materials are required. Kobold's specifically-engineered and practice-oriented diaphragm seal system components make 'dead-zone-free' assembly an easily achievable goal. As the capillary tubes can be several metres long, the measuring devices can now be placed at a safer distance from harsh industrial environments.
Typical applications are in media enriched with solids, crystallising/polymerising/HMh viscosity/corrosive/toxic and environmentally hazardous measured media, as well as very low or high measured temperature media; hygienic requirements for the food and pharmaceutical sector and batch changing without product residues in the measuring system.
For more information contact Instrotech, +27 (0)10 595 1831, sales@instrotech.co.za, www.instrotech.co.za
Credit(s)
Further reading:
Pressure sensors for Industry 4.0
Technews Industry Guide: Industrial Internet of Things & Industry 4.0, Turck Banner , Pressure Measurement & Control
Turck's new pressure sensors of the PS+ series offer complete access to sensor parameters via IO-Link.
Read more...
---
Water regulation made easy
July 2019, Instrotech , Flow Measurement & Control
Kobold's REG mechanical flow restrictors and rate regulators, with their simple yet effective functionality, are ideally suited to consumer applications and uniform supply to multiple consumers. Once 
...
Read more...
---
New monoflange design prevents fugitive emissions
July 2019, WIKA Instruments , Pressure Measurement & Control
The new WIKA model IVM monoflange for connecting pressure measuring instruments to the process is particularly suitable for applications involving critical liquids, gases and vapours. Special seals also 
...
Read more...
---
Pressure transmitters for mobile equipment
June 2019, Turck Banner , Pressure Measurement & Control
In order to provide solutions for use in mobile equipment, Turck has expanded its portfolio of pressure sensors with the introduction of the PT1100/2100 transmitters. This includes mining, forestry, agricultural 
...
Read more...
---
Understanding accuracy specifications
May 2019, EOH Process Automation Solutions , Pressure Measurement & Control
Pressure measurement device accuracies are commonly specified as percentage of full scale, or percentage of reading, and the difference is significant. If an accuracy statement simply names a percentage 
...
Read more...
---
Miniature IR thermometer for plastic film
May 2019, Instrotech , Pressure Measurement & Control
Temperature is a key physical variable for ensuring quality in the production of plastic film. The application of non-contact temperature measurement technology poses the challenge that films with a thickness 
...
Read more...
---
Pressure sensor with IO-Link
May 2019, WIKA Instruments , Pressure Measurement & Control
WIKA has a new, flexible pressure sensor with IO-Link in its portfolio. The model A-1200 is used for pressure monitoring or as a PNP/NPN switch, especially in intelligent machines. The new pressure sensor 
...
Read more...
---
Leak detection in coal-fired power stations
Africa Automation Fair 2019 Preview, Instrotech , Sensors & Transducers
Instrotech's advanced acoustic leak detection system, Inspecta FFT, can detect boiler tube leaks in coal-fired utilities and in oxygen plants and gasifiers. The technology and equipment is in use in power 
...
Read more...
---
Miniature multi-turn encoder
May 2019, Instrotech , News
Modern industrial applications demand innovative designs featuring high performance, precise information and smaller component footprints. To this end, Instrotech now offers the Scancon miniature absolute 
...
Read more...
---
Pyrometer with automatic spot finder
Africa Automation Fair 2019 Preview, Instrotech , Temperature Measurement
The Optris infrared Xi series is a fusion between a robust, compact pyrometer and an advanced IR camera. The integrated spot finder function enables accurate temperature measurements in moving objects 
...
Read more...
---