printer friendly version
Increased whisky production with Yokogawa's Coriolis mass flowmeter
January 2018
Mass Measurement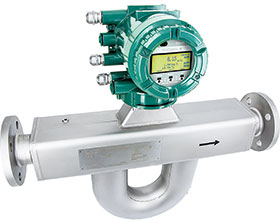 The James Sedgwick Distillery was established in 1886 and is situated in the picturesque region of Wellington in the Western Cape. The distillery produces both malt and grain whiskies on the same site, which is rare due to a distillery normally only producing one type of whisky. The distillery handles the entire whisky making process from milling the raw ingredients through to maturation and final blending.
Excise duty was becoming costly
Due to the international success of the distillery's Three Ship's whisky brand, in 2009, Distell decided to expand its whisky production. As a spirit manufacturer, Distell is liable for the payment of excise duties by the South Africa Revenue Services (SARS). Spirits may generally be defined as 'ethyl alcohol obtained from the distillation of various base products to an alcoholic strength of usually more than 60% per volume' and is subject to the payment of excise duty if consumed as liquor within the Southern African Customs Union. Whisky production is also legally regulated, with distillation strengths required to conform to strict limits. Following this, Distell required an online alcohol percentage meter to curb the costly and sometimes time consuming collection of samples, which they had used in the past in order to meet the legal requirements for a whisky as well as SARS' regulatory obligations.
Distell sought the services of a chemical engineering specialist in the design and supply of equipment and services to the beverage industry in South Africa, with the necessary expertise in ethanol plant specialisation. Logichem Process was awarded the project and was commissioned to provide a turnkey solution. Yokogawa South Africa was contracted by Logichem for the installation and commissioning of a Coriolis Rotamass flowmeter for the distilling process.
Coriolis technology offers the solution
The majority of whiskies at the distillery contain grain whisky made from corn that is mashed, fermented, distilled and matured for at least three years at 66%/vol. strength. The full strength product that exits the distillation column passes through Yokogawa's Rotamass Coriolis flowmeter at 94,3 %/vol, and is closely controlled and logged. After the cask maturation process, the product is also blended with the use of the Coriolis Rotamass and is then ready for offsite bottling.
Both measuring points of distilling and blending are therefore crucial during the process and accuracies of 0,6% are required. During the distillation phase, the process has to be controlled though the Coriolis Rotamass flowmeter at 94,3 – 94,6%/vol. and exactly 43,0% at bottling phase.
SARS' stringent monitoring and auditing of the alcohol levels requires that the readings have to be accurate and consistent in order to pass their assessments. Yokogawa's Rotamass Coriolis mass flowmeter was well-matched for the job with its density calibration for ethanol or water percentage and a special calibration for maximum accuracy and stability. The mass flow meter's dual bent tube technology and advanced software enabled the customer to measure the very small and sensitive range required. Yokogawa commissioned the mass flowmeter onsite to ensure the correct installation and commissioning from the outset.
In the last decade, the use of Coriolis meters has been changing from general purpose to supporting customers' needs in specific applications. While the technological complexity increased, the demand for simple operation and handling remained an important requirement.
Yokogawa answers these needs by offering six dedicated product lines with two specialised transmitters allowing the highest flexibility. Yokogawa's Rotamass philosophy gives Total Insight through the entire product lifecycle.
For more information contact Christie Cronje, Yokogawa South Africa, +27 (0)11 831 6300, info@za.yokogawa.com, www.yokogawa.com/za
Credit(s)
Further reading:
Belt conveyor weighing applications
June 2020, Loadtech Loadcells , Mass Measurement
Loadtech's LT1320 is a precision digital indicator for belt weighing applications. The unit takes the weight and speed information from a belt conveyor system and accurately calculates the rate and total 
...
Read more...
---
Positive displacement vs Coriolis meters
March 2020, Soliflo , Mass Measurement
Positive displacement (PD) is a practical and accurate method to achieve volumetric measurement of refined hydrocarbons, according to tests undertaken by Brodie International in the USA.
Read more...
---
Ultra-compact weighing electronics
March 2020, Siemens Digital Industries , Mass Measurement
Siwarex WP351 is Siemens' newest solution for intelligent weighing automation. Measuring 20 mm width by 65 mm height, the module is one of the smallest weighing electronics units available. The device's 
...
Read more...
---
Yokogawa announces acquisition of RAP International
November 2019, Yokogawa South Africa , News
Yokogawa Electric Corporation has announced the signing of an agreement with UK-based RAP International for Yokogawa to acquire all shares of the company and make RAP a wholly-owned subsidiary. RAP specialises 
...
Read more...
---
A real-time alternative to radiometric density measurement
September 2019, Endress+Hauser South Africa , Mass Measurement
Currently, in mining applications, radiometric measurement has been the only way to measure the density of slurry. Until recently, and due to the harsh and abrasive environment of slurry, no other measuring 
...
Read more...
---
What is the next big thing in Coriolis mass flowmeters?
June 2019, KROHNE , Mass Measurement
With such fast moving technology it can be difficult to forecast the 'next big thing', but it is possible to focus on two recent developments that look set to influence the market in the near future: high capacity flowmeters; and the ability of Coriolis meters to measure liquids with entrained gas.
Read more...
---
Optimised fuel blending
May 2019, Yokogawa South Africa , Analytical Instrumentation & Environmental Monitoring
This risk has led the refiners to give more than the norms specify, resulting in a giveaway on quality and profit. The use of near infrared (NIR) technology has helped refiners get real-time data to ensure 
...
Read more...
---
Taking the air out of dairy
May 2019, Endress+Hauser South Africa , Mass Measurement
The dairy industry has been plagued for years with the challenge of accurate flow measurement in both processing and offloading applications. Often, the most common cause of inaccuracies in flow measurement 
...
Read more...
---
Digital automation technologies
Africa Automation Fair 2019 Preview, Yokogawa South Africa , IT in Manufacturing
Yokogawa is showcasing the Synaptic Business Automation solution, which can transform business processes by optimisation of supply chains and operations and maximisation of asset performance. This is 
...
Read more...
---
Small and powerful weighing indicator
Africa Automation Fair 2019 Preview, Richter Scale Co. , Mass Measurement
Specially developed for devices and machines which control limit values via weight measurements, Richter Scale's SMART-2 is a small and simple weighing indicator with a rugged and durable housing. It 
...
Read more...
---