printer friendly version
Festo streamlines the automation of battery production
January 2018
Pneumatics & Hydraulics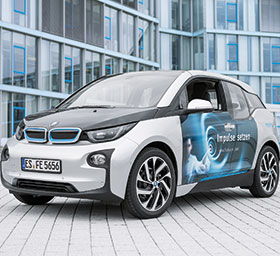 The demand for electric vehicles is rising, which has had a knock-on effect on battery producers, as batteries – alongside the electric motor – are the heart of E-cars. The battery accounts for between 30 and 40% of the value added in purely electric vehicles. Around the world, new factories are being built and vehicle manufacturers as well as battery producers are looking for automation. The production of lithium-ion batteries is presenting automation technology with special challenges, from the production of electrodes, to the production of cells and through to the assembly of the battery module.
Johannes Strasser, industry segment manager electronics at Festo explains: "This year, car manufacturers are heralding high investments and the declarations of intent of manufacturers regarding battery production have increased tenfold. Alongside the major car brands, new electrical car manufacturers are being set up and new companies are joining the industry of battery cell production every day. The focal point of production is currently Asia and primarily China, where the Chinese government is actively supporting the future battery industry."
Increased revenue
In the last two years, Festo's revenues in the growth market of electro-mobility doubled year on year. The automation provider advises and supplies major global customers such as the Korean battery manufacturer LG Chem. The key components in Festo's success here are its broad product range including copper-free products, its services and engineering tools as well as a worldwide team with specialist know-how and solution competence that provides customers with expert advice in project planning and conceptualisation.
The company's production manager Kim Sung Chul says, "LG Chem, Korea's leading manufacturer of advanced batteries, is constructing an electric vehicle (EV) battery plant in Poland. This is the first large-scale lithium-ion battery plant for automotive application in Europe. Festo is the handling equipment supplier for the plant and LG greatly appreciates the competent consultation, the product range and quality, the engineering concepts and the global network of automation experts provided by Festo."
Strasser adds: "With expert teams in the main markets of Korea, China, USA and in Europe, we are a truly global partner that offers direct contact and customer support on site. For example, we have worked with LG Chem for over two years. We are delighted to have been chosen over strong international competitors to contribute our solution competence and know-how in the automation of battery modules. For LG Chem's new factory in Poland, we supplied all the electrical axes and valves. All products were designed to be copper-free."
Copper-free requirement
Festo offers everything from a single source: standard handling, special solutions and copper-free products that do not damage or contaminate the sensitive lithium-ion cells during handling. Thanks to the use of state-of-the-art materials, roughly 95% of Festo's standard product portfolio is already free of copper. Since 2017, Festo has also offered special copper-free products that are oriented towards current market criteria: the guide bearings, bearings and all parts that generate friction are free of copper. Festo's standard products also meet ISO 6 clean-room conditions and more. The products are tested in the company's own Competence Centre for Cleanroom Technology in Singapore, in cooperation with a local university.
Thanks to the engineering tools from Festo, solutions and systems can be virtually measured and designed, thus saving time and costs in project planning and design. This phase represents 25-30% of the overall service life costs in machine and plant construction, while energy-efficient products and services help to reduce power consumption during production.
For more information contact Kershia Beharie, Festo, 086 003 3786, kershia.beharie@festo.com, www.festo.co.za
Credit(s)
Further reading:
RS adds self-adjusting double-acting air cylinders
December 2019, RS Components SA , Pneumatics & Hydraulics
RS Components has expanded its offering from factory automation manufacturer Festo to include new double-acting pneumatic cylinders in the DSBC product range. Aimed at both machine builders and maintenance 
...
Read more...
---
Festo's digitalised product world
January 2020, Festo , System Integration & Control Systems Design
HoloLens, mobile phones, 3D printing and smart glasses – the gadgets that captured the public imagination in the blockbuster movie 'Back to the Future' over 30 years ago have now become a reality, all thanks to digitalisation.
Read more...
---
Refrigeration compressed air dryers
January 2020, Artic Driers , Pneumatics & Hydraulics
The R Class range of compressed air refrigeration dryers and RSXW chemical adsorption dryers have consistently low dew points, with an attractive entry price and a low cost of ownership once in operation. 
...
Read more...
---
World record for Festo's BionicOpter
December 2019, Festo , News
The Festo BionicOpter will be included in the 2020 Guinness World Records. The chapter 'Robots' presents the most amazing records from the world of super robots and artificial intelligence. The Festo 
...
Read more...
---
Festo inspires with smart digital solutions at the Automation Expo
September 2019, Festo , News
Festo hosted the first leg of the Automation Expo in Johannesburg at the Sandton Convention Centre, while the second took place in Port Elizabeth at the Boardwalk Convention Centre. Both ended on a high 
...
Read more...
---
Productivity Master points the way to digitalisation
September 2019, Festo , System Integration & Control Systems Design
Seamless connectivity of handling and software solutions developed by Festo.
Read more...
---
Parker enhances H Series ISO valve portfolio
September 2019, Parker Hannifin Sales Company South , Pneumatics & Hydraulics
Parker Hannifin has added an expanded range of features and capabilities to its H Series ISO valve platform as part of its global focus on factory automation. Designed with a new universal manifold, the 
...
Read more...
---
SMC is here to stay
August 2019, SMC Corporation South Africa , Pneumatics & Hydraulics
Kim Roberts [KR]: How does SMC SA fit into SMC's global vision and strategy?
Peter Findlay [PF]:
SMC entered the South African market directly in 2015 as a subsidiary of SMC UK, and in turn as a subsidiary 
...
Read more...
---
How the latest pneumatics can reduce plant costs
August 2019, Parker Hannifin Sales Company South , Pneumatics & Hydraulics
The implementation of predictive maintenance has become a high-held ambition for many modern plants, a strategy that avoids the costs of both reactive and scheduled preventative maintenance by only deploying maintenance routines exactly when needed; namely, shortly before a pneumatic component is predicted to fail.
Read more...
---
Boltight hydraulic bolt tightening from BMG
August 2019, Bearing Man Group t/a BMG , Pneumatics & Hydraulics
BMG's Nord-Lock bolting solutions now include Boltight hydraulic bolt tensioning tools, which are used to tighten bolts simultaneously, ensuring even preload in industrial applications and extreme environments, 
...
Read more...
---