printer friendly version
Festo streamlines the automation of battery production
January 2018
Pneumatics & Hydraulics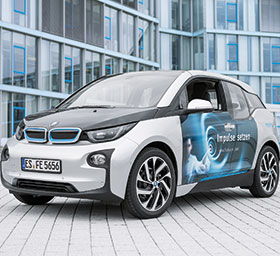 The demand for electric vehicles is rising, which has had a knock-on effect on battery producers, as batteries – alongside the electric motor – are the heart of E-cars. The battery accounts for between 30 and 40% of the value added in purely electric vehicles. Around the world, new factories are being built and vehicle manufacturers as well as battery producers are looking for automation. The production of lithium-ion batteries is presenting automation technology with special challenges, from the production of electrodes, to the production of cells and through to the assembly of the battery module.
Johannes Strasser, industry segment manager electronics at Festo explains: "This year, car manufacturers are heralding high investments and the declarations of intent of manufacturers regarding battery production have increased tenfold. Alongside the major car brands, new electrical car manufacturers are being set up and new companies are joining the industry of battery cell production every day. The focal point of production is currently Asia and primarily China, where the Chinese government is actively supporting the future battery industry."
Increased revenue
In the last two years, Festo's revenues in the growth market of electro-mobility doubled year on year. The automation provider advises and supplies major global customers such as the Korean battery manufacturer LG Chem. The key components in Festo's success here are its broad product range including copper-free products, its services and engineering tools as well as a worldwide team with specialist know-how and solution competence that provides customers with expert advice in project planning and conceptualisation.
The company's production manager Kim Sung Chul says, "LG Chem, Korea's leading manufacturer of advanced batteries, is constructing an electric vehicle (EV) battery plant in Poland. This is the first large-scale lithium-ion battery plant for automotive application in Europe. Festo is the handling equipment supplier for the plant and LG greatly appreciates the competent consultation, the product range and quality, the engineering concepts and the global network of automation experts provided by Festo."
Strasser adds: "With expert teams in the main markets of Korea, China, USA and in Europe, we are a truly global partner that offers direct contact and customer support on site. For example, we have worked with LG Chem for over two years. We are delighted to have been chosen over strong international competitors to contribute our solution competence and know-how in the automation of battery modules. For LG Chem's new factory in Poland, we supplied all the electrical axes and valves. All products were designed to be copper-free."
Copper-free requirement
Festo offers everything from a single source: standard handling, special solutions and copper-free products that do not damage or contaminate the sensitive lithium-ion cells during handling. Thanks to the use of state-of-the-art materials, roughly 95% of Festo's standard product portfolio is already free of copper. Since 2017, Festo has also offered special copper-free products that are oriented towards current market criteria: the guide bearings, bearings and all parts that generate friction are free of copper. Festo's standard products also meet ISO 6 clean-room conditions and more. The products are tested in the company's own Competence Centre for Cleanroom Technology in Singapore, in cooperation with a local university.
Thanks to the engineering tools from Festo, solutions and systems can be virtually measured and designed, thus saving time and costs in project planning and design. This phase represents 25-30% of the overall service life costs in machine and plant construction, while energy-efficient products and services help to reduce power consumption during production.
For more information contact Kershia Beharie, Festo, 086 003 3786, kershia.beharie@festo.com, www.festo.co.za
Credit(s)
Further reading:
The powerful Festo modular control system CPX-E
Technews Industry Guide: Industrial Internet of Things & Industry 4.0, Festo , PLCs, DCSs & Controllers
Designed as an EtherCAT master and motion controller with protection to IP20, the powerful automation system CPX-E for factory and process automation with NE21-specific certifications is becoming the 
...
Read more...
---
Festo to go digital at Automation Expo
June 2019, Festo , News
The world is currently undergoing radical digital transformation, which is viewed as an implementation of digital technologies in all sectors, including the automation industry. As a company that continuously 
...
Read more...
---
Flow sensor for liquid media
June 2019, Festo , Flow Measurement & Control
The new flow sensor SFAW from Festo is ideal for monitoring cooling circuits, for example in welding guns in the automotive industry as well as in front-end applications in the semiconductor and electronics 
...
Read more...
---
Robotics meets artificial intelligence
June 2019, Festo , Pneumatics & Hydraulics
Whether its grabbing, holding or turning, touching, typing or pressing – in everyday life, we use our hands as a matter of course for the most diverse tasks. In that regard, the human hand, with its unique 
...
Read more...
---
Parker Hannifin introduces couplings for quick and easy installation
May 2019, Parker Hannifin Sales Company South , Pneumatics & Hydraulics
Parker Hannifin now offers quick connection couplings for its NSA series, notable for features including their low weight. NSA couplings are available in nickel-plated brass or stainless steel, while 
...
Read more...
---
Festo Automation Suite
Technews Industry Guide: Maintenance, Reliability & Asset Optimisation 2019, Festo , IT in Manufacturing
Software for quick and reliable commissioning.
Read more...
---
VUVS-LT Poppet Valve
Technews Industry Guide: Maintenance, Reliability & Asset Optimisation 2019, Festo , Pneumatics & Hydraulics
Frequently used in different locations and exposed places, the VUVS-LT Poppet Valve can take a lot – all without losing its good looks. Simple on the outside, sturdy on the inside, it is the ideal combination 
...
Read more...
---
Optimum hydraulic performance through cost effective filtration solutions
Technews Industry Guide: Maintenance, Reliability & Asset Optimisation 2019, Hydrasales , Pneumatics & Hydraulics
Maintenance personnel have to facilitate optimum hydraulic system performance through their programmes, hence the incorporation of oil cleanliness checks, or oil contamination monitoring should not be 
...
Read more...
---
The advantages of rolled vs. cut threads for fluid system instrumentation fittings
March 2019, Fluid Systems Africa , Pneumatics & Hydraulics
A new level in leak tightness from Fluid Systems Africa.
Read more...
---
The automated chameleon tongue
March 2019, Festo , Motion Control & Drives
Festo's adaptive gripper can pick up anything.
Read more...
---