printer friendly version
Rodless pneumatic cylinders in hygienic applications
December 2017
Pneumatics & Hydraulics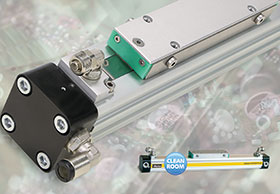 While much of industry is subjected to increasing consumer demands for greater product miniaturisation, one of the principal challenges is faced by those having to manufacture in cleanroom conditions. This applies especially to sectors such as pharmaceutical, medical, food, and microelectronics. In these application areas, even the smallest amount of air pollution or contaminants can lead to high and costly reject rates.
Operators of cleanroom production facilities place great importance on air purity to align with standards and in so doing, underpin the quality, reliability and continuity of their products. In this respect, it is understandable that the selection of linear drives for use in these environments is made only after careful scrutiny. As a result, there is increasing need for linear drives that are suitable for use in all cleanroom classes.
Tasks and requirements
The principal requirement of cleanroom technology is to aid production without compromising air purity in the atmosphere. After all, the design of a cleanroom – structure, interior and technology (including linear drives) – is governed by the required air purity class. As a rule, cleanrooms are served by vacuum systems operating in suction mode, whereby the air is fed to one of the room's boundary walls or ceiling (over the entire surface) in order to create a room-filling, unidirectional flow.
This ideal scenario only occurs if there is no place within the room where air can rest, and if there are no sources of interference positioned at right angles to the direction of flow. Moreover, relatively slow motions are required in order to avoid any additional whirling of particles and so avoid conversion from laminar to turbulent flow. This unwanted effect would not only increase energy requirements, but result in additional contamination of the products being manufactured.
Rodless pneumatic cylinders
Standard rodless pneumatic cylinders are normally deemed unsuitable for use in cleanroom environments as they emit tiny abrasive particles, fine lubricant particles and oil mist during operation. They can also stir up contaminant particles when operating at high speeds.
In terms of design, the majority of rodless pneumatic cylinders use an axially slotted cylinder barrel. Here, power transmission through the slot outwards to the carriage is form-fit. The slot is sealed on the inside by an internal stainless steel sealing strip along the cylinder barrel wall that prevents the penetration of contaminants.
Cleanroom-compatible rodless pneumatic cylinders differ from their standard counterparts in a number of ways. For instance, a partial vacuum is created via a vacuum line in the space between the inner and outer sealing band. This feature helps to reduce possible emissions, such as abrasive particles from the piston seals or slide elements, using suction to remove and feed them into downstream filters. Special vacuum connections at both ends of the barrel are used for this purpose. The vacuum generates a suction flow from the cylinder that ensures (assuming sufficient suction power is available) emissions are extracted and no particles are released into the cleanroom atmosphere.
Parker's Origa System Plus (OSP-P) cleanroom cylinder offers this very functionality. It combines the efficiency of the Origa cylinder slot seal system with vacuum protection against progressive wear and contamination from sliding components. A partial vacuum drawn between the inner and outer sealing bands prevents emission into the clean room.
Benefits for cleanrooms
Cleanroom-compatible rodless pneumatic cylinders such as the OSP-P offer extensive customer benefits with a very good price/performance ratio that is achieved by demonstrating high cleanliness in practical applications. Specific performance attributes such excellent low-speed characteristics are delivered thanks to the use of special piston seals, and this is supported further by slip-free operation at low speeds.
Tests in a class 1 cleanroom provide an idea of the increased performance levels offered in comparison with standard versions. While a standard cylinder will show significant particle counts in operation at a velocity of 0,5 m/s, a cleanroom-compatible rodless pneumatic cylinder (featuring extraction and aspiration in the slot area between inner and outer sealing band) will statistically show no additional particles. Values measured in the direct vicinity of the cylinder will be equivalent to those of the ambient air in the cleanroom.
For more information contact Lisa de Beer, Parker Hannifin SA, +27 (0)11 961 0700, lisa.debeer@parker.com, www.parker.com/za
Credit(s)
Further reading:
Parker Hannifin showcases its latest mobile solutions
May 2019, Parker Hannifin Sales Company South , News
Parker Hannifin presented its new, integrated electrified system solutions for sustainable mobile systems at bauma 2019. Visitors to Parker's stand were able to see and experience a range of efficient 
...
Read more...
---
Parker Hannifin introduces couplings for quick and easy installation
May 2019, Parker Hannifin Sales Company South , Pneumatics & Hydraulics
Parker Hannifin now offers quick connection couplings for its NSA series, notable for features including their low weight. NSA couplings are available in nickel-plated brass or stainless steel, while 
...
Read more...
---
Listening to the Voice of the Machine
April 2019, Parker Hannifin Sales Company South , IT in Manufacturing
The value of discrete IoT.
Read more...
---
Hoses and fittings for water blasting
April 2019, Parker Hannifin Sales Company South , Pressure Measurement & Control
Water blasting is the use of water with high pressure and high speed to clean and treat various surfaces. It can also be used to cut through different solid materials like steel and concrete. The advantage 
...
Read more...
---
VUVS-LT Poppet Valve
Technews Industry Guide: Maintenance, Reliability & Asset Optimisation 2019, Festo , Pneumatics & Hydraulics
Frequently used in different locations and exposed places, the VUVS-LT Poppet Valve can take a lot – all without losing its good looks. Simple on the outside, sturdy on the inside, it is the ideal combination 
...
Read more...
---
Optimum hydraulic performance through cost effective filtration solutions
Technews Industry Guide: Maintenance, Reliability & Asset Optimisation 2019, Hydrasales , Pneumatics & Hydraulics
Maintenance personnel have to facilitate optimum hydraulic system performance through their programmes, hence the incorporation of oil cleanliness checks, or oil contamination monitoring should not be 
...
Read more...
---
The advantages of rolled vs. cut threads for fluid system instrumentation fittings
March 2019, Fluid Systems Africa , Pneumatics & Hydraulics
A new level in leak tightness from Fluid Systems Africa.
Read more...
---
Ready for smart manufacturing
March 2019, Metal Work Pneumatic South Africa , Pneumatics & Hydraulics
Metal Work's new EB80 is an electro-pneumatic system consisting of a solenoid valve assembly with fieldbus or multi-pin control, and modules to manage analog or digital input/output signals. It can accommodate 
...
Read more...
---
Quality in aftermarket fuel filters
March 2019, Parker Hannifin Sales Company South , Motion Control & Drives
When it comes to replacing the fuel filter element on a light commercial vehicle, such as the Ford Transit, Parker Racor ensures the job is simple, fast and foolproof, thanks to a patented compound bayonet 
...
Read more...
---
Safety exhaust valve for emergency stop
March 2019, Parker Hannifin Sales Company South , IS & Ex
Parker Hannifin has introduced a new safety exhaust valve that rapidly exhausts compressed air in the event of a fault condition or when a machine has an emergency stop. The P33 is designed for two-channel 
...
Read more...
---