Pressure transmitter no larger than a bee
November 2017
Pressure Measurement & Control

printer friendly version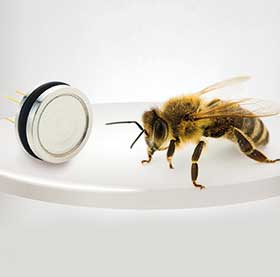 Keller has introduced its smallest fully functional digital combination transmitter for pressure and temperature – the Series 4 LD. Measuring a mere 11 mm in diameter (the same length as a worker bee), the housing contains the sensor technology, the mathematical compensation coefficients, the digital signal processing as well as the I2C interface for simple, loss-free integration into higher-level systems.
Made of stainless steel, the housing not only acts as a Faraday cage but also offers appropriate protection against electromagnetic radiation and all potential environmental influences. All the electronic components are accommodated in a laser-welded stainless steel housing filled with silicone oil. Keller's Chip-in-Oil technology means extremely short signal paths with exceptionally high impact and vibration resistance.
Nine standard measurement ranges extend from 1 to 1000 bar (abs) with a compensated temperature range of -10 to 80°C. Accuracy is rated as better than 0,15% FS, and a total error band of less than 0,5% FS is attained between 0 and 50°C. The temperature measurement accuracy is 2 K. Transmitters in the LD series are optimised for battery-powered applications, for example, during A-to-D conversion, current consumption is 1,5 mA, dropping to 0,1 μA in 'idle' mode. The supply voltage range of 1,8-3,6 VDC corresponds to a normal microprocessor environment.
With a diameter of just 11 mm, the Series 4 LD is the smallest of four versions. Larger models measuring 15, 17 and 19 mm in diameter are also available for relative pressure measurements: they offer an additional temperature range (-40-110°C) without changes to the electrical characteristics.
For more information contact Instrotech, +27 (0)10 595 1831, sales@instrotech.co.za, www.instrotech.co.za
Credit(s)
Further reading:
Battery powered digital temperature gauges
February 2019, Instrotech , Temperature Measurement
Kobold's DTE series of digital temperature gauges offers a wide range of industrial and analytical possibilities in applications where high accuracy and clear indication is required, and where alarm control 
...
Read more...
---
Dosage and fluid media monitoring
January 2019, Instrotech , Analytical Instrumentation & Environmental Monitoring
Kobold's ZED-D electronic dosage devices are ideally suited for dosing and monitoring fluid media. They process the signals from separately-installed flow sensors and are mostly freely configurable. The 
...
Read more...
---
Compact differential pressure transmitter
January 2019, Vepac Electronics , Pressure Measurement & Control
The Halstrup Walcher P 34 series differential pressure transmitter is designed for pressure monitoring applications in cleanrooms, laboratories, pharmaceutical plants and operating theatres as well as 
...
Read more...
---
Humidity measurement in poultry farms
December 2018, Instrotech , Sensors & Transducers
Methods of farming chickens vary from country to country, however the general temperature and humidity conditions required for the three stages of chicken lifecycle are always similar. Temperature and 
...
Read more...
---
Temperature measurement within the plastics industry
December 2018, Instrotech , Temperature Measurement
Temperature is an important measurement parameter for many process techniques used in the plastics industry. Non-contact temperature measurement using an infrared sensor system is therefore an effective 
...
Read more...
---
Hygienic diaphragm pressure gauges
December 2018, WIKA Instruments , Pressure Measurement & Control
WIKA has expanded the application range of its hygienic diaphragm pressure gauges with the model PG43SA-S, which is now also available in a version with ATEX approval. The pressure gauge can thus be used 
...
Read more...
---
Torque transducers for powertrains
December 2018, Instrotech , Sensors & Transducers
Climate change, urban air quality and the rising cost of energy have become the defining issues of the 21st century. With energy consumption and exhaust emissions from vehicles being significant contributors 
...
Read more...
---
Clearly visible flow measurement
November 2018, Instrotech , Flow Measurement & Control
To check the flow processes in pipeline systems and for insight into the interior of process pipes, many flow indicators are used in which the flowing medium sets a rotor turning and thus, to a large 
...
Read more...
---
Analysing pressure peaks
November 2018, Instrotech , Pressure Measurement & Control
Keller's Leo 5 high-resolution digital manometer features precise sensor technology, fast signal processing, peak recording and data storage with a time stamp. Designed for deployment in hostile environments, 
...
Read more...
---
Mass flow measurement of gases
November 2018, Instrotech , Mass Measurement
The Kobold MAS mass flowmeter works according to the calorimetric method and was conceived for gas flow measurement. Since gases can be compressed, the volume changes with pressure and temperature. In 
...
Read more...
---