printer friendly version
SMC valve manifolds built to ­withstand cleaning
November 2017
Pneumatics & Hydraulics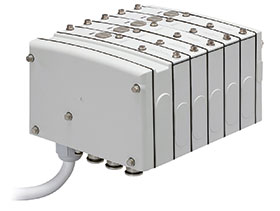 In the food and beverage industry, hygiene is the order of the day. Many systems and parts need to withstand treatment with steam, high-pressure cleaning and aggressive cleaning agents, whilst also preventing the formation of dirt and bacteria traps.
SMC's new clean style valve manifolds (SY5000 series) are designed with these purposes in mind and comply with the required protection class IP69K, making treatment with steam and high pressure possible. One prominent characteristic of these manifolds is that they possess no grooves and gaps where dirt or food residue could build up. As a result, they can be cleaned quickly and effectively. Additionally, they are light and compact, which pays off in dynamic applications in particular. Installation near the application area is possible, which simplifies connection and wiring. Both contribute to a high level of energy efficiency and quick reaction times.
Freedom of motion within the manifold
These manifolds make an internal and external pilot air supply possible. Thanks to channel separation, vacuum and pressure can be used at the same time within the same valve manifold. Thus, different applications can be united in a single device. Depending on the type of cleaning agent, connections made of stainless steel can be used, making the manifold perfectly suited for the area of application.
Installation in wet areas
Because they are resistant to corrosion and are perfectly sealed, clean style valve manifolds can be installed closer to the cylinders/actuators for quicker actuation in wet areas. The recommended valves of the new SY valve series are available with either the rubber seal spool or the metal steal spool. The metal spool valves in particular are suitable for extremely high operating frequencies and operating pressures of up to 10 bar. Tests at SMC have proven that their service life can reach up to 200 million switch cycles.
The valves are extremely efficient when it comes to power consumption: in the energy-saving model, each coil requires only 0,1 W to hold the spool in a switched state. SMC also offers the option of valve manifolds with back pressure check valves, which prevent the cylinder from malfunctions caused by the exhaust air from other valves.
For more information contact SMC Pneumatics South Africa, +27 (0)11 100 5866, sales@smcpneumatics.co.za, www.smcpneumatics.co.za
Credit(s)
Further reading:
SMC launches wireless valve bank in SA
July 2020, SMC Corporation South Africa , Industrial Wireless
In response to customer demand for a reliable communication system, which could limit the number of cables needed to communicate between multiple valve banks/field sensors and a PLC, a wireless communication 
...
Read more...
---
SMC steps up to support essential service customers through lockdown
June 2020, SMC Corporation South Africa , News
SMC Corporation South Africa, as a leading supplier of advanced pneumatic and electrical automation technology, has remained open and certified as an essential services supplier throughout lockdown. We 
...
Read more...
---
SMC offers services as well as components
April 2020, SMC Corporation South Africa , Enclosures, Cabling & Connectors
Besides being a leading supplier of industrial automation components, SMC South Africa also offers value-added services. One of these is in-house control panel design and construction. This takes a labour 
...
Read more...
---
RS adds self-adjusting double-acting air cylinders
December 2019, RS Components SA , Pneumatics & Hydraulics
RS Components has expanded its offering from factory automation manufacturer Festo to include new double-acting pneumatic cylinders in the DSBC product range. Aimed at both machine builders and maintenance 
...
Read more...
---
Refrigeration compressed air dryers
January 2020, Artic Driers , Pneumatics & Hydraulics
The R Class range of compressed air refrigeration dryers and RSXW chemical adsorption dryers have consistently low dew points, with an attractive entry price and a low cost of ownership once in operation. 
...
Read more...
---
Parker enhances H Series ISO valve portfolio
September 2019, Parker Hannifin Sales Company South , Pneumatics & Hydraulics
Parker Hannifin has added an expanded range of features and capabilities to its H Series ISO valve platform as part of its global focus on factory automation. Designed with a new universal manifold, the 
...
Read more...
---
SMC is here to stay
August 2019, SMC Corporation South Africa , Pneumatics & Hydraulics
Kim Roberts [KR]: How does SMC SA fit into SMC's global vision and strategy?
Peter Findlay [PF]:
SMC entered the South African market directly in 2015 as a subsidiary of SMC UK, and in turn as a subsidiary 
...
Read more...
---
How the latest pneumatics can reduce plant costs
August 2019, Parker Hannifin Sales Company South , Pneumatics & Hydraulics
The implementation of predictive maintenance has become a high-held ambition for many modern plants, a strategy that avoids the costs of both reactive and scheduled preventative maintenance by only deploying maintenance routines exactly when needed; namely, shortly before a pneumatic component is predicted to fail.
Read more...
---
Boltight hydraulic bolt tightening from BMG
August 2019, Bearing Man Group t/a BMG , Pneumatics & Hydraulics
BMG's Nord-Lock bolting solutions now include Boltight hydraulic bolt tensioning tools, which are used to tighten bolts simultaneously, ensuring even preload in industrial applications and extreme environments, 
...
Read more...
---
Robotics meets artificial intelligence
June 2019, Festo South Africa , Pneumatics & Hydraulics
Whether its grabbing, holding or turning, touching, typing or pressing – in everyday life, we use our hands as a matter of course for the most diverse tasks. In that regard, the human hand, with its unique 
...
Read more...
---