printer friendly version
Vacuum technology helps mining supplier
November 2017
Pneumatics & Hydraulics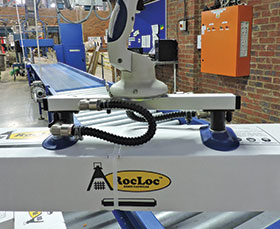 Tectra Automation supplied three Schmalz vacuum lifters to mining supplier RSC Ekusasa Mining's packaging lines at its resin manufacturing facility in Johannesburg. Used to palletise boxes of the company's RocLoc resin capsules at the end of three production lines, the lifters replace more manual, labour-intensive item handling, allowing the facility to increase overall packing efficiency and safety.
Used in roof bolting applications in underground mining, the company manufactures a range of different capsules in various lengths and diameters, as well as setting times from 15 seconds to 10 minutes. The company currently produces up to 45 000 boxes of resin capsules per month, with between 45 and 60 boxes per pallet.
"We began building this facility in 2013, and, with a central focus on a lean, efficient production process, the Schmalz vacuum lifters were part of the design from the start," explains Alfredo Piroddi, general manager Resin at RSC Ekusasa Mining. "It brings the handling operation in line with international standards and enhances the productivity and safety of workers loading the boxes onto pallets."
The three handlers – the Schmalz JumboFlex vacuum tube lifter range – provide an ergonomic solution with intuitive load lifting, lowering and releasing. "They are designed for handling lighter items up to 50 kg, and so were the ideal solution for these boxes, which weigh around 20 kg on average," explains Malan Bosman, product manager Pneumatics at Tectra Automation.
"The lifters don't just speed up the operation, they take the fatigue and physical strain away from the pallet loading process," continues Piroddi. "Issues around worker health and higher levels of absenteeism associated with manual lifting and loading are eliminated by the enhanced ergonomic operation of the vacuum handling process."
With health and safety of labour becoming more of an issue in South Africa, these considerations are becoming increasingly important. "The use of vacuum handling technology is definitely growing," concludes Bosman. "With manual labour being both less efficient and less safe, more and more line managers are implementing it into their operations."
For more information contact Malan Bosman, Tectra Automation, +27 (0)11 975 9700, malan.bosman@tectra.co.za, www.hytecgroup.co.za
Credit(s)
Further reading:
Robotics meets artificial intelligence
June 2019, Festo , Pneumatics & Hydraulics
Whether its grabbing, holding or turning, touching, typing or pressing – in everyday life, we use our hands as a matter of course for the most diverse tasks. In that regard, the human hand, with its unique 
...
Read more...
---
Servo motor equipped with SIL3 encoder
June 2019, Tectra Automation , Motion Control & Drives
The new MS2N synchronous servo motor is Tectra Automations' latest product offering to the electric drives and controls industry. The range combines high dynamics, compact dimensions and excellent energy 
...
Read more...
---
Parker Hannifin introduces couplings for quick and easy installation
May 2019, Parker Hannifin Sales Company South , Pneumatics & Hydraulics
Parker Hannifin now offers quick connection couplings for its NSA series, notable for features including their low weight. NSA couplings are available in nickel-plated brass or stainless steel, while 
...
Read more...
---
VUVS-LT Poppet Valve
Technews Industry Guide: Maintenance, Reliability & Asset Optimisation 2019, Festo , Pneumatics & Hydraulics
Frequently used in different locations and exposed places, the VUVS-LT Poppet Valve can take a lot – all without losing its good looks. Simple on the outside, sturdy on the inside, it is the ideal combination 
...
Read more...
---
Optimum hydraulic performance through cost effective filtration solutions
Technews Industry Guide: Maintenance, Reliability & Asset Optimisation 2019, Hydrasales , Pneumatics & Hydraulics
Maintenance personnel have to facilitate optimum hydraulic system performance through their programmes, hence the incorporation of oil cleanliness checks, or oil contamination monitoring should not be 
...
Read more...
---
The advantages of rolled vs. cut threads for fluid system instrumentation fittings
March 2019, Fluid Systems Africa , Pneumatics & Hydraulics
A new level in leak tightness from Fluid Systems Africa.
Read more...
---
Ready for smart manufacturing
March 2019, Metal Work Pneumatic South Africa , Pneumatics & Hydraulics
Metal Work's new EB80 is an electro-pneumatic system consisting of a solenoid valve assembly with fieldbus or multi-pin control, and modules to manage analog or digital input/output signals. It can accommodate 
...
Read more...
---
Bosch Rexroth introduces latest transfer system
February 2019, Tectra Automation , Motion Control & Drives
By optimising existing components and integrating new modules into its TS 5 conveyor system for heavy loads, Bosch Rexroth has enhanced its already impressive flexibility to meet the requirements of an 
...
Read more...
---
Ham-Let moves into the future with smart valves
December 2018, Fluid Systems Africa , Pneumatics & Hydraulics
The Ham-Let Group has manufactured high-quality instrumentation valves, fittings and auxiliary products for fluid systems in a variety of markets since 1950, and has now launched its first smart valve 
...
Read more...
---
Intelligent valve sensor for pneumatic applications
December 2018, ifm - South Africa , Pneumatics & Hydraulics
The intelligent valve sensor for pneumatic quarter-turn actuators from ifm electronic features 360° position monitoring to allow precise and continuous scrutiny of the valve condition. Problems such as 
...
Read more...
---