printer friendly version
Cut energy consumption and improve safety
October 2017
Pneumatics & Hydraulics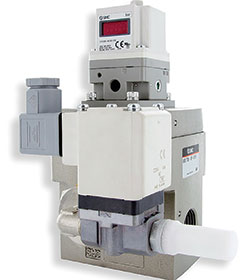 SMC Pneumatics has developed a series of standby valve solutions which can be incorporated into a system to reduce energy consumption, especially during brief, recurring equipment stoppages.
With safety and energy efficiency in mind, the VEX1500/1700 Power Valves help to reduce equipment pressure loss during downtime, lowering the amount of compressed air lost due to leaks at full operating pressure. Once the equipment is turned on again, it returns to full operating pressure from standby within a matter of seconds.
SMC Pneumatics product manager, Brian Abbott, explains that interruptions in industrial processes are the rule, not the exception. "Standby mode pays off most with short, frequent breaks. Numerous causes for standby mode include tool changes, shift changes, planned or unplanned maintenance and, of course, equipment malfunctions."
With most industrial processes requiring a standby mode, SMC's standby valve solution can be designed to form part of a system to help lower energy costs when machines are stopped for longer periods, such as overnight or over the weekend.
"All the loads remain pressurised, albeit at a lower pressure, and maintain a defined position," adds Abbott. "This lowers leakage losses and compressed air consumption during equipment start-up."
Costs cut up to 70% in practice
"Overseas, data has been collected in customer applications which show that the VEX solution offers significant cost savings," says Abbott. "For example, a trial was run in which a keg filling and washing machine was equipped with a VEX1500 standby valve at a beer brewery. The machine runs for three days a week and cleans itself automatically at night. Unfortunately, leaks in the system lose around 250 litres of compressed air per minute. We adjusted the VEX valve to reduce system pressure to 2 bar and keep it there during breaks. That minimises the pressure loss and at the same time, the system starts up within seconds when regular operations resume. Measurements taken on this system have shown potential savings in excess of 70%."
Abbott elaborates on the savings experienced with another application story from an international car manufacturer. "A car maker operates a machine in its car body construction unit 24 hours a day, 251-plus days a year. The operating pressure is 6 bar, but the VEX1700 standby valves reduce the pressure to 2 bar during breaks. This approach eliminated nearly 90% of the compressed air lost during these breaks.
The VEX1500/1700 standby valves perform three functions, namely: vent, shut down and hold. The series is engineered for an operating pressure range of 0,05 to 9 bar and can remain in standby mode between 0,5 and 9 bar. The optimum standby pressure is around 3,5 bar.
Credit(s)
Further reading:
SMC launches wireless valve bank in SA
July 2020, SMC Corporation South Africa , Industrial Wireless
In response to customer demand for a reliable communication system, which could limit the number of cables needed to communicate between multiple valve banks/field sensors and a PLC, a wireless communication 
...
Read more...
---
SMC steps up to support essential service customers through lockdown
June 2020, SMC Corporation South Africa , News
SMC Corporation South Africa, as a leading supplier of advanced pneumatic and electrical automation technology, has remained open and certified as an essential services supplier throughout lockdown. We 
...
Read more...
---
SMC offers services as well as components
April 2020, SMC Corporation South Africa , Enclosures, Cabling & Connectors
Besides being a leading supplier of industrial automation components, SMC South Africa also offers value-added services. One of these is in-house control panel design and construction. This takes a labour 
...
Read more...
---
RS adds self-adjusting double-acting air cylinders
December 2019, RS Components SA , Pneumatics & Hydraulics
RS Components has expanded its offering from factory automation manufacturer Festo to include new double-acting pneumatic cylinders in the DSBC product range. Aimed at both machine builders and maintenance 
...
Read more...
---
Refrigeration compressed air dryers
January 2020, Artic Driers , Pneumatics & Hydraulics
The R Class range of compressed air refrigeration dryers and RSXW chemical adsorption dryers have consistently low dew points, with an attractive entry price and a low cost of ownership once in operation. 
...
Read more...
---
Parker enhances H Series ISO valve portfolio
September 2019, Parker Hannifin Sales Company South , Pneumatics & Hydraulics
Parker Hannifin has added an expanded range of features and capabilities to its H Series ISO valve platform as part of its global focus on factory automation. Designed with a new universal manifold, the 
...
Read more...
---
SMC is here to stay
August 2019, SMC Corporation South Africa , Pneumatics & Hydraulics
Kim Roberts [KR]: How does SMC SA fit into SMC's global vision and strategy?
Peter Findlay [PF]:
SMC entered the South African market directly in 2015 as a subsidiary of SMC UK, and in turn as a subsidiary 
...
Read more...
---
How the latest pneumatics can reduce plant costs
August 2019, Parker Hannifin Sales Company South , Pneumatics & Hydraulics
The implementation of predictive maintenance has become a high-held ambition for many modern plants, a strategy that avoids the costs of both reactive and scheduled preventative maintenance by only deploying maintenance routines exactly when needed; namely, shortly before a pneumatic component is predicted to fail.
Read more...
---
Boltight hydraulic bolt tightening from BMG
August 2019, Bearing Man Group t/a BMG , Pneumatics & Hydraulics
BMG's Nord-Lock bolting solutions now include Boltight hydraulic bolt tensioning tools, which are used to tighten bolts simultaneously, ensuring even preload in industrial applications and extreme environments, 
...
Read more...
---
Robotics meets artificial intelligence
June 2019, Festo South Africa , Pneumatics & Hydraulics
Whether its grabbing, holding or turning, touching, typing or pressing – in everyday life, we use our hands as a matter of course for the most diverse tasks. In that regard, the human hand, with its unique 
...
Read more...
---