printer friendly version
Secure operational pressure with SMC's new lock-up valve
September 2017
Pneumatics & Hydraulics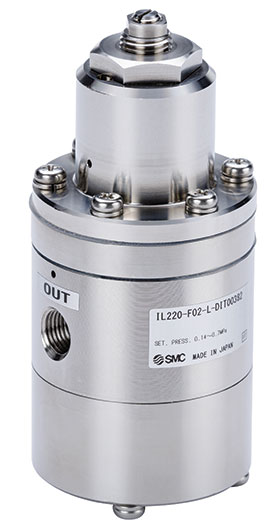 As an industry rule and to ensure efficiencies, downtime on all production lines should be kept a complete minimum. "SMC supports its customers in this regard by constantly developing products that help contribute towards avoiding downtime, as well as ensuring the safety integrity of a system," says product manager at SMC Pneumatics, Brian Abbott.
Adding to its offering is SMC's IL220 lock-up valve of the IL200 series, which helps to maintain operational pressure, even when the primary supply pressure is lost, by switching to a second supply of pressure as a 3/2 way valve.
Ensuring the shift position
Maintaining the operational pressure and/or switching to a second pressure supply ensures the shift position of the valve further down the production line. "The advantage here is that the system retains a defined valve position should this fault occur," says Abbott.
Areas of use
The new valve is suitable for use in all industrial applications where the operational pressure has to be ensured, even in the case of a loss of the main pressure supply. Highly sensitive instrumentation for process control would benefit where a safe or last position needs to be maintained, either via a secondary supply line or a backup tank. Here the IL220 does the switch automatically when the set critical pressure is reached. As it is completely mechanical, even a loss in electrical system monitoring does not affect the safe switching of the valve.
For more information contact SMC Pneumatics South Africa, +27 (0)11 100 5866, sales@smcpneumatics.co.za, www.smcpneumatics.co.za
Credit(s)
Further reading:
SMC launches wireless valve bank in SA
July 2020, SMC Corporation South Africa , Industrial Wireless
In response to customer demand for a reliable communication system, which could limit the number of cables needed to communicate between multiple valve banks/field sensors and a PLC, a wireless communication 
...
Read more...
---
SMC steps up to support essential service customers through lockdown
June 2020, SMC Corporation South Africa , News
SMC Corporation South Africa, as a leading supplier of advanced pneumatic and electrical automation technology, has remained open and certified as an essential services supplier throughout lockdown. We 
...
Read more...
---
SMC offers services as well as components
April 2020, SMC Corporation South Africa , Enclosures, Cabling & Connectors
Besides being a leading supplier of industrial automation components, SMC South Africa also offers value-added services. One of these is in-house control panel design and construction. This takes a labour 
...
Read more...
---
RS adds self-adjusting double-acting air cylinders
December 2019, RS Components SA , Pneumatics & Hydraulics
RS Components has expanded its offering from factory automation manufacturer Festo to include new double-acting pneumatic cylinders in the DSBC product range. Aimed at both machine builders and maintenance 
...
Read more...
---
Refrigeration compressed air dryers
January 2020, Artic Driers , Pneumatics & Hydraulics
The R Class range of compressed air refrigeration dryers and RSXW chemical adsorption dryers have consistently low dew points, with an attractive entry price and a low cost of ownership once in operation. 
...
Read more...
---
Parker enhances H Series ISO valve portfolio
September 2019, Parker Hannifin Sales Company South , Pneumatics & Hydraulics
Parker Hannifin has added an expanded range of features and capabilities to its H Series ISO valve platform as part of its global focus on factory automation. Designed with a new universal manifold, the 
...
Read more...
---
SMC is here to stay
August 2019, SMC Corporation South Africa , Pneumatics & Hydraulics
Kim Roberts [KR]: How does SMC SA fit into SMC's global vision and strategy?
Peter Findlay [PF]:
SMC entered the South African market directly in 2015 as a subsidiary of SMC UK, and in turn as a subsidiary 
...
Read more...
---
How the latest pneumatics can reduce plant costs
August 2019, Parker Hannifin Sales Company South , Pneumatics & Hydraulics
The implementation of predictive maintenance has become a high-held ambition for many modern plants, a strategy that avoids the costs of both reactive and scheduled preventative maintenance by only deploying maintenance routines exactly when needed; namely, shortly before a pneumatic component is predicted to fail.
Read more...
---
Boltight hydraulic bolt tightening from BMG
August 2019, Bearing Man Group t/a BMG , Pneumatics & Hydraulics
BMG's Nord-Lock bolting solutions now include Boltight hydraulic bolt tensioning tools, which are used to tighten bolts simultaneously, ensuring even preload in industrial applications and extreme environments, 
...
Read more...
---
Robotics meets artificial intelligence
June 2019, Festo South Africa , Pneumatics & Hydraulics
Whether its grabbing, holding or turning, touching, typing or pressing – in everyday life, we use our hands as a matter of course for the most diverse tasks. In that regard, the human hand, with its unique 
...
Read more...
---