printer friendly version
Safe use of hydraulic hoses and fittings
September 2017
Pneumatics & Hydraulics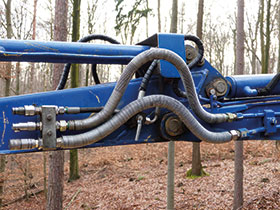 "Extreme care must be taken in the correct selection, installation and maintenance of matched, quality components in any hydraulic system because hose assemblies can be highly dangerous if misapplied and if inadequate attention is given to maintenance of the hose and related equipment," says Joanne Tarr, BMG's national product manager, hose and fittings.
"When selecting a hose, it is important that the working pressure of the hose is higher than the maximum operating pressure of the system. Fluid temperature, either in motion or with the equipment at a halt, should never exceed the maximum working temperature recommended for each hose. It is also critical to consider the surrounding temperature, especially from resulting heat sources in the proximity of the hose assembly.
"BMG recommends that hydraulic hose assemblies are always inspected and pressure tested against leakage and malfunction before installation. Installations that do not comply with the adequate geometry of the hose assembly, or where the application of the system exceeds hose specifications, can lead to premature failure of the hose assembly.
"Factors to be prevented include high velocity and high temperature projections of hydraulic fluid."
Compatibility
Fluid compatibility with the hose and coupling should also be verified. Fluids can chemically attack the hose, which results in contamination and the obstruction of the hydraulic system. This leads to premature failure of the hose and the system.
Environmental compatibility demands consideration of factors that include temperature, fire hazard, UV light, ozone, chemicals and electrical charges.
Accelerated external abrasion, as a result of contact in motion, or exposure to projected particles, reduces hose life and leads to early failure of the system. BMG stocks hoses with special abrasion resistant rubber compounds, or recommends protection through adequate sleeves.
Couplings are an important component of hydraulic hose assemblies. Compatibility of sealing and correct attachment of couplings to the system ports is critical for efficient operation, enhanced safety and extended service life.
BMG's comprehensive catalogue of hydraulic hoses and fittings includes an easy to follow reference fluid compatibility and resistance chart, technical information on fittings and adaptors, as well as critical information on correct product selection, installation and safety guidelines.
Portfolio for fluid power systems
BMG's portfolio of components for fluid power systems and general industrial applications also include Eaton Winner braided hydraulic hose and fittings. These perfectly matched items ensure safe and reliable conveying of petroleum and water-based hydraulic fluids at high pressure, even in the most demanding environments.
Currently, Eaton Winner hose EN853 1SN (EC110) and 2SN (EC210) and a wide selection of two-piece, non-skive fittings are available nationally. This range, which is complemented by adaptors, steel tube fittings and high pressure hoses, will be extended to include other hoses in the Eaton range, according to market demand.
Winner hose EN853 1SN (EC110), with a synthetic rubber tube and cover, as well as single wire braid reinforcement and a white ink transfer layline, is designed for petroleum and water-based fluids, at operating temperatures between -40 and 100°C. This range has a maximum working pressure of 225 bar and a minimum bend radius of 100 mm.
Winner hose EN853 1SN (EC210) has a double wire braid reinforcement, with a synthetic rubber tube and cover and a green ink transfer layline. This hose has a maximum working pressure of 400 bar and a bend radius up to 630 mm.
Other available products include valves, accumulators, cylinders, heat exchangers, hydraulic motors and hydraulic plumbing, pumps and reservoir accessories. The company's fluid technology services encompass project engineering and consulting, cylinder design and manufacture, hydraulic training, repair and testing, and onsite container services.
For more information contact Joanne Tarr, BMG, +27 (0)11 620 1500, joannet@bmgworld.net, www.bmgworld.net
Credit(s)
Further reading:
An innovative alternative to mechanical seals
Bearing Man Group t/a BMG Maintenance, Test & Measurement, Calibration
BMG's range of Garlock sealing products includes a versatile sealing system that replaces mechanical seals in industrial pump applications.
Read more...
---
SMC´s FRL unit: compressed air filtration since 1961
SMC Corporation South Africa Pneumatics & Hydraulics
In pneumatics, the FRL unit is a key element as it ensures the proper functioning of the pneumatic equipment, thereby increasing the operating life.
Read more...
---
BMG opens new branch in Maun, Botswana
Bearing Man Group t/a BMG News
BMG has extended its service in Botswana, with the opening in November 2021, of a new branch in Maun.
Read more...
---
BMG extends bearing portfolio
Bearing Man Group t/a BMG Motion Control & Drives
BMG's bearings portfolio has been enriched with the addition of the new RN series, launched recently by leading global bearing manufacturer, Rexnord.
Read more...
---
BMG's heavy-duty mechanical face seals
Bearing Man Group t/a BMG News
BMG's extensive range of seals and gaskets includes Trelleborg mechanical face (torric) seals, which have been specially engineered for rotating applications in arduous conditions.
Read more...
---
Smart positioner from Festo
Festo South Africa Pneumatics & Hydraulics
The latest CMSH pneumatic positioner from Festo boosts high-performance and long service life.
Read more...
---
Position detection for hydraulic cylinders
Instrotech Pneumatics & Hydraulics
Instrotech now offers Siko's SGH wire-actuated encoders to measure stroke as well as speed in hydraulic cylinders.
Read more...
---
Ultra-high-pressure hose from Parker
Parker Hannifin - Sales Company South Africa Pneumatics & Hydraulics
Parker Hannifin has launched PFX30-05, a DN8 ultra-high-pressure hose that offers improved service life in industrial water-jetting/blasting applications.
Read more...
---
Conveyor chain for special applications
Bearing Man Group t/a BMG Motion Control & Drives
BMG's comprehensive range of power transmission components incorporates ZMC industrial conveyor chains that offer dependable service in diverse applications, especially in food production.
Read more...
---
Putting the new into pneumatics
Parker Hannifin - Sales Company South Africa Pneumatics & Hydraulics
IO-Link enabled products are just one example of how Parker is providing customers with cutting edge technologies for use in globalised manufacturing operations.
Read more...
---