printer friendly version
Solar powered VSDs for borehole applications
August 2017
Electrical Power & Protection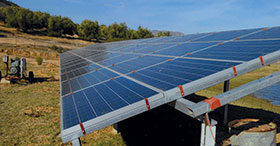 Farmers are making increasing use of photovoltaic solar panels and variable speed drives (VSDs) to get clean and continuous power to their boreholes in remote locations, cutting out the need for costly infrastructure and cables to link with the main grid.
Zest WEG Group supplies these standalone electrical solutions so that users in the agricultural sector can immediately benefit from solar power for pumping water.
As a key element of this arrangement, the VSD protects the motor from the fluctuating energy flow of the solar panel, allowing the motor speed to vary as the strength of the sun's rays changes with weather and times of day. This ensures maximum system operation during the day while protecting the motor and VSD. In addition to this, the VSD also offers a variety of other motor protection features such as over voltage, under voltage, phase imbalance, phase loss and over current, which would normally have had to be done by other external equipment.
The appropriate model of VSD is selected from the range of WEG units to suit the size of motor and pumping capacity required. Typically, the photovoltaic option is chosen for motor sizes up to approximately 5,5 kW, but larger motors can also be catered for by installing more solar power capacity.
The added value in WEG's VSD includes the company's in-house software that allows its technicians to optimise the performance of the motor and pump, according to the application. The solar powered option also eliminates the potential voltage drop over extended lengths of electrical copper cable between the source and the motor, as well as the possible theft of this cable and the resulting disruption and added cost.
Supporting customers is key to Zest WEG Group's operating philosophy, and the Group operates a network of strategically situated branches and distributors across South Africa and the continent. Experienced technical staff is available countrywide to advise customers, as well as to set up and commission this innovative, renewable-based energy solution.
For more information contact Kirsten Larkan, Zest WEG Group Africa, +27 (0)11 723 6000, marketing@zestweg.com, www.zestweg.com
Credit(s)
Further reading:
Guaranteed power protection
July 2019, Schneider Electric South Africa , Electrical Power & Protection
During energy month, it may be time to assess what equipment in your office or data centre is critical to keep online. Adopting smart uninterruptible power supply (UPS) technology has become the preferred 
...
Read more...
---
Quick transformer turnaround for KZN mine
July 2019 , Electrical Power & Protection
When a mining company in KwaZulu-Natal experienced a transformer failure recently, it was hoping for a quick solution. The mine got one from dry-type transformer specialist Trafo Power Solutions. It took 
...
Read more...
---
UPS for industrial networks
July 2019, Phoenix Contact , Electrical Power & Protection
The new Quint DC UPS uninterruptible power supply can be integrated into established networks, and continues to supply systems without interruption even in the event of a mains failure. It can be integrated 
...
Read more...
---
Smart Grid solutions enhance utility revenue collection
July 2019, Schneider Electric South Africa , Electrical Power & Protection
At African Utility Week in Cape Town, Johan Pretorius, business development manager, Schneider Electric South Africa, presented a paper on 'The Impact of Revenue Collection on Non-Technical Losses'. "The 
...
Read more...
---
Leonardo fitted with backup power by Zest WEG Group
July 2019, Zest WEG Group , Electrical Power & Protection
As Sandton anticipates the completion this year of the Leonardo, the top end mixed-use skyscraper being constructed by Aveng-Grinaker LTA, Level 1 BBBEE-rated Zest WEG Group has supplied generator sets 
...
Read more...
---
UPS with integrated power supply and USB interface
June 2019, Phoenix Contact , Electrical Power & Protection
Supplying critical DC loads safely, increased system availability, confined spaces, and tough ambient conditions present system designers and operators with a variety of challenges.
Read more...
---
Power analysis and energy saving evolved
June 2019, HellermannTyton , Electrical Power & Protection
Advanced power and energy consumption analysis is now available using a smartphone or tablet. The TPQA820 is a true RMS, self-powered 3-phase power quality analyser used to analyse and record the most 
...
Read more...
---
Zest helps farmers find good 'ground'
June 2019, Zest WEG Group , Electrical Power & Protection
According to Zest WEG Group, there are misconceptions around what constitutes 'earth' and 'neutral' connections, and not understanding the differences can create serious problems when connections are 
...
Read more...
---
BMG enhances efficiency of solar tracking system
June 2019, Bearing Man Group t/a BMG , Electrical Power & Protection
BMG has extended the supply of Varvel gearboxes for small and medium power applications to include customised worm gearboxes for installation in photovoltaic solar tracking systems. "As part of BMG's 
...
Read more...
---
RS Components introduces new Power over Ethernet injectors
June 2019, RS Components SA , Electrical Power & Protection
RS Components has announced availability of a new selection of Power over Ethernet (PoE) single-port mid-span power injectors manufactured by Phihong, a leader in advanced power solutions and a specialist 
...
Read more...
---