printer friendly version
SMC launches two new compact cylinders
August 2017
Pneumatics & Hydraulics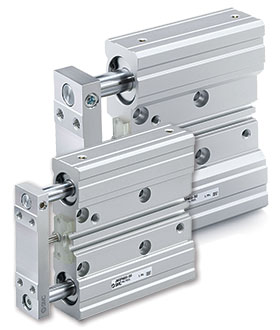 SMC's latest compact cylinders, the JMGP guide cylinder and the compact JCQ Series, have been designed with weight and space savings in mind. Both help to reduce machine sizes and costs, and deliver increased efficiency due to their lightweight nature which could enhance cycle time.
The JMGP is a guide cylinder, featuring a dual rod, which has been designed for a variety of applications including pushing, clamping and lifting where there are space and weight restrictions in a transport line or for robotic manipulation and handling. The compact JCQ is ideal for similar applications where a short cylinder is required, but without the lifting capability.
With space being at a premium in many manufacturing plants, the need to produce smaller, more efficient machinery is growing. These two new models achieve just that, as they are both smaller than similar cylinders on the market. Being lighter in weight, they also achieve improved cycle times and help to deliver higher output.
The ability to directly mount auto switches reduces overall labour costs and, the fact they do not protrude beyond the body of either cylinder, helps minimise the risk of interference with other machine parts. In addition, the option of four piping directions and three mounting surfaces on the JMGP model makes it extremely versatile.
With the introduction of these two new products, SMC is helping customers meet the demand for space-saving components that drive down costs and drive up productivity.
For more information contact SMC Pneumatics South Africa, +27 (0)11 100 5866, sales@smcpneumatics.co.za, www.smcpneumatics.co.za
Credit(s)
Further reading:
SMC launches wireless valve bank in SA
July 2020, SMC Corporation South Africa , Industrial Wireless
In response to customer demand for a reliable communication system, which could limit the number of cables needed to communicate between multiple valve banks/field sensors and a PLC, a wireless communication 
...
Read more...
---
SMC steps up to support essential service customers through lockdown
June 2020, SMC Corporation South Africa , News
SMC Corporation South Africa, as a leading supplier of advanced pneumatic and electrical automation technology, has remained open and certified as an essential services supplier throughout lockdown. We 
...
Read more...
---
SMC offers services as well as components
April 2020, SMC Corporation South Africa , Enclosures, Cabling & Connectors
Besides being a leading supplier of industrial automation components, SMC South Africa also offers value-added services. One of these is in-house control panel design and construction. This takes a labour 
...
Read more...
---
RS adds self-adjusting double-acting air cylinders
December 2019, RS Components SA , Pneumatics & Hydraulics
RS Components has expanded its offering from factory automation manufacturer Festo to include new double-acting pneumatic cylinders in the DSBC product range. Aimed at both machine builders and maintenance 
...
Read more...
---
Refrigeration compressed air dryers
January 2020, Artic Driers , Pneumatics & Hydraulics
The R Class range of compressed air refrigeration dryers and RSXW chemical adsorption dryers have consistently low dew points, with an attractive entry price and a low cost of ownership once in operation. 
...
Read more...
---
Parker enhances H Series ISO valve portfolio
September 2019, Parker Hannifin Sales Company South , Pneumatics & Hydraulics
Parker Hannifin has added an expanded range of features and capabilities to its H Series ISO valve platform as part of its global focus on factory automation. Designed with a new universal manifold, the 
...
Read more...
---
SMC is here to stay
August 2019, SMC Corporation South Africa , Pneumatics & Hydraulics
Kim Roberts [KR]: How does SMC SA fit into SMC's global vision and strategy?
Peter Findlay [PF]:
SMC entered the South African market directly in 2015 as a subsidiary of SMC UK, and in turn as a subsidiary 
...
Read more...
---
How the latest pneumatics can reduce plant costs
August 2019, Parker Hannifin Sales Company South , Pneumatics & Hydraulics
The implementation of predictive maintenance has become a high-held ambition for many modern plants, a strategy that avoids the costs of both reactive and scheduled preventative maintenance by only deploying maintenance routines exactly when needed; namely, shortly before a pneumatic component is predicted to fail.
Read more...
---
Boltight hydraulic bolt tightening from BMG
August 2019, Bearing Man Group t/a BMG , Pneumatics & Hydraulics
BMG's Nord-Lock bolting solutions now include Boltight hydraulic bolt tensioning tools, which are used to tighten bolts simultaneously, ensuring even preload in industrial applications and extreme environments, 
...
Read more...
---
Robotics meets artificial intelligence
June 2019, Festo South Africa , Pneumatics & Hydraulics
Whether its grabbing, holding or turning, touching, typing or pressing – in everyday life, we use our hands as a matter of course for the most diverse tasks. In that regard, the human hand, with its unique 
...
Read more...
---