printer friendly version
Yokogawa's FAST/TOOLS scada solution
August 2017
SCADA/HMI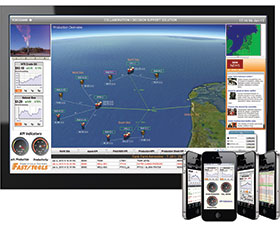 Scada systems are typically used for supervisory monitoring and control of remote and geographically distributed assets through a more open platform for interfacing with several makes and types of equipment in a user-friendly and flexible GUI environment.
Common applications of scada systems include oil and gas offshore production as well as onshore refineries, pipelines, power, water and wastewater, mining and other industries.
Yokogawa's scada system, FAST/TOOLS, has been designed to enable the most effective transfer of data and knowledge. That is why so many global industrial companies and utilities rely on it to deliver high levels of data integration and guaranteed data integrity in a complete scada GUI software environment with the following features:
Truly open software architecture
Through its core software, FAST/TOOLS supports multiple operating systems including Linux, Unix and Windows, and interfaces with third-party applications, through numerous industry standards.
The system's broad compatibility enables seamless integration with packages that are used for accounting, asset management, Big Data analytics, modelling, optimisation and simulation.
Future-proof lifecycle management
Yokogawa's comprehensive lifecycle management approach eliminates the uncertainties and risks in system migration. Regardless of the application or operating system (OS), all FAST/TOOLS users are always on the update path and development roadmap.
Since the platform maintains very limited ties to the OS and is not built on any third-party software, it allows updates, such as new Microsoft Windows OS versions, to be rolled out with minimum effort. Deployment is greatly simplified and version updates incur zero down-time for users.
High performance and high capacity
Concerns over live update rates and throughput are things of the past. Even on relatively low-bandwidth satellite networks, the system can process 400 000 updates per second.
The compact and efficient architecture means that there is never a requirement for separate servers to handle alarming, real-time data, historian or any other scada and plant operation functions.
Optimised operator visualisation and advanced decision support
FAST/TOOLS puts today's best operator practices into service.
Yokogawa's active participation in standards development incorporates the industry's latest concepts in advanced decision support, alarm management (ISA 18.2), operator visualisation (ISA101), control room design (ISO 11064) and procedure automation (ISA106).
Enterprise automation solution (EAS)
When individual servers are interconnected, information from any server can be visualised anywhere in the system. This is not only limited to tag values, but also alarm information and historical data.
For example, a web HMI server allows users to visualise and interact with information from any other server in the enterprise. The alarm overview shows alarms combined among all the servers. Trends can combine historical data from different servers and process values from different servers are shown in the same display. This functionality does not require tags to be replicated to a central server; instead, they are truly distributed.
Success story – centralised monitoring and control of India's gas pipelines
GAIL is India's flagship natural gas company, integrating all parts of the natural gas value chain including exploration, production, processing, transmission, distribution, marketing and services.
The company presently has seven natural gas pipeline networks across the country, with a total length of over 10 700 km. Until recently, each pipeline network was controlled by its own independent scada system.
Considering the difficulty of managing many different systems, GAIL decided to implement a single centralised solution for all of its natural gas and LPG pipeline networks, and to integrate this system with all pipelines that are either currently under construction or on the drawing board. Yokogawa was entrusted with the conceptualisation and implementation of this state-of-the-art, centralised solution, relying on the FAST/TOOLS scada software package and a system architecture that was best suited to GAIL's pipeline networks and its expansion requirements.
Today all pipeline networks can be monitored and controlled centrally from the National Gas Management Centre (NGMC) in Noida using the reliable data communication package. The system at the main master station (MMS) has also been integrated with a gas management system (GMS) so that all operation data can be directly utilised for gas allocation and billing. Email and SMS notification of critical alarms is supported and authorised persons have access to the scada system anywhere an Internet connection is available.
Conclusion
Yokogawa's scada solution is scalable, flexible, high performing and platform independent. It can be implemented from local to global, field to enterprise and from control to business levels with a single platform for control, data acquisition and distribution, applications and HMI.
For more information contact Christie Cronje, Yokogawa South Africa, +27 (0)11 831 6300, info@za.yokogawa.com, www.yokogawa.com/za
Credit(s)
Further reading:
How investing in a niche market placed Yokogawa aboard the International Space Station
June 2020, Yokogawa South Africa , News
While the world was abuzz with excitement over the revival of U.S. manned spaceflight, another equally promising space endeavour flew under the radar. On 20 May, the H-II Transfer Vehicle (HTV-9), affectionately 
...
Read more...
---
Yokogawa announces acquisition of RAP International
November 2019, Yokogawa South Africa , News
Yokogawa Electric Corporation has announced the signing of an agreement with UK-based RAP International for Yokogawa to acquire all shares of the company and make RAP a wholly-owned subsidiary. RAP specialises 
...
Read more...
---
Will the IIoT kill scada, or lift it to new heights?
Technews Industry Guide: Industrial Internet of Things & Industry 4.0, Adroit Technologies , SCADA/HMI
Dave Wibberley, managing director, Adroit Technologies, shares his views on where scada is headed in the era of the Industrial Internet of Things.
Read more...
---
Optimised fuel blending
May 2019, Yokogawa South Africa , Analytical Instrumentation & Environmental Monitoring
This risk has led the refiners to give more than the norms specify, resulting in a giveaway on quality and profit. The use of near infrared (NIR) technology has helped refiners get real-time data to ensure 
...
Read more...
---
Collaborative robots
Africa Automation Fair 2019 Preview, Cobots , SCADA/HMI
Cobots is showcasing its range of collaborative robots. These robots make it simple and affordable for humans and machines to work together without a safety cage. Cobots can easily be implemented in small 
...
Read more...
---
Digital automation technologies
Africa Automation Fair 2019 Preview, Yokogawa South Africa , IT in Manufacturing
Yokogawa is showcasing the Synaptic Business Automation solution, which can transform business processes by optimisation of supply chains and operations and maximisation of asset performance. This is 
...
Read more...
---
Machines that manage real-time resources
Africa Automation Fair 2019 Preview, Motion Control Systems , SCADA/HMI
iBOS Industrial is changing the way we maintain and respond to machine level events with technology that effectively manages real-time resources (people) from the machine level.    Health and safety, 
...
Read more...
---
Yokogawa's Smart Terminal Automation Solution
April 2019, Yokogawa South Africa , IT in Manufacturing
Yokogawa has accumulated more than two decades of experience in the automation of such terminals and supplied its Terminal Automation Solution to suit varying customer needs.
Read more...
---
New benchmark scada software platform
March 2019, Adroit Technologies , SCADA/HMI
MAPS 4, the latest scada solution for control and visualisation from Adroit Technologies, extends connectivity options, adds user tools and increases the scope of its built-in functionality. The result 
...
Read more...
---
Yokogawa to release compact new IIoT sensors outside Japan
March 2019, Yokogawa South Africa , Sensors & Transducers
Yokogawa has announced that it will release the Sushi Sensor, an OpreX brand wireless solution, in markets other than Japan, starting with Europe (shipping in March 2019). Already available in Japan, 
...
Read more...
---