printer friendly version
Solid Edge software assists local bike manufacturer
August 2017
IT in Manufacturing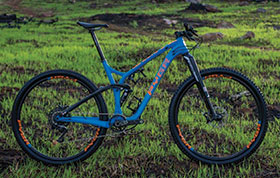 South African company Pyga Industries develops and manufactures high-performance bicycles that are great fun to ride yet competitive on the racetrack. The bikes from Pyga are up among the best in terms of performance and quality. When it comes to design, in addition to pedalling efficiency and agile ride comfort, Pyga places great value on incorporating the latest leading edge technologies and materials such as carbon. To simplify the design process and to allow for last minute changes, Pyga uses Solid Edge from Siemens PLM Software. As a result, development times can be reduced from around four months to two and a half months, and short-term adaptations, even to advanced design phases, can be rapidly implemented.
Patrick Morewood and Mark Hopkins are both passionate mountain bikers, and they founded Pyga Industries (Pyga) in 2011 in South Africa. The company has subsidiaries in the UK, Germany and the USA and specialises in the development and production of high performance bikes that are among the very best in the world. Pyga bikes impress particularly with their combination of fun and competitiveness, which are based on high pedalling efficiency and agile ride comfort. The current portfolio comprises five types of full suspension bikes and two hardtail versions on which only the front wheel has suspension. Pyga uses Solid Edge from Product Lifecycle Management (PLM) specialist, Siemens PLM Software in order to optimise the development process and development times, reduce time to market and implement complex frame designs under kinematic aspects i.e. aspects relating to motion and aesthetics.
Exacting standards
"Most bicycle companies design their bicycles outright for performance and speed," says Patrick Morewood." At Pyga, however, we put a lot more emphasis on making our bikes fun and comfortable to ride." Pyga does this primarily by relying on innovative technologies and materials in the development and construction of the bikes. The switch from conventional components made of aluminium to components made of carbon offers design engineers more freedom in the development and design of the bicycles. At the same time, this greater freedom also demands highly sophisticated design software. Previous CAD software was inadequate, particularly when it came to imported CAD models and when creating different size variants. Here, Solid Edge is a user-friendly solution that offers a tangible boost to efficiency. The parametric design tools from Solid Edge are particularly well-suited to the rapid scaling of sizes; and with Synchronous Technology it is possible to quickly make changes to CAD models from any source via direct modelling. This additionally reduces the time it takes to create prototypes.
Faster and better
Thanks to Solid Edge, Pyga now has more design options at its disposal than before. At the same time, it further improves the performance, aesthetics and quality of the bicycles. "The implementation of Solid Edge 3D CAD software with options for designing complex surfaces allows us to create the complicated designs of our high-end carbon composite bikes and to redesign our existing aluminium models," sums up Morewood. "Instead of spending three to four months on a new frame design, with Solid Edge, the developers now only need two and a half to three months. Last-minute changes no longer take a whole day but just two to three hours, which leads to a shorter time to market."
For more information contact Jennifer Naidoo, Siemens Digital Factory and Process Industries and Drives, +27 (0)11 652 2795, jennifer.naidoo@siemens.com, www.siemens.co.za
Credit(s)
Further reading:
Endress+Hauser's IIoT technology masters the mining challenge
June 2019, Endress+Hauser , IT in Manufacturing
Endress+Hauser aims to improve the processes of its customers with regards to efficiency, quality, safety and sustainability.
Read more...
---
Digital transformation status and progress in process industries
June 2019 , IT in Manufacturing
Industry research indicates that there has been more than 75% of the process industry participating in Industry 4.0 technology evaluation or pilot projects, there is still less than 25% of the industry moving beyond the pilot phase.
Read more...
---
Does edge computing have the edge?
June 2019, Omron Electronics , IT in Manufacturing
Implementing artificial intelligence in industrial manufacturing
Read more...
---
Siemens and Iraqi government sign roadmap agreement
June 2019, Siemens Digital Industries , News
In a move that takes the roadmap for rebuilding Iraq's power sector a step further, Siemens and the Ministry of Electricity of the Republic of Iraq have signed an implementation agreement. This builds 
...
Read more...
---
Siemens launches Atlas of Digitalisation
June 2019, Siemens Digital Industries , News
Siemens has launched a new web-based application that reveals the readiness and potential of six major cities to embrace digitalisation and develop new ways of living, working and interacting. The Atlas 
...
Read more...
---
Siemens extends the Simine ­portfolio
June 2019, Siemens Digital Industries , PLCs, DCSs & Controllers
Siemens has extended the Simine portfolio for high-pressure grinding mills (HPGR) to include a new controller. Plug-and-play functionality makes the load share controller available for immediate use. 
...
Read more...
---
Faster results with a digital twin
June 2019, Siemens Digital Industries , IT in Manufacturing
The high-tech company Grenzebach's portfolio includes the simulation of material flow in complex plants in the glass industry, which it achieves using Siemens simulation solutions. Together, the two companies 
...
Read more...
---
Siemens to acquire ESTEQ to accelerate digitalisation for customers in southern Africa
June 2019, Siemens Digital Industries , News
Siemens Digital Industries Software announced today that it has signed an agreement to acquire assets of ESTEQ, a distributor of product lifecycle management, product design and simulation, and manufacturing 
...
Read more...
---
Data, light and the smart factory
May 2019 , IT in Manufacturing
The role of lasers in the Fourth Industrial Revolution.
Read more...
---
Planning for digital transformation
May 2019 , IT in Manufacturing
As we've learned, digital transformation can be a challenging, if necessary, journey. At each year's Forum, we learn more about how pioneering companies are overcoming these challenges and the associated 
...
Read more...
---