printer friendly version
ABB's pressure transmitters
August 2017
Pressure Measurement & Control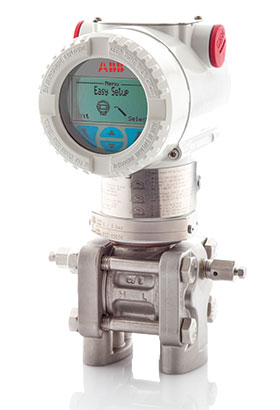 From the design to the software functionality, the 266 series represents the latest evolutionary step in the wide ABB product portfolio. Users can easily find the right application solution for their measurement needs and select among different levels of accuracy.
Performance
The 266 is available with accuracy from 0,075% up to 'top performance' of 0,025%. This allows the user to control processes with excellent precision for pressure, level and flow measurements. Accuracy is no longer a constraint.
Notable is also the choice of measuring ranges from 0,05 kPa up 105 MPa. The 266 is one of the few low range differential pressure transmitters offering outstanding suitability draft range measurements. Pressure transmitter models are suitable for measurements up to 1050 bar using Inconel 718 NACE compliant material for wetted parts.
One further highlight available with the 266 differential pressure transmitter is the version for high static pressure applications. This allows users to measure differential pressure with a high accuracy in applications with maximum working pressure (MWP) up to 60 MPa. This version also includes Ex certifications, if required.
Construction
ABB was one of the first companies to offer all welded diaphragm seals. The entire assembly (sensor-capillary-diaphragm seal) does not involve gaskets or threaded joints. All the welded parts and the hydraulic circuits are rigorously helium leakage tested and the 'all-welded technology' is recognised for delivering long-term performance stability, even for vacuum or high temperature applications.
ABB offers the 266 with a wide variety of in-house engineered diaphragm seals, which means you will rarely find an application where the right solution regarding design, process connection or material is available.
Operation
ABB now offers on its HMI the TTG (through the glass) technology. With this exclusive and innovative option, users can interact directly with the instrument, without removing the windowed front cover, saving costs and time especially in hazardous areas.
Using ABB's proven four-button HMI with intuitive menu navigation and easy setup menu, configuration times can be greatly reduced. Moreover, expensive hand-held configurators are no longer necessary since all the essential parameters can be set via the HMI with just one touch.
The external non-intrusive zero and span push buttons allow users to re-range the transmitter safely in a few seconds. An additional external write protection is also provided.
Maintenance and safety
The new design enables in-field maintenance operations. Both terminal block and communication boards can be replaced in a few minutes without the need to reconfigure the transmitter. Failures due to lightning, wrong earth wiring, etc. are not now an issue: 266 is protecting your plant productivity smartly.
The PILD (plugged impulse line detection) diagnostic is offered as standard and alerts operators to solids or frozen fluid plugging the impulse lines during measurement of flow or pressure, making the measurement unreliable. Once a process anomaly is detected, the PILD function will generate a warning on the local LCD as well as via the communication protocol.
The 266 series is certified by TUV Nord for use in safety instrumented systems as per the requirements of IEC61508. The transmitters meet the requirements for SIL2 applications in a single transmitter configuration (1oo1) and for SIL3 applications in a redundant configuration (1oo2).
Another pressure transmitter in the 2600T family is the 261 series. It is a high quality cost-effective pressure transmitter designed into a compact stainless steel housing to save space. It has an accuracy of 0,1% and fulfils the requirements of PEF and SIL2.
For more information contact ABB South Africa, +27 (0)10 202 5000, instrumentation@za.abb.com, www.abb.com/pressure
Credit(s)
Further reading:
Pressure sensors for Industry 4.0
Technews Industry Guide: Industrial Internet of Things & Industry 4.0, Turck Banner , Pressure Measurement & Control
Turck's new pressure sensors of the PS+ series offer complete access to sensor parameters via IO-Link.
Read more...
---
New monoflange design prevents fugitive emissions
July 2019, WIKA Instruments , Pressure Measurement & Control
The new WIKA model IVM monoflange for connecting pressure measuring instruments to the process is particularly suitable for applications involving critical liquids, gases and vapours. Special seals also 
...
Read more...
---
Pressure transmitters for mobile equipment
June 2019, Turck Banner , Pressure Measurement & Control
In order to provide solutions for use in mobile equipment, Turck has expanded its portfolio of pressure sensors with the introduction of the PT1100/2100 transmitters. This includes mining, forestry, agricultural 
...
Read more...
---
Understanding accuracy specifications
May 2019, EOH Process Automation Solutions , Pressure Measurement & Control
Pressure measurement device accuracies are commonly specified as percentage of full scale, or percentage of reading, and the difference is significant. If an accuracy statement simply names a percentage 
...
Read more...
---
Miniature IR thermometer for plastic film
May 2019, Instrotech , Pressure Measurement & Control
Temperature is a key physical variable for ensuring quality in the production of plastic film. The application of non-contact temperature measurement technology poses the challenge that films with a thickness 
...
Read more...
---
Pressure sensor with IO-Link
May 2019, WIKA Instruments , Pressure Measurement & Control
WIKA has a new, flexible pressure sensor with IO-Link in its portfolio. The model A-1200 is used for pressure monitoring or as a PNP/NPN switch, especially in intelligent machines. The new pressure sensor 
...
Read more...
---
Drone-based gas leak detection
May 2019, ABB South Africa , IS & Ex
Leaks in gas distribution and transmission pipelines present serious safety risks and result in lost revenue and profits to producers. The ABB Ability mobile gas leak detection system is a digital solution, 
...
Read more...
---
Pressure and level transmitter
Africa Automation Fair 2019 Preview, Morton Controls , Pressure Measurement & Control
The Anderson-Negele L3 pressure and level transmitter is designed for measuring variable process pressure or hydrostatic applications in the hygienic industry. It can be viewed at Stand C13. Features 
...
Read more...
---
Control costs with ABB drives
Africa Automation Fair 2019 Preview, ABB South Africa , Motion Control & Drives
ABB is showcasing the ACS580 and ACS480 drives, which offer ready-made solutions for a wide range of applications. Along with energy savings, these drives contain enough functionality to replace various 
...
Read more...
---
ABB and BP celebrate global MEC frame agreement
April 2019, ABB South Africa , News
BP has appointed ABB as one of its global main electrical contractors (MEC) for the provision of engineering, procurement and construction of electrical equipment for BP Upstream Major Capital Projects. 
...
Read more...
---