printer friendly version
Sheet break detection at a paper machine
June 2017
Sensors & Transducers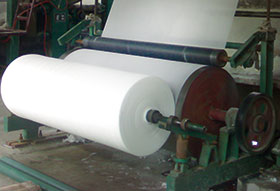 Sheet break detection may be a demanding task, because of different applications in paper machine wet end compared to dry end. Traditionally photo cells are used for web break detection since they perform satisfactorily in applications where visual contact from one side of a machine to another can be arranged and the ambient air is clean. However, this is not always the situation. In many cases rolls, cylinders, wires or felts block the light path and photo cells cannot be used. Steam inside a machine also prevents the use of photo cells, especially at the press section. The air around a paper machine contains dust and oily fumes which quickly stain the cells and make detection unreliable causing false alarms or missed breaks. Photo cells require continuous attention and maintenance.
Therefore, fibre optic break detectors have been used in difficult applications and in cases where the sheet is supported by fabrics. Many of the current units use infrared light or red laser, but the disadvantage of these is that they cannot separate between the web and a new fabric – especially when the wire or the felt is of red colour.
Break detectors using RGB colour measurement
Kajaani Process Measurements (KPM) has developed a sheet break detector for demanding applications using RGB colour measurement. The KB2 Sheet Break detector has two alternative light sources for maximum performance – the conventional IR light and a new RGB colour measurement. With the RGB colour measurement the best of the colours red, green and blue, or any combination of colours, can be selected for the break detection. The detection becomes reliable even with different fabric colours. The detector utilises proven fibre optics, which makes it usable in hot environments such as at dryer sections of a machine. Air purge arrangement expands applications to very humid and dirty locations.
Stora Enso, Oulu Mill, has more than 20 sheet break detectors on its paper machines, all the original break detectors having now been rplaced by the KB2. The speed of the machines is over 1000 m/min and the web is approximately 9 m wide. The mill has now been using the KB for five years and no regular adjustments have been required.
Significant improvement in reliability
The KB2-12 Sheet Break detector was first installed in the middle of dryer section, where a red wire supports the paper sheet. After one week of monitoring the alarm signal was connected to the automatic logic to cut the sheet as the break is detected. Since then the unit has been on automatic without any problems.
Automation specialist Pekka Greus has been monitoring and using the detector since it was installed. He has been working with the sheet break detectors at the mill for years and has now replaced all of the old sheet break detectors.
"With the KB's colon measurement the reliability of break detection has improved significantly compared to the older models," says Greus. "The user interface of KPM's device is easy, and so is the setup, and I like the detector's large display and clear menu.
The Sample button also makes it easy to store reference values (Break and Paper) in memory, which helps setup."
Greus prioritises the reliability of the break detection as the number one feature for the equipment. Secondly, he points out the ease of monitoring the performance of the detector. With the KB's data collection feature he can easily download the data to a computer and evaluate it. Few other sheet break detectors have this kind of maintenance feature.
KB's are set up to use the blue or green colon for measurement, which gives the biggest difference between the white sheet and the red fabric behind it. In some cases ratio signal gives the best difference over time since fabric colon may change when it gets dirty.
The signal difference between the paper and a break is very clear. The break alarm trigger point has been set to the middle of the paper/break signal levels. The KB has an additional maintenance alarm which has been set to a slightly higher level than the break alarm. It is to warn the user if the unit's self diagnostic finds a need for maintenance, such as cleaning.
According to Greus, the adjustable mounting rack makes the sensor position adjustment easy. It also has a 'position memory' in case the sensor has to be removed.
The KB2 can be configured to any application because of two light sources, which allows reliable sheet break detection against any surface and its extended measurement distance also allows installation further from the web.
For more information contact Stuart Brown, UIC Instrumentation, +27 (0)31 468 2561, stuartb@uic.co.za, www.uic.co.za
Credit(s)
Further reading:
2D/3D profile sensor for weld seam tracking
ASSTech Process Electronics + Instrumentation Sensors & Transducers
Supporting software can evaluate two- and three-dimensional data from smart cameras, vision systems, profile sensors and IPCs with profile sensors.
Read more...
---
Standard-compliant differential current transformer
Beckhoff Automation Sensors & Transducers
The SCT5564 can be used as a residual current monitor and can measure DC and AC residual currents with up to 100 kHz frequency in the 0 to 2 A range.
Read more...
---
Wire-actuated encoder for crane arms and lifting platforms
Instrotech Sensors & Transducers
Siko has solved the challenges presented by such applications with the SG 30 and its very compact, yet robust, design.
Read more...
---
Ultrasonic distance sensor
ASSTech Process Electronics + Instrumentation Sensors & Transducers
Wenglor's new ultrasonic distance sensors combine low installation depth and easy integration of the sensor with tried and tested ultrasonic technology, setting new standards in terms of range and integration options.
Read more...
---
Grist for the mill
Turck Banner Editor's Choice Sensors & Transducers
To meet the requirements of Swiss company Bühler with regard to its MHSA grain huller, Turck certified its contactless Li linear position sensor for use in the Ex area. Thanks to its contactless operating principle, the robust sensors are both maintenance-free and wear-free. They offer an impressive performance due to their optimum reproducibility, resolution and linearity over a large temperature range.
Read more...
---
Ex-rated strain gauge transducer
Turck Banner Sensors & Transducers
Turck Banner's IMX12-SG for force measurement applications in hazardous areas achieves response times below 10 ms and can be used as a repeater or signal converter.
Read more...
---
Concentration measurement with process sensors
Sensors & Transducers
To run chemical reactions in an optimal range and to control product quality, online concentration measurement is required. This ensures a fast intervention in case of concentration variation during 
...
Read more...
---
Sensors for pulp and paper applications
Gail Norton Instrumentation Sensors & Transducers
Some of the toughest challenges for sensors are found in the pulp and paper industry. Here, high temperatures and a contaminated environment make it difficult for optical sensors to operate accurately 
...
Read more...
---
Universal code reader for optimal reliability
Pepperl+Fuchs Sensors & Transducers
Camera-based code readers have already proven their worth in reading detailed data for automated processes, with the adaptability to suit many tasks.
Read more...
---
Working hand in hand to meet automotive OEMs' strict requirements
Turck Banner Sensors & Transducers System Integration & Control Systems Design
The LASE Group, producer of machines and assembly cells for the automotive industry, places trust in its close collaboration with Turck Multiprox.
Read more...
---