printer friendly version
Pure power packaged perfectly
May 2017
Motion Control & Drives
LSIS is committed to the future of smart energy. With its tradition of going the extra mile when designing and building equipment, this Korean manufacturer of automation and drive systems is a force to be contended with especially when it comes to the medium voltage drives offering.
The LSMV-M1000 is worth every penny from the innovative design and packaging to the energy savings on implementation. It also boasts some key features that make it one of the market leaders in this sector.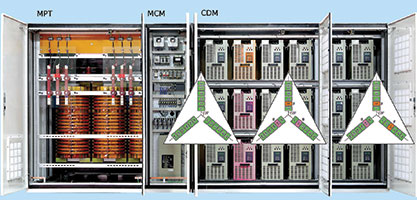 Starting with an all-in-one system, the M1000 caters for 3,3 kV-13,8 kV with combinations of output voltage available. For example, a 6,6 kV motor can be run off a 13,8 kV supply with LSIS flexible input/output voltage ranges.
The M1000 has a built-in 'multi-winding phase-shift' transformer (36 pulse/18 winding) with taps to accommodate variations in input voltage. This also helps to eliminate the need for chokes and filters and by extension allows for greater distances between motors and drives. The order options for the transformers are offered as either built into the drive or standalone air or oil cooled variations.
The 'Master Control Module' manages the multi-level PWM output voltage, the power cells and fibre optic communication, using the LSIS-XGi plc for control, the LSIS-XP80 HMI and the LSLV-iG5A inverters for the cooling system control, which are all available off the shelf in South Africa.
The 'Cell Drive Module' utilises six low voltage single-phase drives connected in series per phase. This generates multilevel 3-phase output voltage. The configuration is known as the cascaded H-bridge multi-level drive. This results in capabilities such as flying start, ride through of up to 5 cycles, anti-current hunt algorithms and sensorless vector torque control to mention a few.
Additionally, the transformers are shielded from the MCM and CDM thus eliminating the effects of power spikes or lightning strikes from either interrupting or destroying these two critical systems.
Each cell has its own IGBT and control card thus allowing for cell protection and bypass. For example should U2-phase cell fail its control card bypasses it and the control system automatically bypasses the corresponding V2 and W2 cells thus balancing the output phases. Shutdown time is cut down to a minimum as the offending cell is simply replaced from the front by loosening its bus connections behind it, pulling the defective cell out and inserting the new cell in its place, then reconnecting its bus and powering the system up.
The LSMV-M1000 is also aesthetically pleasing and adds an air of professionalism and dignity to the installation. Thus when it comes to weighing up the options this one stop drive is a definite option in its class, a credit to the LSIS brand and an asset to any installation.
Credit(s)
Further reading:
Drive configuration made easy
November 2020, Nidec Control Techniques , Motion Control & Drives
Nidec Control Techniques prides itself on offering free software for commissioning, optimising and monitoring drive/system performance.
Read more...
---
Sinumerik One Dynamics for motion control
November 2020, Siemens Digital Industries , Motion Control & Drives
Siemens has launched three powerful technology packages exclusively for the CNC Sinumerik One.
Read more...
---
Heavy-duty wedge belts
November 2020, Bearing Man Group t/a BMG , Motion Control & Drives
Fenner Quattro Plus Twin Wrap wedge belts transmit 30% more power than conventional belts.
Read more...
---
30 years of linear motion technology
November 2020 , Motion Control & Drives
This year, factory automation specialist Bosch Rexroth celebrates 30 years of linear motion technology and innovation.
Read more...
---
Cooling VSDs with inertial spin filters
November 2020, RTS Africa Technologies , Motion Control & Drives
RTS inertial spin filter units are compact and easy to install and RTS Africa offers full service from conceptual design to ongoing support as required.
Read more...
---
Omron launches HD-1500 mobile robot
November 2020, Omron Electronics , Motion Control & Drives
Industry-leading HD-1500 expands the possibilities for autonomous material transport.
Read more...
---
BMG installs Danfoss VSDs to improve energy efficiency on farms
November 2020, Danfoss , Motion Control & Drives
BMG's Boer Slim/Smart Farming agricultural team works closely with farmers, assisting them with the selection and operation of new electromechanical systems.
Read more...
---
What is adaptive acceleration control?
November 2020 , Motion Control & Drives
Adaptive acceleration control (AAC) is a new soft start control type that allows the selection of different acceleration and deceleration profiles according to application needs.
Read more...
---
Danfoss efficiencies help South African farmers to free up energy and achieve production goals
October 2020, Danfoss , Motion Control & Drives
Danfoss, together with engineering components provider BMG, supplied a commercial maize farmer with the technology to combat challenges around irrigation sufficiency.
Read more...
---
Energy efficient drive technology for the mining industry
October 2020, Danfoss , Motion Control & Drives
The mining industry must forgo its traditional energy consumption patterns in a bid to ensure that the sector de-carbonises towards a greener and more sustainable method of extraction.
Read more...
---