printer friendly version
Pure power packaged perfectly
May 2017
Motion Control & Drives
LSIS is committed to the future of smart energy. With its tradition of going the extra mile when designing and building equipment, this Korean manufacturer of automation and drive systems is a force to be contended with especially when it comes to the medium voltage drives offering.
The LSMV-M1000 is worth every penny from the innovative design and packaging to the energy savings on implementation. It also boasts some key features that make it one of the market leaders in this sector.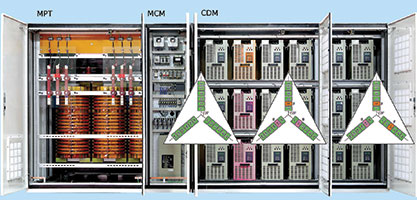 Starting with an all-in-one system, the M1000 caters for 3,3 kV-13,8 kV with combinations of output voltage available. For example, a 6,6 kV motor can be run off a 13,8 kV supply with LSIS flexible input/output voltage ranges.
The M1000 has a built-in 'multi-winding phase-shift' transformer (36 pulse/18 winding) with taps to accommodate variations in input voltage. This also helps to eliminate the need for chokes and filters and by extension allows for greater distances between motors and drives. The order options for the transformers are offered as either built into the drive or standalone air or oil cooled variations.
The 'Master Control Module' manages the multi-level PWM output voltage, the power cells and fibre optic communication, using the LSIS-XGi plc for control, the LSIS-XP80 HMI and the LSLV-iG5A inverters for the cooling system control, which are all available off the shelf in South Africa.
The 'Cell Drive Module' utilises six low voltage single-phase drives connected in series per phase. This generates multilevel 3-phase output voltage. The configuration is known as the cascaded H-bridge multi-level drive. This results in capabilities such as flying start, ride through of up to 5 cycles, anti-current hunt algorithms and sensorless vector torque control to mention a few.
Additionally, the transformers are shielded from the MCM and CDM thus eliminating the effects of power spikes or lightning strikes from either interrupting or destroying these two critical systems.
Each cell has its own IGBT and control card thus allowing for cell protection and bypass. For example should U2-phase cell fail its control card bypasses it and the control system automatically bypasses the corresponding V2 and W2 cells thus balancing the output phases. Shutdown time is cut down to a minimum as the offending cell is simply replaced from the front by loosening its bus connections behind it, pulling the defective cell out and inserting the new cell in its place, then reconnecting its bus and powering the system up.
The LSMV-M1000 is also aesthetically pleasing and adds an air of professionalism and dignity to the installation. Thus when it comes to weighing up the options this one stop drive is a definite option in its class, a credit to the LSIS brand and an asset to any installation.
Credit(s)
Further reading:
Motion controller with integrated drive control
January 2020, Siemens Digital Industries , Motion Control & Drives
Siemens has expanded its product portfolio of technology CPUs with the Simatic Drive Controller. The new controller combines a Simatic S7-1500 controller with motion control, technology and safety functionality, 
...
Read more...
---
Modern irrigation control system
January 2020, Varispeed (Div of Hudaco Trading) , Motion Control & Drives
As a preferred supplier to the agricultural industry due to proven reliability and performance, Varispeed designs, manufactures and distributes constant pressure solutions. With a good knowledge of the 
...
Read more...
---
RS Components adds double-acting air cylinders
January 2020, RS Components SA , Motion Control & Drives
RS Components has expanded its offering from factory automation manufacturer Festo to include new double-acting pneumatic cylinders in the DSBC product range. Aimed at both machine builders and maintenance 
...
Read more...
---
Space chair automation
December 2019, Siemens Digital Industries , Motion Control & Drives
The Euro Space Centre adventure park in Transinne in Belgium is home to a number of different simulators, including the original NASA multi-axis chair dating back to the 1960s which was used to familiarise 
...
Read more...
---
Superior Filtration relies on Movidrive
December 2019, SEW-Eurodrive , Motion Control & Drives
An industrial water filtration specialist that has used gearmotors from SEW-Eurodrive for many years has adopted its Movidrive inverters with CMP servo motors and customisable iPOS software for its latest 
...
Read more...
---
New XTS functionality enables novel solutions in machine building
November 2019, Beckhoff Automation , Motion Control & Drives
XTS is a smart transport system of magnetically driven movers that travel along tracks consisting of motor modules and guide rails. A Beckhoff Industrial PC is able to control the movers independently 
...
Read more...
---
Couplings for high torque applications
November 2019, SKF South Africa , Motion Control & Drives
Available in a variety of configurations, SKF's range of Disc Couplings provide affordable, lubrication-free service in medium to high torque applications that require torsional rigidity. These innovative 
...
Read more...
---
Belting for food applications
November 2019, Bearing Man Group t/a BMG , Motion Control & Drives
BMG's Light Materials Handling division supplies and supports a comprehensive range of belting products suitable for the food processing, bottling and packaging sectors. "New to BMG's range of belting 
...
Read more...
---
Sawmills and sugar mills underpin growth for SEW-Eurodrive
October 2019, SEW-Eurodrive , Motion Control & Drives
Ageing sawmills and sugar mills in KwaZulu-Natal represent a significant growth opportunity for SEW-Eurodrive to introduce its latest energy-efficient technology. This is an increasing trend as both the 
...
Read more...
---
Smart devices for Ex areas: Unbelievably simple mistakes that prevent control.
September 2019, Michael Brown Control Engineering , Editor's Choice, Motion Control & Drives
I am often astounded by finding really basic problems with controls in plants, which have operated that way for years. These problems are so basic that one can only wonder at how these controls could 
...
Read more...
---