printer friendly version
SMC SY series delivers local innovation through flexible design
March 2017
Pneumatics & Hydraulics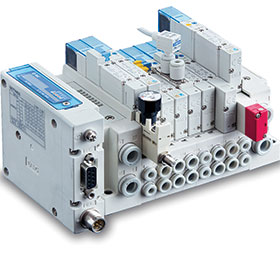 The unique SY series of all-purpose valve manifolds from SMC Pneumatics is available in three sizes: SY3000, SY5000 and SY7000. Thanks to its flexibility and innovative redesign, the SY series sees a 29% space saving in installation, while offering increased flow rates.
Looking at usage, two of the smaller valve sizes or two of the larger ones can be mixed on one manifold to match application flow requirements. The manifold offers piping options to the top, side or bottom with various port size options, which results in a flow rate of up to 1500 litres per minute through the biggest valve mounted on the manifold.
With the food and beverage industry in mind, and adhering to its stringent standards, the SY5000 series also includes a new IP69K manifold which is suitable for wet areas and can withstand wash down and cleaning.
SMC Pneumatics product manager Ernst Smith explains, "The SY series has taken the market by storm and today many of our customers are benefiting through shorter lead times from its flexibility and local assembly here in Johannesburg.
"The range offers further savings due to its ability to drive bigger cylinders with reduced cycle times, mitigating the need for larger, more expensive solenoid valves."
The manifolds are available in either rubber or unique metal seal versions, with the latter optimised for higher operating frequencies and extended lifetime performance, boasting switching cycles of up to 200 million cycles. They also incorporate SMC's energy efficient V100 pilot valve, a power saving option that reduces consumption (per valve coil) down to just 0,1 Watt.
Flexible innovation and customisation
SMC's SY series offers a myriad of options, optimised for customised projects and applications, including:
• A single valve can be mounted on a base which will offer flow rates exceeding 1500 lpm, connected through SMC's M12 waterproof connector.
• Valves can be supplied fitted with a residual pressure release option that enables manual dumping of residual compressed air in the cylinder.
• Power and control options such as D-sub connectors, flat ribbon cables, terminal block box, pre-assembled leads and circular connectors offering options for serial transmission.
• Applicable fieldbus protocols include Profinet, Profibus, DeviceNet, CC-Link, EtherNet/IP, EtherCAT, CANopen, AS-Interface, Omron CompoBus/S and CompoNet. Digital as well as analog inputs and outputs can be added to suit customer application requirements.
Safety remains key
"Safety is always considered when we look at products and customer applications," explains Smith.
Overall safety in applications has been improved via optional configurations including:
• The addition of a built-in back pressure check, which can also be retro-fitted afterwards.
• The addition of a manual pressure release valve for every cylinder where required.
• A supply shut-off spacer per valve to allow the maintenance team access to the system, or part thereof, while the rest of the manifold is still pressurised.
• Spacers with double check valves in working lines to enable intermediate stops or for drop prevention of loads in vertical applications.
• Slide locking manual override function with double action and long distance visual indication.
In-house production facilities
SMC's state-of-the-art production facilities in Midrand focuses on cylinder production, manifold assemblies and air preparation combination sets. "Our in-house production facilities have been well received by the market," concludes Smith. "We are now able to configure and assemble manifolds to exact requirements in a matter of hours. Benefits have been experienced in cases such as breakdowns and for those wanting larger manifolds matched to unique requirements in a hurry."
Delivery of these items takes place within a three-tier system:
1. Same day service for breakdowns.
2. Regular orders within three days.
3. Larger orders within two weeks.
The new trend in automation for flexibility and products that are lighter and more compact is on the rise, and, according to SMC, it anticipates this type of product development becoming more and more standard.
Credit(s)
Further reading:
Rethinking pneumatic technology for the factories of the future
September 2020, Parker Hannifin Sales Company South , Pneumatics & Hydraulics
Does a technology such as pneumatics have a central role to play in the flexible, smart production lines of the factories of the future?
Read more...
---
Hydraulic hose installation and maintenance
September 2020, Bearing Man Group t/a BMG , Pneumatics & Hydraulics
BMG's portfolio of components includes the full range of Eaton Winner hydraulic braided and spiral hose and fittings.
Read more...
---
New product releases from SMC Corporation International Training
September 2020, SMC Corporation South Africa , Training & Education
To ensure a smooth transition and integration for learners from education institutes into industry, SMC International Training equipment is designed based on the latest automation technology used in industry.
Read more...
---
SMC launches wireless valve bank in SA
July 2020, SMC Corporation South Africa , Industrial Wireless
In response to customer demand for a reliable communication system, which could limit the number of cables needed to communicate between multiple valve banks/field sensors and a PLC, a wireless communication 
...
Read more...
---
SMC steps up to support essential service customers through lockdown
June 2020, SMC Corporation South Africa , News
SMC Corporation South Africa, as a leading supplier of advanced pneumatic and electrical automation technology, has remained open and certified as an essential services supplier throughout lockdown. We 
...
Read more...
---
SMC offers services as well as components
April 2020, SMC Corporation South Africa , Enclosures, Cabling & Connectors
Besides being a leading supplier of industrial automation components, SMC South Africa also offers value-added services. One of these is in-house control panel design and construction. This takes a labour 
...
Read more...
---
RS adds self-adjusting double-acting air cylinders
December 2019, RS Components SA , Pneumatics & Hydraulics
RS Components has expanded its offering from factory automation manufacturer Festo to include new double-acting pneumatic cylinders in the DSBC product range. Aimed at both machine builders and maintenance 
...
Read more...
---
Refrigeration compressed air dryers
January 2020, Artic Driers , Pneumatics & Hydraulics
The R Class range of compressed air refrigeration dryers and RSXW chemical adsorption dryers have consistently low dew points, with an attractive entry price and a low cost of ownership once in operation. 
...
Read more...
---
Parker enhances H Series ISO valve portfolio
September 2019, Parker Hannifin Sales Company South , Pneumatics & Hydraulics
Parker Hannifin has added an expanded range of features and capabilities to its H Series ISO valve platform as part of its global focus on factory automation. Designed with a new universal manifold, the 
...
Read more...
---
SMC is here to stay
August 2019, SMC Corporation South Africa , Pneumatics & Hydraulics
Kim Roberts [KR]: How does SMC SA fit into SMC's global vision and strategy?
Peter Findlay [PF]:
SMC entered the South African market directly in 2015 as a subsidiary of SMC UK, and in turn as a subsidiary 
...
Read more...
---