printer friendly version
Wireless doesn't freeze
February 2017
Industrial Wireless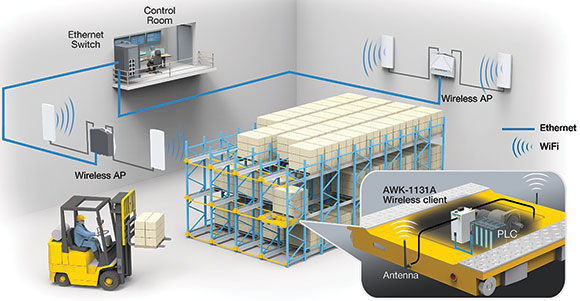 Automated storage and retrieval systems (AS/RSs) are increasingly reliant on wireless technology, as wiring is not always a viable option. Particularly in harsh environments, a reliable wireless network is essential for AS/RSs to get the job done without a hitch. One recent success story in China provides a good example of how to deploy robust wireless networks where space is limited and extreme temperatures are the norm.
Streamlining storage
AS/RSs are smart systems used in warehouses, distribution centres and manufacturing facilities to streamline storage processes and increase productivity. These smart systems are typically used in applications where large numbers of loads are moved into and out of storage; storage density is high due to space constraints; and accuracy is important because damage to goods can lead to big losses. Usually, AS/RS feature a shuttle storage shelving design that automatically moves goods up and down and back and forth between shelves, eliminating the possibility of human error.
Going industrial wireless
Wireless networks in industrial applications are gaining ground because of their numerous advantages. As wireless networks do not require a large number of cables, cost is reduced, and engineers avoid the headache of deploying meters and meters of cabling, especially in large-scale networks. Using cables for industrial mobile equipment, such as AS/RS systems, is not only too expensive, but they would also restrict the system's mobility.
However, wireless networks in industrial environments can easily encounter wireless interference that interrupts the connection, resulting in system downtime. Developing a reliable network to minimise these interruptions can be a major benefit for industrial operators.
Success story
Recently, an AS/RS manufacturer In China helped a food company develop a smart storage warehouse to store fresh food at very low temperatures. Early on in the development phase, it was apparent that installing cables would be too complicated and disruptive to the operation. The obvious alternative was a reliable wireless network to enable communications between the control centre and the large number of shuttle systems.
As these shuttle systems have limited space to carry a large number of devices, the wireless apparatus needed to be small but ruggedly designed to ensure seamless operations. Furthermore, the warehouse setup called for a wireless network that would endure sub-zero temperatures and deliver fast hand-over times to ensure the real-time control and monitoring of the shuttle systems. Other system requirements included full wireless coverage on shuttle systems to maintain a connection with the control centre and isolation design to protect the wireless devices from electrical interference generated by the motors on the shuttle systems.
To ensure that the shuttle systems in this AS/RS operate at peak performance, wireless devices need to excel in three aspects: a compact but rugged design; seamless roaming ability; and greater wireless coverage.
Moxa's solutions
The rugged, palm-sized AWK-1131A is designed to keep wireless operations stable in harsh industrial environments, including cold storage warehouses in which temperatures can reach -40°C, and to fit comfortably in space-restricted shuttle systems. Moreover, the AWK-1131A has power and RF isolation built in, to protect wireless devices from electrical interference generated by motors. These two design features save space and eliminate the cost of installing extra isolator accessories.
Roaming performance is always an essential feature of wireless devices. The AWK-1131A series supports client-based Turbo Roaming technology that offers millisecond level hand-over times to ensure that client devices on the shuttle systems can always connect with access points (APs), therefore increasing productivity because the shuttle equipment can easily move between shelves.
Finally, the AWK-1131A supports the 802.11n standard to offer a throughput rate of up to 300 Mbps and MIMO technology to maximise wireless availability in shuttle systems. Installing an antenna on both the front and back of the shuttle system ensures seamless connections with APs mounted on the wall. Moreover, the 5 GHz channel offers a low-traffic channel for wireless communications, to avoid unexpected timeout due to oversaturated channel use.
Credit(s)
Further reading:
Digitalised oil and gas pipelines
RJ Connect Maintenance, Test & Measurement, Calibration
Moxa's MDS-G4020 series offers a modular platform that can be fitted with fibre interfaces to connect pipeline subsystems to a control centre over long distances.
Read more...
---
Portable wireless gateway for Ex areas
Comtest Industrial Wireless
Comtest – local representative of Industrial Scientific, a global leader in gas detection – has introduced the RGX Gateway, which enables designated safety contacts to receive real-time alerts for gas 
...
Read more...
---
Simplify collaboration between machines and operators
RJ Connect Industrial Wireless
Moxa's wireless networking solutions are the perfect fit for manufacturing environments.
Read more...
---
DEK wireless kit
Turck Banner Industrial Wireless
The standalone DEK wireless kit from Turck Banner includes everything needed for a remote preventive maintenance monitoring solution.
Read more...
---
Unwired unleashes new possibilities
RJ Connect Industrial Wireless
In situations where it is hard to wire or reconfigure industrial operations, wireless LANs (WLANs) provide an ideal alternative.
Read more...
---
Tag-specific requirements in RFID systems for track and trace
Turck Banner Editor's Choice Industrial Wireless
The BL ident complete RFID system from Turck Banner offers solutions in the HF or UHF range with interfaces for use in a plant or switch cabinet.
Read more...
---
Modularity for scalability
RJ Connect IT in Manufacturing
Businesses are looking for versatile solutions that are easy to maintain to ensure smooth operations while keeping costs down.
Read more...
---
Secure boundaries enhance industrial cybersecurity
RJ Connect IT in Manufacturing
When enhancing cybersecurity, it is important to understand how industrial systems are exchanging data and how they connect to IT-level systems.
Read more...
---
Monitoring oil and gas pipelines
RJ Connect Maintenance, Test & Measurement, Calibration
Moxa's MDS-G4020 series offers a modular platform that can be fitted with fibre interfaces to connect pipeline subsystems to a control centre over long distances.
Read more...
---
Are you ready for the 2G/3G sunset?
Throughput Technologies Industrial Wireless
With widespread adoption of 4G technology and the growing availability of 5G, older technologies (2G and 3G) are now slowly being phased out.
Read more...
---