printer friendly version
Flow measurement and regulation by mass
February 2017
Mass Measurement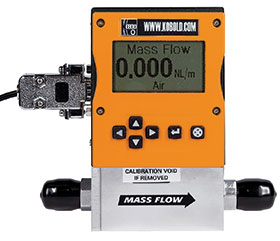 Kobold has introduced its DMS digital flowmeters that, because they record the mass of gases, are unaffected by the pressure and temperature of this medium. The measuring devices work using a bypass capillary system and are suitable for any installation position. The units have no moving parts and as such – available as flowmeter and flow regulator – are virtually fault-free.
The materials that come into contact with the media are highly resistant and stand up very well to the most aggressive of gases. A robust stainless steel housing offers protection from raw industrial environment.
This versatile modular system enables users to configure the devices for particular applications, with 15 standard measuring ranges available and others that can be ordered as special calibrations. The parameters of 10 common gases are stored in the electronic system and can each be individually adjusted. It is also possible to select another combination of gases.
A variety of international connections ensure trouble-free connection. The high quality electronics is fitted in a separate housing, although in the compact version it is fitted together with the sensors. It can be easily operated using the menus controlled with six keys provided. More extensive information regarding data and settings is available with the model that has a large graphic LCD display. It also offers two analog outputs and one RS-232 digital output.
Applications include gas monitoring, paint lines, laminator systems, semiconductor industry, analysis devices, exhaust measurement, engineering, boiler controls, N2/O2 generators.
For more information contact Instrotech, +27 (0)10 595 1831, sales@instrotech.co.za, www.instrotech.co.za
Credit(s)
Further reading:
Robust oxygen analyser for challenging conditions
June 2020, Instrotech , Analytical Instrumentation & Environmental Monitoring
A major supplier of nitrogen generators has selected Michell's XTP601 oxygen analyser to ensure N2 quality as part of its engineered systems for the oil and gas industry in the Middle East. The containerised 
...
Read more...
---
Process moisture analyser
June 2020, Instrotech , Analytical Instrumentation & Environmental Monitoring
Michell Instruments has announced that an independent report confirms excellent measurement performance of its OptiPeak TDL600 process moisture analyser. A new report undertaken by DBI Gas und Umwelttechnik 
...
Read more...
---
Advanced pump control
June 2020, Instrotech , Valves, Actuators & Pump Control
Factory automation continues to develop year on year and pumps are increasingly required to supply real-time operating data to control networks so that their performance can be monitored and adjusted 
...
Read more...
---
Belt conveyor weighing applications
June 2020, Loadtech Loadcells , Mass Measurement
Loadtech's LT1320 is a precision digital indicator for belt weighing applications. The unit takes the weight and speed information from a belt conveyor system and accurately calculates the rate and total 
...
Read more...
---
Covid-19 early detection strategy
May 2020, Instrotech , Sensors & Transducers
Instrotech would like to make it known that it has a specialised early detection system on offer, that allows for fast, non-contact screening and identification of school learners, tertiary students and 
...
Read more...
---
Electromagnetic flowmeter upgrade
May 2020, Instrotech , Flow Measurement & Control
Instrotech has announced that the Kobold magnetic inductive flowmeters MIM and MIS have been upgraded and further developed as follows: Kobold MIM, for measuring and monitoring of conductive liquids, 
...
Read more...
---
Oval wheel flowmeters
April 2020, Instrotech , Flow Measurement & Control
Instrotech has on offer three Kobold oval wheel flowmeters that give precise flow measurement for all viscous, non-abrasive clean liquids and can be used in a number of diverse applications, such as measurement 
...
Read more...
---
Mini oval wheel flowmeter
April 2020, Instrotech , Flow Measurement & Control
Instrotech now offers another space miracle from Kobold for OEM customers. With an all stainless steel body and temperature measurement for fuel consumption, the DOE offers different pulse output options, 
...
Read more...
---
Inspection system for coronavirus detection
April 2020, Instrotech , Temperature Measurement
The coronavirus and other diseases are highly infectious and transferred by sick people or contaminated objects. Globally, aircraft are one way that this virus is quickly exported worldwide. China, the 
...
Read more...
---
Kobold optimises gas burner maintenance
Technews Industry Guide: Maintenance, Reliability & Asset Optimisation 2020, Instrotech , Maintenance, Test & Measurement, Calibration
Whenever the flow of gases needs to be adjusted or monitored, Kobold's model UTS variable area flowmeter for monitoring gas burners offers a solution. This compact measuring instrument can be placed at 
...
Read more...
---