printer friendly version
The individualist among packagers
February 2017
Pneumatics & Hydraulics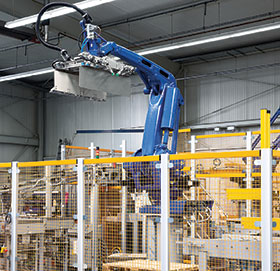 "Our design-to-order concept sets us apart from the majority of packaging machine manufacturers," says Michael Ruf, deputy general manager of Transnova Ruf. In addition to cutting-edge robotic and control technology, the company relies on pneumatic automation technology from Festo, and especially proportional technology on valve terminals.
Whereas many packaging machine manufacturers rely on standard machines with sliding, stacking and sorting chains, Transnova Ruf uses tailored, robot-based packaging, palletising and handling solutions. This creates space saving, energy efficient compact solutions with high power density and fast format changeovers. The innovators can now deliver well over 100 turnkey packaging lines per year for picking, packing and palletising. These solutions are precisely tailored to their customers' requirements and cover the entire process chain for final packaging. As a result, the company is now recording double-digit annual growth.
Micro-modular systems
"We've given up our rigid machine program approach and are now living in the world of micro-modularity. Just like with a Lego set, previously unimagined solutions can be produced, thanks to this concept, which is unprecedented in packaging machine engineering," says Ruf. "Micro modules are functional elements that we use to configure the system specifically to the customer's requirements. For each module, a CAD template is stored with the corresponding hardware and software. The modules are combined according to individual customer specifications. The result is a tailored packaging solution, a design-to-order solution in the truest sense of the word."
Pneumatic proportional technology
The market requires cost-effective production systems that can easily handle frequent product and format changeovers. And that is where pneumatic automation technology has a role to play. The gripping module of a packaging and palletising cell is equipped with a variety of vacuum technology, pneumatic drives, grippers and valve terminals. The key piece of technology here is the proportional valve VPPM which is integrated into the valve terminal CPX/MPA at the operating site. "It's positioned exactly where the pressure is needed," explains Festo product manager Ulrich Sixt.
The proportional valves VPPM regulate the contact pressure of the parallel gripper. The packaging must be gripped securely without deforming or damaging it. Gripping pressure is governed by various factors such as fullness, packing density or weight. Control precision and repetition accuracy are also very important. Thanks to the proportional technology, adjustments can be made at any time. This is necessary because systems sometimes have to handle over 100 different formats. These formats are managed as recipe parameters in the SIMPLO software application developed by Transnova Ruf. The software allows machine operators with no programming skills to create new palletising patterns and import them into the robot control system during live production.
Diagnostics and remote maintenance
The proportional valves VPPM are embedded in the valve terminal CPX/MPA. Its electrical component has analogue and digital inputs and outputs that can be used to control and monitor individual sections of the process. The CPX can be accessed and diagnostic data can be retrieved via the Internet. This means that, whenever servicing is required, remote diagnostics can be used to quickly determine whether the problem is easy to rectify or, in extremely rare cases, whether the entire valve or valve terminal must be replaced. "As a medium-sized company, we can now provide our global network of customers with the best possible service," concludes Ruf with a smile.
For more information contact Kershia Beharie, Festo, 086 003 3786, kershia.beharie@festo.com, www.festo.co.za
Credit(s)
Further reading:
Rethinking pneumatic technology for the factories of the future
September 2020, Parker Hannifin Sales Company South , Pneumatics & Hydraulics
Does a technology such as pneumatics have a central role to play in the flexible, smart production lines of the factories of the future?
Read more...
---
Do all wireless solutions solve real industry problems?
September 2020, Festo South Africa , Industrial Wireless
By using modern, standards-driven wireless technologies, designers and machine users have access to new tools that can help transform and simplify their working lives.
Read more...
---
Hydraulic hose installation and maintenance
September 2020, Bearing Man Group t/a BMG , Pneumatics & Hydraulics
BMG's portfolio of components includes the full range of Eaton Winner hydraulic braided and spiral hose and fittings.
Read more...
---
Condition monitoring in the cloud
August 2020, Festo South Africa , Maintenance, Test & Measurement, Calibration
Detecting irregularities at an early stage and initiating the necessary measures before a system failure are now made possible by the dashboards and IoT gateway CPX-IOT from Festo. The turnkey, preconfigured 
...
Read more...
---
Experience digitalisation at the Festo Virtual Exhibition
June 2020, Festo South Africa , News
Festo is breaking new ground with its first-ever Virtual Exhibition scheduled to take place from the 15-16 July. Visitors will get to experience digitalisation as never before. This exhibition will be 
...
Read more...
---
Festo TechTalk: Energy efficiency thanks to smart products
July 2020, Festo South Africa , IT in Manufacturing
This year's TechTalk focused on smart products that help companies to produce energy efficiently, educational measures that empower employees for lifelong learning as well as for the digital working world 
...
Read more...
---
Festo online configurator tool simplifies sizing of process valves
April 2020, Festo South Africa , Valves, Actuators & Pump Control
From manually operated to automated process valves, the new configurator tool for process valves from Festo makes selecting the right solution easy and less time-consuming.
Read more...
---
Seamless integrated connectivity for electric automation from Festo
April 2020, Festo South Africa , Fieldbus & Industrial Networking
The cloud is everywhere. We save data on the cloud and access it on our phones and computers from anywhere at our convenience. The same applies to seamless connectivity in industrial automation from your 
...
Read more...
---
RS adds self-adjusting double-acting air cylinders
December 2019, RS Components SA , Pneumatics & Hydraulics
RS Components has expanded its offering from factory automation manufacturer Festo to include new double-acting pneumatic cylinders in the DSBC product range. Aimed at both machine builders and maintenance 
...
Read more...
---
Festo's digitalised product world
January 2020, Festo South Africa , System Integration & Control Systems Design
HoloLens, mobile phones, 3D printing and smart glasses – the gadgets that captured the public imagination in the blockbuster movie 'Back to the Future' over 30 years ago have now become a reality, all thanks to digitalisation.
Read more...
---