printer friendly version
A mighty mouse HMI launched
January 2017
SCADA/HMI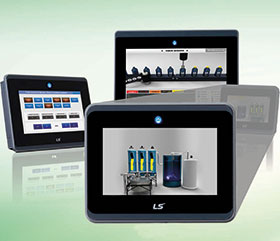 LSIS has introduced the all new eXP20-TTA to its popular eXP range of HMIs. This 4,3" WQVGA screen is the smaller brother of the WVGA eXP40 and eXP60.
What sets this HMI apart is the processor. With mobile technology readily at hand, LSIS has opted to use an ARM9 Core, 454 MHz CPU to drive the system. To complement this is the 16,7M colour 480 x 272 touch screen which is illuminated by the 30 000 h LEDs. This and more is what make this little HMI a mighty mouse.
Among other things there is 64 MB program storage, the device has an Ethernet port as well as RS 232 and RS 422/485 ports. Another thing that makes the eXP20-TTA a leader in its class is that LSIS has allowed for over 30 communication protocols as follows: LSIS; LS Mecapion; BACnet; BYD Auto; CAN in Automation; Control Techniques; Daewon GSI; Dasarobot; Delta Electronics; Digital Electoronics (Pro-face); Fuji Electric Systems; GE Intelligent; Hanyoung Nux; Higen Motors; Hitachi; Hyundai Elevator; KDT Systems; Keyence; Koyo Electronic; Kturbo; Lenze Automation; Panasonic Electric; Parker; Profibus International; Beckhoff; TSSI; Mitsubishi Electric; Omron; Rockwell Automation; RS Automation; Schneider Electric';SEW-Eurodrive; Siemens; Sprint Electric; Yaskawa Electric; Yokogawa Electric and Fatec Automation Corporation.
A standard that LSIS tries to follow in producing its products is quality and robustness. This range of HMIs are able to operate between 0 and 50°C with an ambient humidity from 10-85% RH without condensation. This is achieved by the standard issuing of conforma coating to the PC boards.
Judging by the response to the launch of the eXP40 and eXP60, the LSIS-eXP20-TTA is set to enjoy a lot of attention for those who have a discerning appreciation for innovative technology at an attractive price.
For more information contact Ana-Digi Systems, 086 132 3334, sales@anadigi.co.za, www.anadigi.co.za
Credit(s)
Further reading:
Will the IIoT kill scada, or lift it to new heights?
Technews Industry Guide: Industrial Internet of Things & Industry 4.0, Adroit Technologies , SCADA/HMI
Dave Wibberley, managing director, Adroit Technologies, shares his views on where scada is headed in the era of the Industrial Internet of Things.
Read more...
---
Collaborative robots
Africa Automation Fair 2019 Preview, Cobots , SCADA/HMI
Cobots is showcasing its range of collaborative robots. These robots make it simple and affordable for humans and machines to work together without a safety cage. Cobots can easily be implemented in small 
...
Read more...
---
PLCs and HMIs
Africa Automation Fair 2019 Preview, Ana-Digi Systems , PLCs, DCSs & Controllers
Among the new state-of-the-art products on show at Stand E07 are Ana-Digi's PLC range, which offers down to 8,5nS processing speeds and caters for systems up to 132 000 I/O, with full redundancy in processing 
...
Read more...
---
LSIS achieves Ex rating for HMI range
Africa Automation Fair 2019 Preview, Ana-Digi Systems , IS & Ex
LSIS is rolling out Ex certification for its entire range of HMIs. These products now carry a rating which allows for a maximum pollution degree 2 level. Mounting the HMIs into an IP54 enclosure ensures 
...
Read more...
---
Machines that manage real-time resources
Africa Automation Fair 2019 Preview, Motion Control Systems , SCADA/HMI
iBOS Industrial is changing the way we maintain and respond to machine level events with technology that effectively manages real-time resources (people) from the machine level.    Health and safety, 
...
Read more...
---
New benchmark scada software platform
March 2019, Adroit Technologies , SCADA/HMI
MAPS 4, the latest scada solution for control and visualisation from Adroit Technologies, extends connectivity options, adds user tools and increases the scope of its built-in functionality. The result 
...
Read more...
---
LSIS obtains Ex rating for HMI range
March 2019, Ana-Digi Systems , IS & Ex
Starting with the iXP2 premium series of HMIs, in the latter half of 2018 LSIS began rolling out the Ex certification for the entire range of these exceptional products. The products carry the rating 
...
Read more...
---
LSIS ready for 2019 and the future
January 2019, Ana-Digi Systems , News
Over the past 14 years, since LS split from the LG umbrella, the company has made major strides towards becoming one of the world's leading technology companies. Today, besides producing the well-known 
...
Read more...
---
LSIS is changing perceptions
October 2018, Ana-Digi Systems , News
Ana-Digi Systems saw the opportunity to become the importers and distributors of the LG premium brand of automation and drive products in 1999, and first took the LG automation systems to the Electro 
...
Read more...
---
Inductive Automation's I­gnition technology offers potential to ­disrupt the market
July 2018, Mzukulu Technologies , SCADA/HMI
'Ignition by Inductive Automation' is an industrial software platform with a variety of modules that can be combined to create custom HMI, scada and MES solutions.
Read more...
---