printer friendly version
Emerson's new Plantweb ecosystem
January 2017
IT in Manufacturing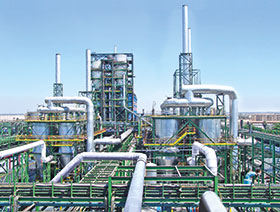 Pervasive Sensing, Secure First Mile, Connected Services and new software bring a comprehensive industrial Internet of Things portfolio to industry.
First introduced as an advanced process control and safety network, Plantweb now harnesses the power of industrial IoT to expand digital intelligence to the entire manufacturing enterprise, while also providing an architecture for on-premise applications. Plantweb provides a comprehensive framework to help manufacturers achieve Top Quartile performance in the areas of safety, reliability, production and energy.
"In 1997, Emerson revolutionised the automation landscape with Plantweb, the first field-based digital plant architecture," said Peter Zornio, chief strategic officer, Emerson Automation Solutions. "Now, we are doing it again by harnessing the power of industrial IoT to give customers the technology foundation for Operational Certainty."
Emerson's Plantweb digital ecosystem includes several new products, services and partner-enabled solutions:
• Pervasive Sensing: expanding the industry's largest portfolio of measurement and analytical technologies, Emerson is introducing a non-intrusive temperature sensor, as well as new sensing technologies in the area of corrosion detection, medium voltage electrical protection, and hazardous gas leak detection, among others.
• Secure First Mile: getting the right data to the right people can improve operational perform-ance, but with increased connectivity comes increased risk – especially during the 'first mile' when data is moved, from the plant floor onto the Internet to power IT and cloud-based applications. Emerson's Secure First Mile is a set of architectural approaches and designs that allow customers to connect highly secure data from protected control and operation systems (OT) to operational performance applications in the cloud environment (IT).
• Plantweb Insight Software: a comprehensive portfolio of applications with analytics for asset health monitoring. Plantweb Insight applications can run independently of existing business systems and distributed control systems (DCS) and provide a simple yet powerful entry point to Industrial IoT. These applications are perfect for proving an industrial IoT strategy and gaining quantifiable business impact. Virtual machine-based deployment makes Plantweb Insight a low IT requirement application.
• Plantweb Advisor Software: a suite of analytical applications for performance modelling and facility-wide energy optimisation. Plantweb Advisor applications can be run on premise, in a private company cloud network or through a third-party cloud services arrangement. The widely adopted OSIsoft PI System's scalable open data infrastructure is used as a platform for these applications.
• AMS Ares Platform: an easy to deploy software asset management platform that aggregates the health of assets from multiple business systems, and pushes this data to relevant plant personnel, depending on their roles and responsibility, either on desktop or mobile device.
• Always Mobile: enabling the mobile professional access to role-based tools, analytics and dashboards anywhere, anytime, Emerson extends the reach of Plantweb by adding mobility to the AMS and DeltaV process automation platforms. Experts can now have secure, mobile access to the information needed to perform their jobs, regardless of where they are. The DeltaV Mobile application allows users to monitor their process and receive notifications on user-selected process alarms.
• Connected Services: an industrial IoT-enabled cloud services offering for real-time monitoring of important assets' health, energy consumption and other operational applications. Emerson experts constantly monitor and report on asset and operational performance, prioritised repair and asset trending. The service is highly scalable, leverages existing technology investments and utilises advanced security capabilities of Emerson and Microsoft.
• Microsoft Azure and IoT Cloud: Emerson has standardised on the cloud-based Microsoft Azure IoT Suite to enable Connected Services, expanding the Plantweb digital ecosystem to provide a secure, flexible platform for private cloud networks and third-party cloud service relationships.
Emerson's recently announced Operational Certainty programme provides a clear business case for industrial IoT investment, with an emphasis on targeting specific business challenges and achieving measurable success with limited effort or investments. As business impact is achieved, customers can then scale their adoption based on project return on investment.
For more information contact Michael Eksteen, Emerson Automation Solutions, +27 (0)11 451 3700, michael.eksteen@emerson.com, www.emersonprocess.com/mea
Credit(s)
Further reading:
Endress+Hauser's IIoT technology masters the mining challenge
June 2019, Endress+Hauser , IT in Manufacturing
Endress+Hauser aims to improve the processes of its customers with regards to efficiency, quality, safety and sustainability.
Read more...
---
Digital transformation status and progress in process industries
June 2019 , IT in Manufacturing
Industry research indicates that there has been more than 75% of the process industry participating in Industry 4.0 technology evaluation or pilot projects, there is still less than 25% of the industry moving beyond the pilot phase.
Read more...
---
Does edge computing have the edge?
June 2019, Omron Electronics , IT in Manufacturing
Implementing artificial intelligence in industrial manufacturing
Read more...
---
Faster results with a digital twin
June 2019, Siemens Digital Industries , IT in Manufacturing
The high-tech company Grenzebach's portfolio includes the simulation of material flow in complex plants in the glass industry, which it achieves using Siemens simulation solutions. Together, the two companies 
...
Read more...
---
Data, light and the smart factory
May 2019 , IT in Manufacturing
The role of lasers in the Fourth Industrial Revolution.
Read more...
---
Planning for digital transformation
May 2019 , IT in Manufacturing
As we've learned, digital transformation can be a challenging, if necessary, journey. At each year's Forum, we learn more about how pioneering companies are overcoming these challenges and the associated 
...
Read more...
---
Paving the way for IIoT
Africa Automation Fair 2019 Preview, Phambili Interface , IT in Manufacturing
Phambili Interface is the sole southern African distributor for Weidmuller connectivity and interface products. A highlight is the perfectly coordinated Weidmuller u-Mation portfolio, which paves the 
...
Read more...
---
Barrier-free communication from Zone 0 to the cloud
Africa Automation Fair 2019 Preview, Beckhoff Automation , IT in Manufacturing
Founded on PC-based control, Beckhoff's automation systems are ideal for implementing connectivity in production environments in line with current IIoT concepts. Because of their interoperability, openness 
...
Read more...
---
Industrial cybersecurity for industrial control systems
Africa Automation Fair 2019 Preview, Profitek , IT in Manufacturing
The Hirschmann Tofino provides an advanced industrial solution that solves many of the most challenging energy-specific cyber and physical security challenges. The easy-to-deploy appliance protects against 
...
Read more...
---
Augmented and virtual ­reality for automation
Africa Automation Fair 2019 Preview , IT in Manufacturing
bizAR Reality develops custom augmented and virtual reality solutions for businesses. The company has successfully designed, developed and deployed award-winning technologies across multiple industries. 
...
Read more...
---