printer friendly version
Vacuum filter removes both dust and water droplets
December 2016
Pneumatics & Hydraulics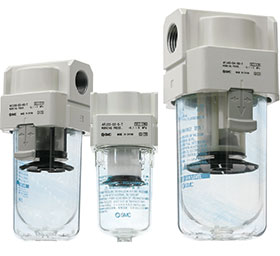 SMC Pneumatics has launched a pioneering vacuum filter designed to remove both dust and water droplets. Amongst its many unique selling points, the flexible and versatile AFJ vacuum filter is simple to maintain with interchangeable spare parts to aid considerable cost savings.
Operating under high flow rate conditions, achieving up to 660 l/min for the dust type and 500 l/min for the water drop removal dust type, the new filter eliminates dust and water droplets, offering equipment operators complete peace of mind.
Visibility is key with the AFJ thanks to its transparent polycarbonate double layer bowl design, making it possible for operators to check the filter element condition from every angle. Further visibility is achieved with an adapted convex body, which also features a useful bowl lock button, allowing for quick in-hand mainten-ance and the easy replacement of the element.
According to Brian Abbott, SMC Pneumatics product manager, the AFJ once again showcases SMC's innovative design skills: "SMC is always seeking ways to minimise maintenance and costs for our customers whilst continuously improving our products. The AFJ fulfils these objectives and we believe that it's a much-anticipated addition to our vacuum filter range."
Featuring a range of selectable nominal filtration ratings of 5 μm, 40 μm and 80 μm, the higher two-rated filter elements within the AFJ are washable and reusable. Customers benefit from further savings as the filters used within the vacuum absorption system help to extend the life of other components, while the external bowl guard provides environmental resistance against chemicals and other corrosive substances, for increased lifespan.
"The AFJ is available in several body and port sizes with selectable left or right flow direction for ease of use and maintenance, and increased flexibility," concludes Abbott.
Credit(s)
Further reading:
Rethinking pneumatic technology for the factories of the future
September 2020, Parker Hannifin Sales Company South , Pneumatics & Hydraulics
Does a technology such as pneumatics have a central role to play in the flexible, smart production lines of the factories of the future?
Read more...
---
Hydraulic hose installation and maintenance
September 2020, Bearing Man Group t/a BMG , Pneumatics & Hydraulics
BMG's portfolio of components includes the full range of Eaton Winner hydraulic braided and spiral hose and fittings.
Read more...
---
New product releases from SMC Corporation International Training
September 2020, SMC Corporation South Africa , Training & Education
To ensure a smooth transition and integration for learners from education institutes into industry, SMC International Training equipment is designed based on the latest automation technology used in industry.
Read more...
---
SMC launches wireless valve bank in SA
July 2020, SMC Corporation South Africa , Industrial Wireless
In response to customer demand for a reliable communication system, which could limit the number of cables needed to communicate between multiple valve banks/field sensors and a PLC, a wireless communication 
...
Read more...
---
SMC steps up to support essential service customers through lockdown
June 2020, SMC Corporation South Africa , News
SMC Corporation South Africa, as a leading supplier of advanced pneumatic and electrical automation technology, has remained open and certified as an essential services supplier throughout lockdown. We 
...
Read more...
---
SMC offers services as well as components
April 2020, SMC Corporation South Africa , Enclosures, Cabling & Connectors
Besides being a leading supplier of industrial automation components, SMC South Africa also offers value-added services. One of these is in-house control panel design and construction. This takes a labour 
...
Read more...
---
RS adds self-adjusting double-acting air cylinders
December 2019, RS Components SA , Pneumatics & Hydraulics
RS Components has expanded its offering from factory automation manufacturer Festo to include new double-acting pneumatic cylinders in the DSBC product range. Aimed at both machine builders and maintenance 
...
Read more...
---
Refrigeration compressed air dryers
January 2020, Artic Driers , Pneumatics & Hydraulics
The R Class range of compressed air refrigeration dryers and RSXW chemical adsorption dryers have consistently low dew points, with an attractive entry price and a low cost of ownership once in operation. 
...
Read more...
---
Parker enhances H Series ISO valve portfolio
September 2019, Parker Hannifin Sales Company South , Pneumatics & Hydraulics
Parker Hannifin has added an expanded range of features and capabilities to its H Series ISO valve platform as part of its global focus on factory automation. Designed with a new universal manifold, the 
...
Read more...
---
SMC is here to stay
August 2019, SMC Corporation South Africa , Pneumatics & Hydraulics
Kim Roberts [KR]: How does SMC SA fit into SMC's global vision and strategy?
Peter Findlay [PF]:
SMC entered the South African market directly in 2015 as a subsidiary of SMC UK, and in turn as a subsidiary 
...
Read more...
---