printer friendly version
Young sensors measure atmospheric visibility
October 2016
Analytical Instrumentation & Environmental Monitoring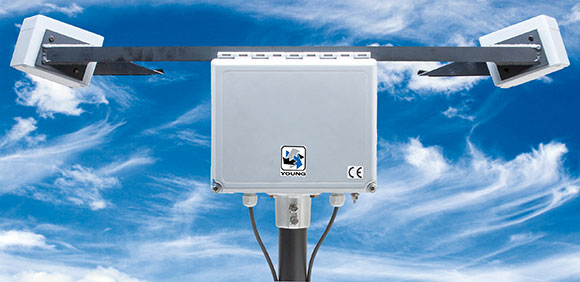 The Model 73000 Sentry Visibility Sensor
The Young Sentry Visibility Sensor measures atmospheric visibility (meteorological optical range) by determining the amount of light scattered by particles in the air (smoke, dust, haze, fog, rain and snow).
Performance in all weather conditions is achieved with an integrated design that keeps all cabling internal to the sensor for complete protection from hazards. The sensor is made from anodised aluminium and rugged, UV-resistant fibreglass enclosures. Based on the proven field experience of the NWS and FAA, the sensor uses a 'look down' geometry to reduce window contamination and clogging from blowing snow. The optical windows have continuous duty anti-dew heaters. Optional thermostatically controlled external hood heaters are available for additional protection in extreme environments. All power and signal lines to the Sentry are protected with surge and EMI filtering to ensure uninterrupted service for the life of the sensor.
Installation and maintenance are simple with the Sentry. A sturdy mounting flange located on the bottom of the main enclosure mates with a user-supplied mounting pipe. Power and signal cables are installed through waterproof cable glands on the bottom of the main enclosure to terminal boards for simple but reliable connections. Calibration of the Sentry in the field is as simple as attaching a factory supplied calibration fixture and following a procedure that takes less than 30 minutes.
Model 73100 Sentry T optimised for operation in tunnels The Young Sentry Tunnel Visibility Sensor's sensitivity is optimised for reduced visibility in automobile and rail tunnels, typically caused by vehicle emissions.
Model 73200 Sentry EX for hazardous area applications
The Young Sentry EX Explosion Proof Visibility Sensor is designed for high performance in hazardous environments at petrochemical production sites, refining facilities and transportation terminals. The ATEX Zone 1 rated housing and offshore marine-grade sheathed cables ensure all-weather IP66 performance to monitor changes in visibility.
Operation
A LED emitter with 850 nm wavelength focuses on a measurement volume that intersects with the observation zone of an IR receiver, which measures the amount of 'light' that is 'forward-scattered' by airborne particles. The IR energy measured at the receiver is proportional to the 'extinction coefficient', which is inversely proportional to visibility. The airborne particles can be fog, rain, snow, smoke or dust.
Standard visibility units are either kilometres or miles. Forward scatter type sensors like the Sentry measure a sample volume of air close to the sensor, and using the assumption of air homogeneity, calculate the visibility, which could be as far as 16 km depending on the clarity of the air. Visibility sensors cannot measure what is happening 16 km away, but must assume that if the atmosphere between the sensor and distance is uniform, then an observer at the sensor can see a range of 16 km.
To reduce dust/ice/snow collection on the lens as well as reflection from other objects, the Sentry's emitter and receiver lens face downward. The lens must be kept clean for an accurate measurement and a quick wipe with window cleaner is all that is required. The frequency of cleaning varies depending on proximity to dust, salt or other contamination sources. The typical service life of an LED emitter is 5 to 7 years.
Every Sentry has a lens heater within the emitter and receiver housings to prevent condensation. This is a standard feature. As an option, hood heaters may be installed to help prevent snow accumulation and icing on the housings. Hood heating is recommended for all applications in colder environments.
For more information contact Felie Le Roux, Inteltronics, +27 (0)82 445 2531, inteltronics@icon.co.za, www.inteltronics.co.za
Credit(s)
Further reading:
Portable fuel cleanliness analysis kit
January 2020 , Analytical Instrumentation & Environmental Monitoring
The Fleetguard FK36000 portable fuel cleanliness analysis kit is a reliable solution for testing fuel cleanliness in the field, according to Cummins Filtration mining sales manager Tinus Naude. Testing 
...
Read more...
---
Focus on combustion and refinery applications
January 2020, Instrotech , Analytical Instrumentation & Environmental Monitoring
Instrotech now offers Keller's range of intrinsically safe electronic pressure gauges for use in areas subject to gas explosion risks. The type approvals are compliant with the ATEX Explosion Protection 
...
Read more...
---
ABB optimises efficient water usage
January 2020, ABB South Africa , Analytical Instrumentation & Environmental Monitoring
ABB has expanded its digital analytical measurement range of solutions with the launch of the AWT420 transmitter. The new four-wire, dual channel analytical instrument measures multiple parameters in 
...
Read more...
---
Water analysis technology reduces downtime
January 2020, GHM Messtechnik SA , Analytical Instrumentation & Environmental Monitoring
In order to monitor the process of reverse osmosis and ensure that deposits do not clog up membranes and reduce system efficiency, Martens, a member of the GHM Group, has joined the forces with its Condix 
...
Read more...
---
Mobile CO2 measuring device
November 2019, GHM Messtechnik SA , Analytical Instrumentation & Environmental Monitoring
The measurement of CO
2
emissions throughout industry is a critical activity. Across many industries, leaks in equipment resulting from non-maintenance, mechanical damage or wear and tear can impact on 
...
Read more...
---
Automated analysers for sulphate and chloride measurements
November 2019, Microsep , Analytical Instrumentation & Environmental Monitoring
Chlorides and sulphates cause pitting and stress corrosion in expensive power plant components, such as turbines and boilers, leading to extensive maintenance and unplanned shutdowns. Monitoring these 
...
Read more...
---
Monitor and control sedimentation
October 2019, Morton Controls , Analytical Instrumentation & Environmental Monitoring
Quadbeam Technologies' storm and wastewater sensor, the SWW, is a unique suspended solids sensor/turbidity meter. The intended use of the S20-SWW and S40-SWW sensors is the continuous monitoring of suspended 
...
Read more...
---
LiquiSonic analysers in pulp and paper
October 2019 , Analytical Instrumentation & Environmental Monitoring
One of the important steps in the pulp and paper industry is the alkaline sulphate process, where lignin is separated from the fibrous material: due to economic and environmental reasons, the chemicals 
...
Read more...
---
Reliable TDL analyser for gas analysis
September 2019, Microsep , Analytical Instrumentation & Environmental Monitoring
Tunable diode laser (TDL) spectroscopy is rapidly becoming the gas analysis technology of choice in industrial processes. Mettler Toledo Ingold offers the GPro 500 TDL Series, a versatile platform that 
...
Read more...
---
Vaporising regulator increases the reliability of gas chromatograph analysers
September 2019, Emerson Automation Solutions , Analytical Instrumentation & Environmental Monitoring
With the Tescom 44-6800, Emerson has introduced a vaporising pressure reducing regulator for gas chromatograph analysers with the option to separate the regulator body from the electronic enclosure, without 
...
Read more...
---