printer friendly version
Conveyor belt monitoring for stackers and reclaimers
October 2016
Sensors & Transducers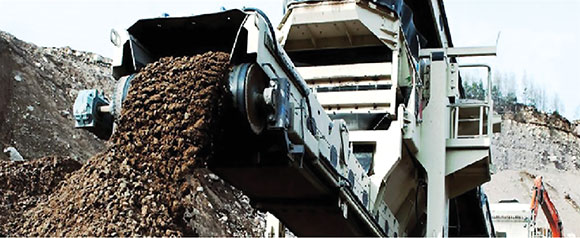 In an automated operation of bulk materials: woodchips, iron ore, coal, fertilisers, quarry products etc., real-time information is required, especially in the transportation (conveyor belt monitoring), for the product to be stacked or reclaimed efficiently.
Telco Sensors have designed a unit that can be installed in various configurations depending on customer needs. The most basic option is detection of belt tear in the centre of the belt only. The next level is detection of belt tear and alignment. These can be installed with an alarm indication, or voltage free contacts which can be incorporated into the PLC and scada systems.
The unit has been installed and tested under the harsh conditions found in paper mills and has passed the test. In one example, the sensor head was damaged by build-up and still continued to work without any problems.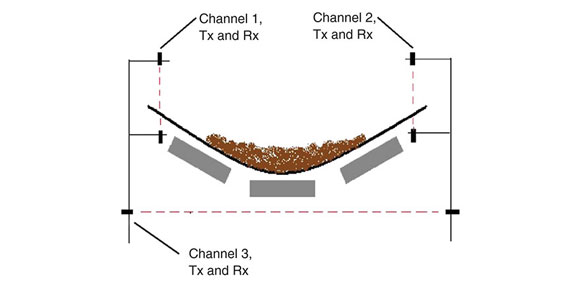 How it works
The amplifier series offers manual sensitivity via an integral potentiometer located on the front of the panel of the amplifier. Output can be selected from either a relay or transistor output, with an adjustable 0-10 sec on/off time delay. Light or dark function and long or short range are switch selectable.
The amplifiers series can be connected together (up to 9 amplifiers) via a bus connector positioned on the DIN rail, to form a modular master/slave system with up to 28 channels. The bus connection enables communication between the amplifiers, which allows the channels of all the amplifiers to be multiplexed ensuring that the optical cross talk between channels is prevented and allows a common output from the amplifier modules.
The amplifier offers a test input, which is used for either disabling or enabling the transmitting power temporarily for test purposes. The amplifier includes an alarm output, which is used to indicate if the signal level is sufficient or if a sensor is faulty. The sensor LED drive powers the optional monitor LEDs available on the remote sensors – output (LT) and power (LR).
Integration and maintenance
The voltage free contacts can be used to connect to a PLC, which can then also be connected via communication to a scada system. The system can be tested at regular intervals by manually disconnecting the transmitters and holding them in line with the receivers.
Credit(s)
Further reading:
Sensors for predictive maintenance solutions
December 2019, Turck Banner , Sensors & Transducers
Banner Engineering's QM30VT series sensors build on the capabilities offered by the QM42VT Series sensors they replace. They maintain all the same functionality, registers, and scaling, however, their 
...
Read more...
---
On safe paths with Leuze
December 2019, Countapulse Controls , Sensors & Transducers
When using the principle of triangulation for navigating automated guided vehicles (AGVs), vehicles are often equipped with two different scanners – one for safety and one for navigation. Now there is 
...
Read more...
---
Electronic position indicator with Ethernet interface
December 2019, Instrotech , Sensors & Transducers
Instrotech now offers the Siko AP20 position indicator, equipped to detect the position of spindle adjustments in machines. It displays the corresponding positional data to the operator and passes it 
...
Read more...
---
Inline measurement in chemical process monitoring and control
December 2019 , Sensors & Transducers
For reasons of quality and safety, the control of processes in the chemical industry is essential. The monitoring should be done directly in the process, continuously, and on a real-time basis. Modern 
...
Read more...
---
Setting the future standard for 3D image processing
November 2019, SICK Automation Southern Africa , Sensors & Transducers
SICK Automation has set the future standard for 3D image processing with regard to technology, speed, resolution and ease of integration. The company's Ranger3 3D vision camera is capable of taking high 
...
Read more...
---
Millimetre perfect from ifm electronic
November 2019, ifm - South Africa , Sensors & Transducers
Precise ToF distance sensor for demanding applications
Thanks to the innovative on-chip time-of-flight principle with PMD technology (photonic mixer device), the new OGD precision sensor from ifm electronic, 
...
Read more...
---
Bright, versatile illumination
November 2019, Turck Banner , Sensors & Transducers
The bright, uniform output of the WLB72 reduces shadows, improves visibility and gives workers the light they need to work efficiently and without making mistakes. A diffuse window minimises eye strain 
...
Read more...
---
Time synchronise your key remote sites
November 2019, Omniflex Remote Monitoring Specialists , Sensors & Transducers
Managing processes where root cause identification is rapidly identified can generate substantial savings though improved productivity and implementation of planned preventive maintenance schedules. Knowing 
...
Read more...
---
Infrared sensors for stock control
October 2019, Gail Norton Instrumentation , Sensors & Transducers
Telco's high performance, self-contained infrared sensor series provides a total solution for pulp and paper applications. This industry poses serious problems for photoelectric sensors as the highly 
...
Read more...
---
Positioning sensor achieves high accuracy
October 2019, SICK Automation Southern Africa , Sensors & Transducers
SICK Automation's next-generation laser distance measurement sensor, DL100Hi, achieves higher levels of accuracy over greater distances for positioning and control in fast-moving environments. This high 
...
Read more...
---