printer friendly version
Bluetooth connectivity brings IIoT to machine control
Technews Industry Guide - Industrial Internet of Things 2016
Industrial Wireless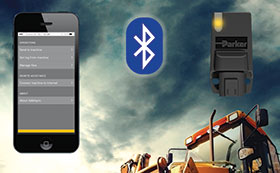 The Electronic Controls Division of Parker Hannifin has announced a new connectivity solution to augment its IQAN controller range for mobile applications.
The IQAN-G11 is a Bluetooth device that is connected to the machine CAN bus. IQAN-G11 allows the operator or service technician to access machine parameters using a smartphone or tablet with dedicated IQAN apps like IQANsync and IQANrun. With IQANsync the operator can update machine application and get logs from the machine. The IQANsync app can also work as a gateway to the cloud service, IQANconnect, making the machine available for service technicians in remote locations. The IQANrun app is a tablet version of the current PC based service tool, now in a more portable format.
This new device adds connectivity that will revolutionise remote support. The use of a smart phone in combination with the IQAN-G11 gives both operators and service technicians a powerful and cost-efficient diagnostic tool that can help maximise machine productivity.
As an alternative to existing modem-based solutions, the IQAN-G11 allows the use of the latest smartphone and tablet technology to be utilised as connectivity solutions in machine control. With this solution, it is now possible to dinterface Bluetooth-capable devices directly to the CAN bus using the dedicated IQAN apps.
Most day-to-day usage such as downloading logs and productivity data are performed free-of-charge via Bluetooth. When a remote connection is needed, the IQANsync app facilitates a smartphone-to-cloud connection, which allows a remote service team to 'tap into' the CAN bus via the IQANconnect cloud service. IQANconnect uses pre-paid connection tokens thereby avoiding expensive monthly connection charges.
Housed in a rugged black plastic case, the IQAN-G11 is designed for easy mounting either in-cab or outside. It incorporates a robust 4-pin Deutsch connector and a status indication LED for easy, at-a-glance confirmation of operational status.
Commenting on the new solution, Johan Liden, product manager IQAN Electronics at Parker Hannifin, said "I am very pleased to see this latest addition to our product line be released to the market. It is important for our customers to be able maximise machine uptime and the IQAN-G11 allows them to do exactly that. It also offers significant cost and time savings as it facilitates remote support via smartphone technology with a convenience that was just not previously available."
For more information contact Lisa de Beer, Parker Hannifin (Africa), +27 (0)11 961 0700, lisa.debeer@parker.com, www.parker.com/za
Credit(s)
Further reading:
Adroit brings M2M, IoT and IIoT to the industrial world
June 2019, Adroit Technologies , Industrial Wireless
Combining the new IIoT capability with GIS interfaces, situational awareness and alarm management data, all can use the big data and analytical processing capability of Adroit's standard scada Intelligence software package to derive greater insights and value from their processes.
Read more...
---
Wireless networks for AGV systems
June 2019, RJ Connect , Industrial Wireless
In order for factories to perform their tasks efficiently and optimise production, automated material handling (AMH) systems, such as AS/RS and AGVs, need the flexibility to move around on their designated 
...
Read more...
---
Merging control and telemetry
June 2019, Omniflex Remote Monitoring Specialists , Industrial Wireless
Wireless telemetry and control in plants have become a necessity with the data acquisition requirement of modern plant control to lift performance and compliance. In-plant cabling costs often push the 
...
Read more...
---
Managing complexity in wireless environments
June 2019, Axiz , Industrial Wireless
In the decades since its infancy, wireless networking has undergone tremendous shifts, opening an avenue for enterprise wireless Internet consumption. The advances in speed, coupled with the sheer convenience 
...
Read more...
---
Parker Hannifin showcases its latest mobile solutions
May 2019, Parker Hannifin Sales Company South , News
Parker Hannifin presented its new, integrated electrified system solutions for sustainable mobile systems at bauma 2019. Visitors to Parker's stand were able to see and experience a range of efficient 
...
Read more...
---
Mobility for Industry 4.0 ­challenges
Africa Automation Fair 2019 Preview, Pepperl+Fuchs , Industrial Wireless
The Tab-Ex 02 series of tablets from Pepperl+Fuchs has innovative features that make Industry 4.0/IIoT applications easy to implement.    The DZ1 version ecom has a range of applications that are unique 
...
Read more...
---
Hazardous area access point
Africa Automation Fair 2019 Preview , Industrial Wireless
Bartec's Wireless X is a small, light wireless access point, eliminating the need for bulky, heavy enclosures and external antennas. On show at Stand G13, it has both IECEx and ATEX Zone 1 certification. 
...
Read more...
---
IIoT gateway for access to remote industrial equipment
Africa Automation Fair 2019 Preview, Throughput Technologies , Industrial Wireless
SiteManager is a security certified IIoT Edge Gateway in the Secomea Industrial Communications Solution program that ensures unified, uninterrupted and secure access to remote industrial equipment. Visit 
...
Read more...
---
Responsive wireless I/O from ­Omniflex
May 2019, Omniflex Remote Monitoring Specialists , Industrial Wireless
Radio networks traditionally follow the Master (main station node) and Slave (out station node) methodology for data acquisition. A single master polls for data from one or more slaves, depending on the 
...
Read more...
---
Parker Hannifin introduces couplings for quick and easy installation
May 2019, Parker Hannifin Sales Company South , Pneumatics & Hydraulics
Parker Hannifin now offers quick connection couplings for its NSA series, notable for features including their low weight. NSA couplings are available in nickel-plated brass or stainless steel, while 
...
Read more...
---