printer friendly version
GE announces Predix Cloud
Technews Industry Guide - Industrial Internet of Things 2016
IT in Manufacturing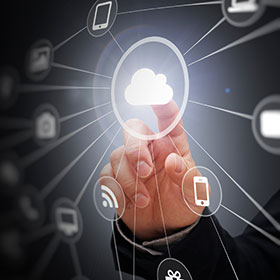 As a digital industrial company focused on answering the unique needs and scale of customers across aviation, energy, healthcare and transportation, GE has announced plans to enter the cloud services market with Predix Cloud. The cloud solution designed specifically for industrial data and analytics, this platform-as-a-service (PaaS) will capture and analyse the unique volume, velocity and variety of machine data within a highly secure, industrial-strength cloud environment.
Predix Cloud will drive the next phase of growth for the industrial Internet and enable developers to create, deploy and manage applications and services for industry. With $4B in software revenues in 2014 and projected software revenues of $6B in 2015, GE continues to grow its investment in software.
"Cloud computing has enabled incredible innovation across the consumer world. With Predix Cloud, GE is providing a new level of service and results across the industrial world," said Jeffrey Immelt, CEO of GE. "A more digital hospital means better, faster healthcare. A more digital manufacturing plant means more products are made faster. A more digital oil company means better asset management and more productivity at every well. We look forward to partnering with our customers to develop customised solutions that will help transform their business."
Predix Cloud will enable operators to use machine data faster and more efficiently, saving billions of dollars annually. By combining GE's deep domain expertise in information technology (IT) and operational technology (OT), GE's Predix Cloud will deliver advanced tools like asset connectivity, machine data support and industrial-grade security and compliance.
"A cloud built exclusively to capture and analyse machine data will make unforeseen problems and missed opportunities increasingly a complication of the past," said Harel Kodesh, vice president, general manager of Predix at GE Software. "GE's Predix Cloud will unlock an industrial app economy that delivers more value to machines, fleets and factories – and enable a thriving developer community to collaborate and rapidly deploy industrial applications in a highly protected environment."
"Like GE, Pitney Bowes is in the midst of its own physical and digital transformation," added Roger Pilc, chief innovation officer, Pitney Bowes. "With our APM apps running on Predix Cloud, we're able to extract and analyse data from our assets faster than ever, and use that insight to drive real business outcomes for Pitney Bowes and its clients, including lower operational costs, greater productivity and output and higher service levels. GE knows industrial machines and related data analytics better than anyone and we look forward to continuing to partner with them on more industrial Internet solutions."
The industrial Internet is generating data twice as quickly as any other sector. With investment in infrastructure expected to top $60 trillion over the next 15 years, the number of devices connected to the Internet will continue to swell, generating an unprecedented collection of data and analytics. Built for Predix, the cloud platform for the industrial Internet, Predix Cloud is designed to provide a highly secure infrastructure for this next phase of growth, which will generate a new level of insight, asset performance management (APM) capabilities and innovation in the developer community.
The success of the industrial Internet depends on a collaborative ecosystem of partners. GE's Predix Cloud is purpose-built from the ground up, but it will also run on other cloud fabrics if required by a customer. Predix Cloud uses Pivotal's Cloud Foundry to help with application development, deployment and operations.
GE businesses will begin migrating their software and analytics to the Predix Cloud in Q4 2015, and the service will be commercially available to customers and other industrial businesses for managing data and applications on Predix Cloud in 2016.
What makes the Predix Cloud different
Asset connectivity
Analysts estimate that more than 50 billion assets will be connected to the Internet by 2020. Predix Cloud provides advanced connectivity-as-a-service for these industrial assets, combining proprietary technologies with global telecommunications partners to enable rapid provisioning of sensors, gateways and software-defined machines.
Scalability for machine data
Machines produce different types of data, which consumer cloud services are not built to handle. Predix Cloud was purpose-built to store, analyse, and manage machine data in real time. From capturing and analysing time series data from a locomotive with thousands of sensors to delivering large object data like a 3D MRI image to a doctor for diagnosis, Predix Cloud is built for the variety, volume, and velocity of industrial data.
Security + compliance
Incorporating decades of experience in operational and information security, Predix Cloud is designed with the most advanced security protocols available, including customised, adaptive security solutions for industrial operators and developers.
Interoperability
Predix Cloud will operate seamlessly with applications and services running in a broad spectrum of cloud environments. As such, businesses will be able to take advantage of its optimised security and data structure offerings while maintaining and interoperating within existing solutions.
Gated community
Unlike public cloud services, which are open to any individual or organisation, Predix Cloud is based on a 'gated community' model to ensure that tenants of the cloud belong to the industrial ecosystem.
Developer insight
Developers will have visibility into their operating environments and every actor connected to it. In doing so, businesses will be able to deploy and monitor machine apps anywhere, continuously adjusting to new demands in the physical and digital world while providing the security and visibility required for operational effectiveness.
On-demand availability
Businesses will be able to access and scale with the Predix Cloud, offered through a convenient on-demand, pay-as-you-go pricing model.
For more information contact GE Digital, ani.adzhemyan@ge.com, www.ge.com
Further reading:
Endress+Hauser's IIoT technology masters the mining challenge
June 2019, Endress+Hauser , IT in Manufacturing
Endress+Hauser aims to improve the processes of its customers with regards to efficiency, quality, safety and sustainability.
Read more...
---
Digital transformation status and progress in process industries
June 2019 , IT in Manufacturing
Industry research indicates that there has been more than 75% of the process industry participating in Industry 4.0 technology evaluation or pilot projects, there is still less than 25% of the industry moving beyond the pilot phase.
Read more...
---
Does edge computing have the edge?
June 2019, Omron Electronics , IT in Manufacturing
Implementing artificial intelligence in industrial manufacturing
Read more...
---
Faster results with a digital twin
June 2019, Siemens Digital Industries , IT in Manufacturing
The high-tech company Grenzebach's portfolio includes the simulation of material flow in complex plants in the glass industry, which it achieves using Siemens simulation solutions. Together, the two companies 
...
Read more...
---
Data, light and the smart factory
May 2019 , IT in Manufacturing
The role of lasers in the Fourth Industrial Revolution.
Read more...
---
Planning for digital transformation
May 2019 , IT in Manufacturing
As we've learned, digital transformation can be a challenging, if necessary, journey. At each year's Forum, we learn more about how pioneering companies are overcoming these challenges and the associated 
...
Read more...
---
Paving the way for IIoT
Africa Automation Fair 2019 Preview, Phambili Interface , IT in Manufacturing
Phambili Interface is the sole southern African distributor for Weidmuller connectivity and interface products. A highlight is the perfectly coordinated Weidmuller u-Mation portfolio, which paves the 
...
Read more...
---
Barrier-free communication from Zone 0 to the cloud
Africa Automation Fair 2019 Preview, Beckhoff Automation , IT in Manufacturing
Founded on PC-based control, Beckhoff's automation systems are ideal for implementing connectivity in production environments in line with current IIoT concepts. Because of their interoperability, openness 
...
Read more...
---
Industrial cybersecurity for industrial control systems
Africa Automation Fair 2019 Preview, Profitek , IT in Manufacturing
The Hirschmann Tofino provides an advanced industrial solution that solves many of the most challenging energy-specific cyber and physical security challenges. The easy-to-deploy appliance protects against 
...
Read more...
---
Augmented and virtual ­reality for automation
Africa Automation Fair 2019 Preview , IT in Manufacturing
bizAR Reality develops custom augmented and virtual reality solutions for businesses. The company has successfully designed, developed and deployed award-winning technologies across multiple industries. 
...
Read more...
---