printer friendly version
The IP69K rated manifold
August 2016
Pneumatics & Hydraulics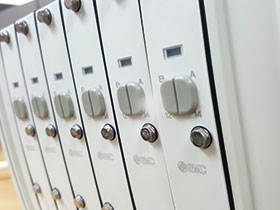 A rare find in the food industry
SMC recently launched a new edition to the SY series of valve manifolds targeted at the food and packaging market. According to Ernst Smith, product manager for SMC South Africa, the new IP69K manifold is available as part of the SY 5000 range and was originally developed with USA food industry customers in mind. The USA had various customer requests for such a manifold and it was developed using local market research.
The design means that the SY5000 series now offers a dedicated manifold with an IP69K rating. According to Smith, "This is yet another leading solution that SMC has produced for the market. The focus on quality and performance of this product is second to none and once again demonstrates that SMC's focus is on customer driven product development."
The unit is now suitable for wet areas and can withstand wash down and cleaning. Customers have the ability to install valves outside of a protective box and close to the actuators for better control. The new device is lightweight and comes in a small package, is corrosion resistant and easy to clean and maintain. The manifold is also available from 2 to 16 stations with a variety of valve styles offered.
The manifold valves are available with options of rubber or metal seal valves. Pressures from – 1 to 7 bar is achievable in the rubber seal, with the metal seal operating at up to 10 bar. The compact unit also comes with an optional power saving coil which draws as little as 0,1 W.
SMC Pneumatics, a company with traditional values of building relationships and servicing customers, prides itself on customer centric design. "This is just another example," comments Smith. "SMC has over 5000 sales people worldwide, which means we have ample opportunity to come into contact with customers and experience first-hand their need for new innovation. This means we will design what the customer needs for a specific application. This was the case in the USA and now this innovative unit is available to the rest of the world market as well."
For more information contact SMC Pneumatics South Africa, +27 (0)11 568 2407, sales@smcpneumatics.co.za, www.smcpneumatics.co.za
Credit(s)
Further reading:
Rethinking pneumatic technology for the factories of the future
September 2020, Parker Hannifin Sales Company South , Pneumatics & Hydraulics
Does a technology such as pneumatics have a central role to play in the flexible, smart production lines of the factories of the future?
Read more...
---
Hydraulic hose installation and maintenance
September 2020, Bearing Man Group t/a BMG , Pneumatics & Hydraulics
BMG's portfolio of components includes the full range of Eaton Winner hydraulic braided and spiral hose and fittings.
Read more...
---
New product releases from SMC Corporation International Training
September 2020, SMC Corporation South Africa , Training & Education
To ensure a smooth transition and integration for learners from education institutes into industry, SMC International Training equipment is designed based on the latest automation technology used in industry.
Read more...
---
SMC launches wireless valve bank in SA
July 2020, SMC Corporation South Africa , Industrial Wireless
In response to customer demand for a reliable communication system, which could limit the number of cables needed to communicate between multiple valve banks/field sensors and a PLC, a wireless communication 
...
Read more...
---
SMC steps up to support essential service customers through lockdown
June 2020, SMC Corporation South Africa , News
SMC Corporation South Africa, as a leading supplier of advanced pneumatic and electrical automation technology, has remained open and certified as an essential services supplier throughout lockdown. We 
...
Read more...
---
SMC offers services as well as components
April 2020, SMC Corporation South Africa , Enclosures, Cabling & Connectors
Besides being a leading supplier of industrial automation components, SMC South Africa also offers value-added services. One of these is in-house control panel design and construction. This takes a labour 
...
Read more...
---
RS adds self-adjusting double-acting air cylinders
December 2019, RS Components SA , Pneumatics & Hydraulics
RS Components has expanded its offering from factory automation manufacturer Festo to include new double-acting pneumatic cylinders in the DSBC product range. Aimed at both machine builders and maintenance 
...
Read more...
---
Refrigeration compressed air dryers
January 2020, Artic Driers , Pneumatics & Hydraulics
The R Class range of compressed air refrigeration dryers and RSXW chemical adsorption dryers have consistently low dew points, with an attractive entry price and a low cost of ownership once in operation. 
...
Read more...
---
Parker enhances H Series ISO valve portfolio
September 2019, Parker Hannifin Sales Company South , Pneumatics & Hydraulics
Parker Hannifin has added an expanded range of features and capabilities to its H Series ISO valve platform as part of its global focus on factory automation. Designed with a new universal manifold, the 
...
Read more...
---
SMC is here to stay
August 2019, SMC Corporation South Africa , Pneumatics & Hydraulics
Kim Roberts [KR]: How does SMC SA fit into SMC's global vision and strategy?
Peter Findlay [PF]:
SMC entered the South African market directly in 2015 as a subsidiary of SMC UK, and in turn as a subsidiary 
...
Read more...
---